Washington Sports Betting – Bet On Sports Legally In WA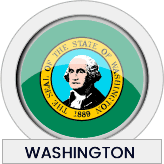 Online Sports Betting In Washington Via Offshore Sportsbooks
Domestic Sports Betting In Virginia Not Available At This Time
Legislative Movement Toward Sports Betting: Yes, In-Person
Legal Washington sports betting at the state level has finally become a possibility. In 2020, Washington state lawmakers successfully passed sports betting legislation!
On March 25, 2020, Governor Jay Inslee signed HB 2638 into law. This bill authorizes sports wagering in the state at tribal casinos subject to a revision to the WA Class III tribal compacts currently in effect.
Before anyone gets too excited, of course, the fact that these compacts have to be modified before domestic sports betting is launched means that sports fans likely still have to wait quite some time until bets can actually be placed at retail venues on Washington soil.
Below we take a look at the complex landscape of legal sports betting in Washington, what options are currently available, and how the state-regulated sports betting market will emerge once the administrative tasks are complete.
Is Sports Betting Legal In Washington?
Yes, but it has not been rolled out yet and is subject to tribal compact re-negotiations. The bill, passed in the Spring of 2020, specifically bars state-licensed online sports betting in the state, mandating that all in-person wagers must be "placed and accepted at a tribe's gaming facility only while the customer is physically present on the premises of that tribe's gaming facility."
Mobile gaming will be allowed under these terms if the mobile sports betting app is geo-fenced to the tribal venue where the wagering takes place. Several states have such limited exceptions for mobile sportsbooks that are locked to their facilities.
Washington also has a state law that is aimed at preventing residents from wagering online, regardless of the source. There have been no efforts to enforce this law in any way. We have found no indication that anyone has ever been arrested or charged with gambling online, and bettors from WA do make up a notable segment of online sports bettors. However, all online gambling in the state is technically prohibited.
Washington Sports Betting Bills
Four pieces of legislation relevant to sports betting were in committee in the state legislature as of Jan 12th and 14th of 2021. These bills seem to be primarily focused on fiscal details of the pending sports betting industry in the state. SB5212, a bill to expand state-licensed sports betting to racetracks and card rooms, is also expected to be introduced and discussed beginning on February 4, 2021.
Our bill tracker page is a great tool for keeping up with state politics related to sports wagering.
Best Online Sportsbooks That Accept Washington Residents
Following are our recommendations for online sportsbooks that are legally operating outside of the United States and that accept US bettors, including those from WA. These sportsbooks have been in the industry for years and are highly regarded by both industry insiders and bettors alike.
You can browse through them for yourself by clicking on the links provided in the table. Again, WA residents should place bets online at their own risk based on the restrictions imposed by state gambling laws.
Washington Sports Betting Details
Washington is now on the road to offering sports betting to in-state residents at physical sportsbooks. However, due to specific state regulations, offshore wagering remains punishable by law (though this seems to be unenforced). We do not suggest that playing online is okay, but we have not heard of anyone ever being prosecuted, fined, or arrested for doing so. Offshore sportsbooks do offer their services to WA residents, but they suggest you abide by local gambling laws.
Legal Sports Betting: Yes - Tribal only (pending)
Minimum Sports Betting Age: 18 (pending)
Land-Based: Tribal only (pending)
Online: No.
Mobile: Possible, only on sportsbook premises
In-Play: N/A
Estimated Revenue: N/A
Eligible Operators: N/A
Commission: N/A
Licensing Fee: N/A
Tax Rate: N/A
Tax-Funded: N/A
What You Can Bet On in Washington:
Washington law allows for sports betting at physical tribal venues pending a restructuring of Class III gaming compacts. State-wide online betting is not allowed. Offshore books, however, will accept WA residents who may gamble at their own risk.
What You Can't Bet On in Washington: 
No sports betting of any kind has launched yet.
Where Can I Bet On Sports in Washington?
There is nowhere to bet legally in Washington state yet, though the activity has been legalized. Offshore sportsbooks and other gambling sites offer their services to Washington residents as "play at your own risk" sites.
Biggest Sports Betting Cities In Washington
Sports Betting In Seattle, WA
The Seattle Seahawks and the Seattle Mariners are the two major professional sports franchises located in Seattle, and the Washington Huskies athletic program is also located in the city. You can bet on teams from Seattle and around the world in a variety of sports at our recommended offshore sportsbooks.
---
Frequently Asked Questions About Sports Betting In Washington
Will I get arrested for betting on sports in Washington?
It is possible. Since state gambling laws forbid betting online or with non-tribal local bookies, there is a real possibility that you could get charged or go to jail if caught betting on sports in Washington State. Gambling is considered a class 3 felony and is punishable up to 20 years or $20,000.
Are mobile sports betting apps legal in Washington?
No. Due to specific state laws, there are no legal gambling apps in Washington State. Some apps or sportsbooks will accept WA registrations but technically if you sign up and bet, you are breaking the law. Washington's new sports betting law does not allow for state-wide mobile sportsbooks.
What teams can I bet on in Washington?
Offshore sportsbooks offer betting lines for all the Washington professional and college teams. You can also find other betting lines that are not typically offered at domestic sportsbooks including Political betting, and international sports.
Are there any local sportsbooks in Washington?
Not yet. Washington state has passed sports betting law where the activity will be limited to tribal operators on their physical grounds.
What is the legal minimum sports betting age in Washington?
Washington law says that the legal gambling age is 18 throughout the state.
Who regulates sports betting in Washington?
Sports betting is legal but not yet live. The Washington State Gambling Commission is in charge of regulating domestic casinos, and they will be heading up oversight of the forthcoming tribal betting operations.
---
Washington Legislative Resources
Washington Gambling Resources
If you or someone you know is seeking help to fight a gambling addiction the Evergreen Council on Problem Gambling was established to help. At Evergreen there are professionals that can help you with addiction and restore order to your life.