Washington Sports Betting – How To Bet On Sports Legally In WA in 2023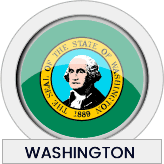 Online Sports Betting In Washington Via Offshore Sportsbooks
Domestic Sports Betting In WA Available At Tribal Casinos Only
Legislative Movement Toward Online/Mobile Sports Betting: Yes
Legal Washington sports betting at the state level has seen success since its launch in the fall of 2021. On March 25, 2020, Governor Jay Inslee signed HB 2638 into law, authorizing sports wagering at Washington Indian casinos subject to a revision to the WA Class III tribal compact. This revision occurred over a year later, and WA tribal sports betting went live as of September 9, 2021.
Before anyone gets too excited, of course, the new gambling allowance is limited to in-person and on-site mobile sports betting on tribal casino grounds only. There is no statewide mobile sports betting in Washington, and it's unknown whether or not that's going to change anytime soon.
Sports betting in Washington is also available through legitimate offshore sportsbooks offering their betting services online for the last several decades, such as the sites you see listed below. They each also offer a premium mobile sportsbook app as well.
Is Sports Betting Legal In Washington 2023?
Yes, but WA gambling law mandates that all wagers must be "placed and accepted on-site at a tribe's gaming facility only while the customer is physically present on the premises of that tribe's gaming facility."
Mobile gaming is allowed under these terms as long as the mobile sports betting app is geo-fenced to the tribal venue where the wagering takes place. Several states have such limited exceptions for mobile sportsbooks that are locked to their facilities.
Washington also has a state law that is aimed at preventing residents from wagering online outside of tribal gambling properties, regardless of the source. There have been no efforts to enforce this law in any way. We have found no indication that anyone has ever been arrested or charged with gambling online, and bettors from WA do make up a notable segment of online sports bettors. However, all off-reservation online gambling in the state is technically prohibited.
Washington Sports Betting Bills
The Status of WA Sports Betting Legislation for 2023
Although domestic sports betting was legalized in WA tribal casinos, lawmakers are eager to expand these rights to other venues in the state. The 2022 legislative session in Washington saw 10 bills come through relevant to sports betting, and only one was signed into law. SB5693 basically took care of some fiscal housekeeping and did not expand the scope of the state's sports betting market in any way. 
Stay informed on the latest legislative action on sports betting for WA with our bill tracker page.
Best Sports Betting Sites In Washington State For 2023
Following are our recommendations for online sportsbooks that are legally operating outside of the United States and that accept US bettors, including those from WA. These sportsbooks have been in the industry for years and are highly regarded by both industry insiders and bettors alike.
You can browse through them for yourself by clicking on the links provided in the table. Again, WA residents should place bets online at their own risk based on the restrictions imposed by state gambling laws. For those who chose to proceed with online betting, these sites are a great alternative for Washington sports betting action.
Washington Sports Betting Details
Washington now offers sports betting to in-state residents at physical sportsbooks located on tribal casino grounds. However, due to specific state regulations, offshore wagering remains punishable by law (though this seems to be unenforced). We do not suggest that playing online is okay, but we have not heard of anyone ever being prosecuted, fined, or arrested for doing so. Offshore sportsbooks do offer their services to WA residents, but they suggest you abide by local gambling laws.
Legal Sports Betting: Yes - Tribal only
Minimum Sports Betting Age: 18
Land-Based: Tribal only
Online: Yes – Tribal grounds only
Mobile: Possible, only on tribal sportsbook premises
In-Play: N/A
Estimated Revenue: N/A
Eligible Operators: N/A
Commission: N/A
Licensing Fee: N/A
Tax Rate: N/A
Tax-Funded: N/A
What You Can Bet On in Washington:
Washington law allows for sports betting at physical tribal venues. State-wide online betting is not allowed. Offshore books, however, will accept WA residents who may gamble at their own risk.
What You Can't Bet On in Washington: 
Where Can I Bet On Sports in Washington?
Domestically, you can currently only bet on sports at Washington tribal casino venues. Offshore sportsbooks and other gambling sites offer their services to Washington residents as "play at your own risk" sites.
Biggest Sports Betting Cities In Washington
Sports Betting In Seattle, WA
The Seattle Seahawks and the Seattle Mariners are the two major professional sports franchises located in Seattle, and the Washington Huskies athletic program is also located in the city. You can bet on teams from Seattle and around the world in a variety of sports at our recommended offshore sportsbooks.
---
Legal Washington Sports Betting FAQs
Will I get arrested for betting on sports in Washington?
It is possible but highly unlikely. Since state gambling laws forbid betting online or betting on sports with non-tribal local bookies, there is a slight possibility that you could be fined or arrested if caught betting on sports in Washington State. We have never heard of this happening to any WA-based online gambler, however.
How To Bet on March Madness In Washington State
There are a few domestic venues for wagering on NCAAB games in WA, but if you're within state lines and want access to the best options for betting on March Madness in Washington, click on any of the sportsbook links provided inside of this guide.
18 and older WA gamblers can lay some action on March Madness prop bets and all other types of NCAAB odds from anywhere they choose using current web-ready devices. All that is required is joining one of our top online college basketball sportsbooks, so what are you waiting for?
Are mobile sports betting apps legal in Washington?
No. Due to specific state laws, there are no legal gambling apps in Washington State. Some offshore betting apps or sportsbooks will accept WA registrations, but technically, if you sign up and bet, you are breaking the law. Washington's new sports betting law does not allow for state-wide mobile sportsbooks.
What teams can I bet on in Washington?
Offshore sportsbooks offer betting lines for all the Washington professional and college teams. You can also find other betting lines that are not typically offered at domestic sportsbooks including Political betting and greater varieties of international sports odds.
Are there any local sportsbooks in Washington?
Yes! The first Washington tribal sportsbook venue opened on Thursday, September 9, 2021. Seattle SuperSonics legend Shawn Kemp placed the first legal wager in the state at the Snoqualmie Casino sportsbook.
What is the legal minimum sports betting age in Washington?
Washington law says that the legal gambling age is 18 throughout the state.
Who regulates sports betting in Washington?
The Washington State Gambling Commission is in charge of regulating domestic casinos, and they also head up the state's side of compact adherence for tribal sports betting in WA.
---
Washington Legislative Resources
Washington Gambling Resources
If you or someone you know is seeking help to fight a gambling addiction the Evergreen Council on Problem Gambling was established to help. At Evergreen there are professionals that can help you with addiction and restore order to your life.
Betting On Football In Washington In 2023
How To Bet On NFL Football in Washington
The Seattle Seahawks are famous for the "12th man," which is represented by their fanbase that fills up Lumen Field for each home game. Although Washington has a law that prohibits all online gaming, the offshore NFL betting sites that are listed on this page above accept members from WA and allow them to wager on the Seahawks and all other pro football teams in the league. Washington-based patrons wager on all 32 NFL teams and bet on the Super Bowl at these legitimate offshore books.
How To Bet On College Football in Washington
The Washington Huskies and Washington State Cougars play in the Pac-12 Conference, a grouping of some of the best teams located on the west coast of the United States. The college football sportsbooks listed within this guide accept members from inside WA at the age of 18 and allow them to wager on the Huskies, Cougars, and all other major NCAAF programs. Regional laws may suggest that online gambling is prohibited, but these betting sites operate offshore, outside the jurisdiction of WA.