Montana Sports Betting – Bet On Sports Legally In MT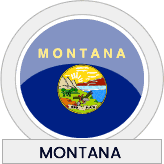 Montana has joined other US states supporting legal sports betting as they passed legislation legalizing domestic sports betting within their borders. Montana bettors can wager through state-regulated sports betting services provided by the Montana Lottery. This domestic option complements available offshore sportsbooks that legally accept MT residents.
Montana has yet to launch its domestic sports wagering services so online sportsbooks legally operating outside of the US are the best option to use at this moment. Offshore sportsbooks provide MT residents with viable sports betting services that have no restrictions and mobile capabilities.
Is Sports Betting Legal In Montana?
Montana authorized sports gambling in 2019. While the law is active there are currently no authorized betting services operating at this time. The Montana Lottery is in charge of launching these services and will likely do so around March/April 2020. In the meantime, no US gambling laws enacted by the federal government or the state legally prohibits MT players from using offshore sportsbooks to wager on.
Montana Sports Betting Bills
In 2019, Montana passed one House Bill for sports gambling legalization. The bill authorized the state's Lottery to conduct sports wagering services. However, another bill rejected by the governor is being mailed out to legislators.
The governor's veto was overridden by automatic majority support. To learn more about the Senate bill in consideration please go to our US bill tracker page.
Top Online Sportsbooks For Montana Residents
Our team of industry insiders has used their experience to identify the best sportsbooks accepting Montana residents and compiled our results into the table below.
These sportsbooks hold legitimate credentials or are owned and operated by a company that does, and they all provide a sophisticated security profile and high-quality betting options. Our readers seeking additional information on these sportsbooks can check out our USA sportsbooks reviews page for an inside look.
Sportsbooks Operating In Montana
There are currently no sports betting services available to the residents within the state. However, we expect Montana to launch sports betting between March and April 2020, hopefully in time for March Madness. When the state does, we'll include information on where MT residents can wager.
MT Sports Betting Details
Details on what betting will look like in Montana are as follows. This section may change as more details are revealed or amended.
Legal Sports Betting: In-state TBD, Offshore
Minimum Sports Betting Age: 18 years old
Land-Based: Restaurants and Bars
Online: Offshore Only
Mobile: In-state and Offshore
In-Play: Offshore Only
Estimated Revenue: $800,000/yr
Eligible Operators: Montana Lottery
Commission: Montana Lottery
Licensing Fee: N/A
Tax Rate: 8.5%
Tax-Funded: TBD
What You Can Bet On In Montana:
Montana details are still being refined; All betting lines, odds, and props for all games, teams, and players across all college and professional sports are allowed at offshore sites
What You Can't Bet On In Montana: 
No restrictions (via Offshore)
Where Can I Bet On Sports In Montana?
State licensed and regulated sports betting options are not yet available as the lottery has yet to launch these services. However, offshore sportsbooks are currently available for MT players seeking to wager now.
Biggest Sports Betting Cities in Montana
Billings
Sports Betting In Billings consists of regional betting since there are no professional teams or prestigious college athletic programs. Montana is nestled around a bunch of sporting teams but since there are no Montana teams to bet on residents have to bet on their favorite regional team. Offshore sportsbooks and betting pools are currently legal for residents of Billings to utilize.
Sports Betting In MT
Montana is without any major professional or college teams. There are some minor league teams available, but the best betting action revolves around the NFL, NBA, NHL, and MLB. Lucky for residents, these offshore betting destinations feature lines on all your favorite teams.
Betting is not restricted to teams in your location. You can also bet on NCAA teams and international teams. There is never a shortage of potential wagers to be made.
---
Frequently Asked Questions About Montana Sports Betting
Will I Get Arrested for Betting on Sports in Montana?
No, Montana has authorized the lottery to conduct domestic sports wagering options which includes the launch of a few mobile betting apps and betting kiosks. However, since these options have not launched yet we do not recommend using any venue or bookie who claims they currently are licensed to offer these options. The MT lottery will announce when these options are available.
Are Mobile Sports Betting Apps Legal in Montana?
Montana's new sports gambling law permits mobile sports wagering in the state. At this time, Montana does not have these services launched but plans to by mid-March 2020 and April at the latest.
What Teams Can I Bet on in Montana?
There are no restrictions in Montana as of yet which restrict which teams (whether professional, collegiate, or local) MT players can wager on. Offshore sportsbooks do not restrict what MT players can wager on.
Are There Any Local Sportsbooks in Montana?
Not yet, but we expect to see brick and mortar sportsbooks open their doors in March/April 2020.  This includes the development and launch of several betting apps and kiosks in food and drink venues.
What is the Legal Minimum Sports Betting Age in Montana?
Montana's minimum sports betting age is 18 for all of its domestic options which coincides with the minimum gambling age on offshore sportsbooks. No one under the age of eighteen may wager legally through either option.
Who Regulates Sports Betting in Montana?
The Montana Lottery is the primary regulator in the state for domestic sports gambling activities. The state's Lottery Commission is authorized to regulate and operate domestic sports wagering options through mobile apps, and kiosks in restaurants and bars.
---
Montana Legislative Resources
Montanas looking to reach their legislators can use the below resources to locate their local politicians and specific bill sponsors.
Montana Gambling Resources
The Montana Council on Problem Gambling offers numerous resources to individuals suffering from signs of problem gambling. These resources can also be used in the assistance of getting someone you know who has a gambling addiction treatment services.