Legal Oregon Sports Betting – How To Legally Bet On Sports In OR in 2023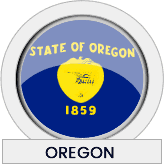 18+ Online Sports Betting Available In OR Via Offshore Sportsbooks
Domestic Sports Betting In Oregon Available Via In-Person & Mobile
Minimum Domestic Sports Betting Age In OR: 18+
Legal Oregon sports betting at the local level wasn't much to speak of prior to 2019, despite the fact that OR was one of the original states exempted from PASPA. However, after PASPA's repeal in 2018, state lawmakers decided to take the regions' sports gambling market to a new level.
Sports betting went live in OR at the state's first sportsbook at the Chinook Winds tribal gaming facility in September 2019 and via the Scoreboard mobile app in October 2019.
Oregon sports fans have been able to legally bet on sports at reputable online sportsbooks operating legitimately outside of the United States for more than a decade. Below we provide more details and insight into the legalities, nuances, and details of Oregon's sports betting market, as well as information on some of the top-rated legal online sports betting sites available to OR bettors.
Is Sports Betting Legal In Oregon in 2023?
Yes. Oregon is one of the states offering sports betting that can legally offer betting lines to its residents through the state lottery system. Mobile sports betting options were launched midway through the 2019 NFL season.
In addition, Oregon residents can legally bet on sports through online sportsbooks operating outside of the United States. There are no state laws or federal laws that prohibit OR sports fans from enjoying offshore sports betting options at destinations that are operating legally within the industry, such as the sportsbooks listed on this page.
Oregon Sports Betting Laws
Oregon was exempt from the 1992 PASPA law due to the fact that they already had a sports betting service before the legislation went into effect. While their sports betting options were very limited, the state has now legalized full single-game sports betting online through a mobile app, and various tribal groups offer the pastime via retail. State-regulated sports gambling excludes all college sports and is currently overseen by the Oregon Lottery.
The state's gambling laws make no effort to restrict bettors from placing bets on sports at legally operating online sportsbooks that are based outside of US borders, including the sportsbooks you see listed on this page. 
Oregon Sports Betting Bills
There are currently no active or pending pieces of legislation in the OR legislature relevant to sports betting. All three bills from 2021 died in session and nothing new transpired in the 2022 session. It will be business as usual for the foreseeable future for Oregon's local sports gambling market. 
Here, you can view Oregon sports betting bills and stay up to date with current legislation that could shape the industry throughout the state.
Best Sports Betting Sites In Oregon 2023
Below is a list made up of the best available online sportsbooks accepting Oregon residents. We check each brand for quality assurance by screening for items like legal licensing, regulation, betting line selection, wagering types, access to their mobile betting apps, wagering capabilities, security features, customer support, as well as bonus offers and promotions.
Oregon Sports Betting Details
Here is where you will find the details surrounding the legal sports betting atmosphere in the state. These details are subject to change as law are still in the committee. State sportsbooks have not launched yet but mobile options should be ready before the 2019 NFL Football season.
Legal Sports Betting: In-state, Offshore
Oregon Minimum Sports Betting Age: 18 years old
Online Sportsbook: In-state, Offshore
Mobile Betting App: In-state, Offshore
In-Play/Live Betting: In-state, Offshore
State Sportsbook Revenue: $3,050,785
Eligible Operators: Oregon Lottery, tribal venues
Commission: Lottery Commission
Licensing Fee: N/A
Tax Rate: N/A
Tax-Funded: TBD
What You Can Bet On In Oregon:
Horse racing, casino games, poker, and sports. The state-regulated sportsbooks limit betting to professional sports leagues, strictly prohibiting any college sports. Oregon residents also have access to offshore sportsbooks that will accept their sports wagers on all sports categories as well as provide casino, poker and racebook options.
What You Can't Bet On In Oregon: 
Domestically: all college sports  Offshore: no restrictions
Where Can I Bet On Sports In Oregon?
The Oregon Lottery system announced that they were going to expand sports betting in Oregon by offering state-licensed mobile sportsbooks and sports betting kiosks. Both have now launched.  In addition, bettors can access the few sportsbooks located at various tribal casinos in the state.
For those interested in online betting, the sites listed on this page represent the industry-leading online sports betting sites operating outside of the US. These sportsbooks accept wagers on a huge selection of US and international sports events, games, and matches.  Bets can be placed from anywhere in Oregon.
---
Biggest Sports Betting Cities In Oregon
Eugene Sports Betting
USA Sports betting in Oregon is centered on college sports. The University of Oregon Ducks is a Division I program in the PAC-12 Conference. The Ducks have a strong football and men's basketball program, both of which are available for betting via licensed offshore sportsbooks.
Their basketball program has been more successful in the past, featuring in the NCAA March Madness tournament, but their football program has reached the National Championship (even though they lost in 2014).
Portland Sports Betting
Portland is known for its quirky personality more so than anything else but you will also find avid sports bettors in the city of Roses. The Portland Trailblazers is a professional NBA team that has been having some success in recent years. Now that the PASPA act has been repealed and states across the country are enacting sports betting laws, some OR lawmakers have suggested expanding their domestic sports betting laws.
---
Legal Oregon Sports Betting FAQs
Will I Get Arrested for Betting On Sports In Oregon?
Yes, OR residents can legally bet online via the Scoreboard state lotto app and with offshore sportsbooks without violating any type of state gambling laws, as long as bettors are at least 18 years of age.
How To Bet on March Madness In Oregon
Oregon features all possible domestic and offshore options for betting on March Madness (in-person, online, mobile), but we recommend the online sportsbooks listed on this page for several reasons.
The first is availability, as they are open to all 18 and over college basketball bettors in Oregon, 24 hours a day. The second is that they offer thousands of March Madness prop bets between them, and much better bonus cash offers than domestic books.
Are Mobile Sports Betting Apps Legal In Oregon?
Yes. The Oregon Lottery's Scoreboard app is available to everyone in the state (18+). More legislation is expected to mold the sports betting industry at a later date. Offshore sportsbooks listed on this page do offer mobile-optimized versions of their betting sites as well.
What Teams Can I Bet On In Oregon?
Offshore sportsbooks do not impose restrictions on sports teams or state teams. Oregon has not officially nailed down all the details but we expect residents may be restricted from betting on college teams. While it is not illegal to bet on NCAA games in OR, the Scoreboard app does not yet allow it.
Are There Any Local Sportsbooks In Oregon?
Yes: the Scoreboard app from the OR Lottery. Oregon also has sports betting kiosks and tribal venues are offering betting lines as well.
What is the Legal Minimum Sports Betting Age in Oregon?
Oregon residents are allowed to bet at age 18. However, some casinos that serve alcohol or offer a video lottery only permit adults 21 years or older. Offshore sites will accept OR residents at 18 and up.
Who Regulates Sports Betting in Oregon?
The Oregon Lottery Commission currently regulates sports betting throughout the state. There has been some opposition and HB339 is looking to prevent the Lottery System from operating any game where tickets are sold online.
---
Oregon Legislation Resources
Oregon has several legislation resources that residents can take advantage of and use to voice their opinion and beliefs. Below you will find helpful links where you can get in touch directly with your Oregon state legislatures.
OR Gambling Resources
Oregon residents who participate in sports betting or other forms of gambling have state resources that they can use if gambling becomes an addiction or affects your life in a negative way. These resources are available 24/7 and can help you overcome gambling urges.  If you or someone you know has a problem with sports betting or gambling, please contact the Oregon Problem Gambling Hotline.
Phone: 1-877-695-4648
Text: (503)-713-6000
Betting On Football In Oregon In 2023
How To Bet On NFL Football in Oregon
The NFL teams that are located the closest to Oregon are the Seattle Seahawks and San Francisco 49ers, dividing loyalties inside the Beaver State. No matter which team you root for, legal NFL betting can occur within OR by doing business with any of the offshore sportsbook sites we feature here on this page. NFL betting lines, futures, props, and Super Bowl odds are all on the table for Oregon-based gamblers that have reached the age of 18. 
How To Bet On College Football in Oregon
The Oregon Ducks and Oregon State Beavers play football in the Pac-12 Conference, which faces them off against the most dominant programs on the west coast. Betting on college football is legal and safe, but only if you stick with the online sportsbooks we recommend above. No matter where you are in the state, NCAAF bets can be made using computers and mobile devices at the age of 18 when using the college football gambling sites that top our list.