Legal IndyCar Betting Online
2023 Indy 500 Odds Are Available Now
The 2023 Indianapolis 500 Begins In May

Indianapolis 500 Betting Sites Accept Members From All US States
IndyCar may not be the most popular racing sport in the US, but it's gaining on its cross-track rivals in a big way, and it's been the highest level of professional open-wheel (aka one-cockpit) racing in America since it was founded as the IRL – or Indy Racing League – in 1996. In 2008, IndyCar merged with the Champ Car World Series, which itself succeeded the similar CART promotion.
Naturally, with more and more states embracing legal sports betting, we expect IndyCar odds to take off soon. But even if you live in a state without sports wagering options available locally, secure motorsports betting is available to all US residents aged 18 and up. All you need to do to get into the driver's seat is consult our short pre-race checklist on legal IndyCar betting online. So read on to rev up your bankroll!
Is IndyCar Betting Legal?
Yes, it is! You can bet on Indy Car races in-person in 20+ states, as racebooks are traditionally part of typical sports betting boards. However, if you don't reside in legal sports betting states (or if your state is simply taking too long to launch domestic options after legalizing the pastime), you can lawfully bet on IndyCar races at several of the top-rated online sportsbooks operating outside of US borders.
Note: WA expressly forbids all online gambling, including online sports betting. While Washington has never enforced these laws, we must recommend that you stay in your lane and drive under caution if you choose to speed ahead. 
Best IndyCar Betting Sites 2023
Betting On The Indy 500 2023
Of all the races on the IndyCar schedule, the Indianapolis 500 – or "Indy 500" for short (or "Indianapolis 500-Mile Race" for long) – is the most popular, for fans and bettors alike. It is considered the premier race for the entire sport, and one of the most esteemed open-wheel races in the world.
First run in 1911, the Indy 500 is held at the Indianapolis Motor Speedway in Speedway, Indiana. The track is a 2.4-mile oval, and the Indy 500 itself is usually contested at 200 laps or 500 miles. The Indy 500 is part of the Triple Crown of Motorsport (along with the Monaco Grand Prix and the 24 Hours of Le Mans).
Only one driver – Graham Hill – has won this particular Triple Crown, making it far rarer even than the Triple Crown of Thoroughbred Racing. Additionally, no driver has ever completed this feat in a single season due to scheduling conflicts, so always bet against that particular prop. Thirteen drivers have completed two of the three legs over their careers, but only Fernando Alonso and Juan Pablo Montoya are currently active.
In addition to Indy car racing, race fans can also bet on NASCAR or bet on the Daytona 500 with legal sportsbooks that offer race betting odds.
Examples Of Indy 500 Betting Odds
The 2023 Indy 500 is scheduled for the last Sunday in May. The Indy 500 best bets can be made before or during the race with live betting odds. The race is historically difficult to predict, and every pundit or analyst's Indy 500 betting picks will be different from the rest.
See our review of Bovada's sportsbook to learn what all race betting options are available.
How To Bet On The Indianapolis 500
Our top recommendation for betting Indy 500 odds each year is to become a member with one of our top online IndyCar betting sites that are conveniently listed and linked to above.
Becoming a member of an online sportsbook is a quick process that can be completed by performing the following steps:
Browse through each online Indy Car betting site that we list above and find the sportsbook(s) that you want to join.
It is advisable to become a member with more than one Indy 500 betting site because it allows members to line shop for the best sportsbook payouts.
Click on the join or signup icon atop the homepage of the sportsbook desktop site or mobile betting application.
Fill out the account profile and submit it.
Enter your first sportsbook deposit to bet on IndyCar odds and be sure to consider cryptocurrency in addition to the plentiful USD options.
Once sports betting uploads are complete, patrons can head to the sportsbook and locate the "motorsports," "auto racing," or "Indy Car" tab to find the latest Indy 500 Vegas odds and place a wager.
Types Of IndyCar Betting Odds
When it comes to the kinds of IndyCar odds and bets you can make online, the sky – or rather, the blacktop – is the limit. If you're familiar with betting on motorsports of any kind, you'll know exactly what to expect. Below, we briefly outline the basic IndyCar bet types, but remember: The bigger the race, the more odds you'll get and the bigger betting limits you'll have at the best online sports betting sites.
And while we don't have too many IndyCar betting tips, it's important that – at the very least – you read up on the IndyCar points system before placing any wagers. When you're ready, you can expect these bet types to be the most readily available:
Race Winners
"Outright winner" is the most common type of IndyCar bet: Just pick a winner! IndyCar winner bets pay out at reasonable rates, and most favorites will still yield a positive moneyline.
Head-To-Head Matchups
H2H matchups allow bettors to whittle down the big IndyCar races into more manageable, bite-sized betting challenges. With H2H race betting, you can choose which driver among two IndyCar racers will get the win.
Group Matchups
Group betting on IndyCar races is akin to H2H betting, but with more drivers added to the mix. All the best online sports betting sites have prop builder tools that let you customize group bets further.
Championship Futures
In the offseason – and during the regular season – IndyCar futures let you bet on which driver will win the most IndyCar Series points during the season, which earns them the IndyCar Championship.
IndyCar Prop Bets
IndyCar prop bets are wagers you can place on outcomes not directly related to winning the race. IndyCar props can include bets on podium finishes, fastest times, DQs, DNFs, IndyCar wrecks, IndyCar points, and more.
Indy Car Moneyline Odds
Most if not all Indy Car odds and betting lines will include a list of racers with a moneyline listed next to their names that reveal their chances of winning as well as their payout potential. Negative odds payout less than the amount wagered, and positive moneylines reward more than what was bet.
For more detailed information on Indy Car wagering options interpreting them, visit our guide on how to read betting odds.
Live IndyCar Betting
Because IndyCar races tend to take several hours to conclude, there are ample opportunities for sportsbooks to offer live in-game betting lines on various outcomes. Live betting is a staple at all the major online betting sites we recommend, as it's one of the best ways for fans of a given event to really immerse themselves not only in that event, but also in the betting that ebbs and flows with the action itself.
Live race betting on Formula 1 or IndyCar odds is different from other live sports betting options in several respects, but the basics are the same, and bettors can use in-play betting of this kind to recover bad pre-race wagers, double down on sure things, and speed out of the caution after a wreck when the lay of the land – and the lay of the track! – has changed dramatically.
How To Bet On IndyCar Races Legally Online
It's simple to make IndyCar bets online, as all you need to do is sign up – for free – at any of the top-rated legal sports betting sites listed here. These venues are all the best of the best, giving bettors the fastest and most secure deposits and payouts along with the most robust sports betting menus in the business.
Even domestic USA sportsbooks don't offer nearly as many odds – across nearly so many sports – that these online operators do, and because these books have an international footprint, they take action from players across the USA and many other countries, too.
That keeps odds fair, so there's never a "home-town" skew like there is with domestic books. The lowest vig and the highest payouts make these sites the best options for any racing fan, and it only takes a few minutes to get to the checkered flag:
Follow any link here to the legal online sportsbook of your choice. Click or tap the "Join," "Sign Up," or "Register" button.
Enter in your verifiable personal information, as requested. These sites all use industry-standard KYC – or "Know Your Customer" – protocols, so they can verify that you (and only you) have access to your account, your bets, and your winnings. All private data is kept secure behind SSL and TLS encryption, and such data is never shared or sold.
Select a deposit method and optional online sports betting bonus. We recommend using Bitcoin, Bitcoin Cash, Litecoin, Ethereum, Ripple, Stellar, or another supported cryptocurrency. These betting deposit methods come with zero added fees, high transfer limits, the best gambling bonuses, and allow you to claim same-day payouts.
Once your deposit goes through, you're ready to start your engines and blast off the starting line. Browse the boards and place your Indy 500 bets today!
Legal Indy Car Betting Apps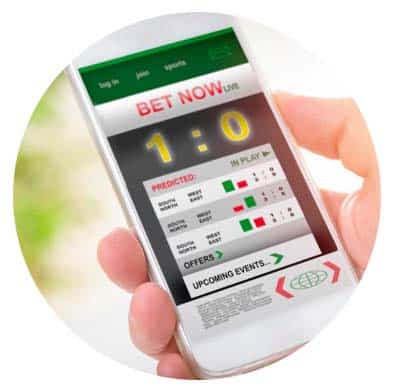 Whether you're looking to bet on the next IndyCar race, the next World Series, or the next Super Bowl, you can wager from wherever you are, whenever you want. That's because the best international sportsbook sites aren't geo-fenced like domestic sportsbooks are, allowing you to place your bets from anywhere in the US.
This is a huge advantage over US-based betting sites, and thanks to the 1961 Federal Wire Act, you're always going to be able to gamble more flexibly with overseas operators. That doesn't just translate to better IndyCar odds, of course – it also means you'll always have your bookie in your pocket or purse.
The top legal sports betting operators have all designed their mobile betting options to offer true iPhone sports betting, iPad sports betting, and Android sports betting options, with menus and boards that fit every size of screen.
And unlike IndyCar drivers, you don't need the fastest device or the latest and greatest gadget to secure a win. As long as your smartphone or tablet supports an Internet connection and an up-to-date browser, you can get on the podium quickly, safely, and simply.
Online IndyCar Betting Bonuses
The best online sportsbooks often have seasonal or event-specific promotional bonuses to choose from whenever you sign up or make a new deposit. These are typically "match bonuses," in that they take your deposit and match it at a certain percentage – say, 50%, 75%, 100%, or more – so you get more free plays right out of the gate.
The top online sportsbooks usually have the following betting promos available year-round:
Online Sports Betting Sign-Up Bonus
Online Sports Betting Bitcoin Sign-Up Bonus
Online Sports Betting Reload Bonus
Online Sports Betting Bitcoin Reload Bonus
Online Sports Betting Refer-A-Friend Bonus
Online Sports Betting No-Deposit Bonus
Some legal sports betting sites even offer special IndyCar 500 bonuses or other event bonuses for new members, though these are becoming less usual. However, as the big IndyCar race approaches, keep your eyes on the prize, and make sure you pick the best possible sports betting bonus available. In most cases, that means depositing with cryptocurrency, which usually nets you 2-3X the normal bonus amount!
Note: All online sports betting promos come with rollover requirements, which means you must bet a certain multiple of your deposit before you can withdraw any associated funds. The best sportsbooks make this easy by limiting their sports betting bonus rollovers to 5X-10X of your initial deposit.
IndyCar Betting Strategies
If you're at all familiar with motorsports betting, the following IndyCar tips and tricks won't really give you anything new to work with. That's because betting on IndyCar races is very much like betting on NASCAR or F1 racing.
All the general gambling strategies are the same, and for the most part, they apply to just about all other kinds of sports betting markets, too.
Briefly, here are the simplest pieces of IndyCar gambling advice that will help keep you on the straight and narrow (the occasional left turn notwithstanding).
IndyCar is in da house. As with all sports, you'll only be successful betting on IndyCar racing if you follow the sport. Be sure to stay up on IndyCar news, IndyCar standings, and IndyCar results to make the best possible wagers.
Conditional love. Race conditions are critical when betting on auto racing. From the time of day and temperature on the track to the relative humidity and even the shadows across the blacktop, time and place mean everything when handicapping IndyCar events.
Live it up. Live betting is one of the most compelling aspects of betting on car races, as a lot can happen during a race that materially alters the possible outcomes. If a wreck knocks out your pre-race pick, you can choose a new driver before the checkered flag. It's like a pit-stop for your bankroll!
Slow and steady wins the race. This might seem counterintuitive when the things you're betting on are zipping along at better than 220 MPH, but to come out ahead when gambling, small, frequent wagers are far superior to periodic big risks.
Stay in your lane. The best advice anyone can get when it comes to betting on sports for real money is that they should never risk more than they can afford to lose. Sports betting is all about entertainment, and you should never go into debt just to indulge a hobby.
Most racing leagues make for fairly popular eSports betting or virtual sports betting features, and IndyCar is no exception. That said, IndyCar eSports are dominated by the iRacing platform, and there are no developers that have produced an official IndyCar game since 2004. The last such title – IndyCar Series 2005 – was developed by Codemasters for PS2 and Xbox.
That said, IndyCar parent company INDYCAR, LLC, stated in 2019 its intent to increase its presence in the gaming and eSports communities, so you should expect to see a real, licensed IndyCar video game sooner than later. Until then, iRacing is the only platform for IndyCar eSports, and you can sometimes find betting odds for the game at the top international sportsbook operators.
In the US, IndyCar racing – formerly known as the IRL (Indy Racing League) – is considered the second level of professional motorsports after NASCAR. For bettors, too, NASCAR is much more popular in the USA, with NASCAR betting having a prominent place on the futures boards and Sunday betting boards during the racing season.
It also doesn't help IndyCar that NASCAR takes place during the same general time on the calendar. Of course, there is some driver overlap, which would appear to actually boost IndyCar's notoriety.
As for the differences between NASCAR and IndyCar racing, NASCAR races are much slower, with cars hitting top speeds of just above 200 MPH. Compare this to the average IndyCar top speeds of some 225-231 MPH, and you'll see that IndyCar is the faster sport. IndyCars also have open cockpits instead of closed cockpits, which helps them weigh less than half of their NASCAR counterparts. Finally, the IndyCar engine is a twin-turbo V6 compared to the V8s used in NASCAR stock cars.
In America, IndyCar races are viewed as much more in line with European Formula 1 races, or F1 races. This is because both series use similar-looking cars that utilize the open-cockpit concept. IndyCar engine specs are also similar to those of F1 cars, with both using V6 motors (though F1 uses 1.6-liter engines compared to IndyCar's 2.4-liter engines).
The difference between IndyCar and F1 cars comes down mostly to weight, with F1 cars being a few hundred pounds heavier than IndyCar vehicles on average. With top speeds that are similar to IndyCar speeds – approximately 220 MPH – F1 cars have markedly better acceleration, and F1 is far more popular with the international betting public.
That said, the US Indy 500 turns a higher betting handle in the United States than any F1 race, and it's more popular among gamblers than all but the most prominent NASCAR events, too.
IndyCar Resources: Schedule, Stats, Standings, Streams
If you're going to successfully bet on IndyCar races, you'll need to stay up to date on all the latest IndyCar news, IndyCar rumors, stats, standings, and streams. At the following resources, you can track current IndyCar qualifying data, IndyCar race results, and more. An informed bettor is a happy bettor, even when that info is coming down the pike at four miles a minute!
2023 IndyCar Schedule: IndyCar.com
2023 IndyCar Results: ESPN
2023 IndyCar Standings: NBC Sports 
2023 IndyCar Streams: NBC Sports, Peacock App