Legal College Football Betting Guide
College football is where the game first began, dating back to the mid-1800s, and betting on the contests has been around just as long. There are many ways to bet on NCAA FBS Division I football since odds can be posted on traditions, rivalries, postseason bowl games, and the College Football Playoff.
And if you're looking to get in on the college football betting action, then we want to provide you with the best betting sites for wagering money on the 2021-22 season.
In addition to legal info for betting on NCAA football, we also want to help you win your wager with our college football betting guide and give you a lot of useful resources so you can make the best bet possible when it's Saturday during the fall.
Is It Legal To Bet On NCAA Football?
There are no federal laws that prohibit betting on college football, post-season playoffs, bowl games, or NCAAF Thanksgiving games. When it comes to risking real money on college football games, there are two options available to you in the United States. If your state has legalized and offers brick and mortar, online sportsbooks, or mobile betting apps following the PASPA repeal, then that's one option.
The other option is through our vetted offshore betting sites, which are located and operated outside of the United States. There are no federal laws prohibiting the use of offshore sportsbooks which have been providing legitimate betting services to Americans for decades in some cases.
Best College Football Betting Sites
NCAA Football Betting Odds: Who will win the 2021-22 CFP National Championship?
Following a season that was lucky to complete following the ravages of COVID-19, NCAA College Football now looks to bounce back strong with a full slate of games from all active programs.
All Power Five college football conferences are gearing up to make a run for the 2021-22 CFP and a National Championship, and online NCAAF sportsbooks already have futures odds on the boards predicting the fate of each team and title.
We feature a page dedicated to betting on the CFP National Championship and will be updating the content as information becomes available.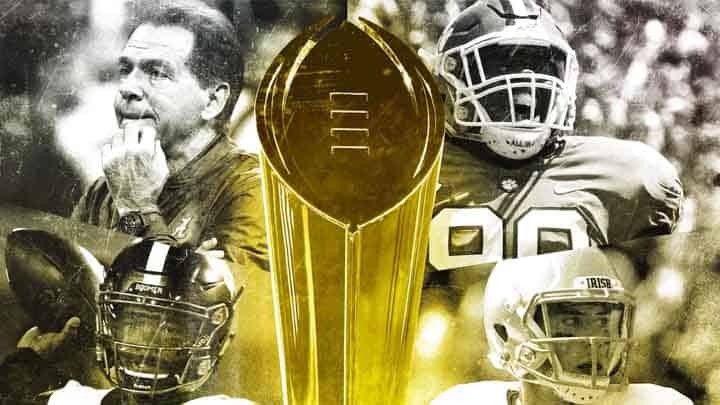 🏈 Provided by Bovada
Alabama

+275

Clemson

+450

Georgia

+600

Ohio State

+650

Oklahoma

+800

Texas A&M

+2500

Iowa State

+3000

Florida

+3300

LSU

+3300

Texas

+3800

USC

+4500

North Carolina

+5000
*More odds available online
Heisman Odds: Who Will Win In 2021-22?
Futures odds for the 2021-22 Heisman Trophy winner are posted now and will payout when the best college football player of the year is announced in January of 2022. More often than not, a quarterback wins the award, so keep that in mind when betting on Heisman odds this season.
2021-2022 NCAA Football Schedule & Important Dates
If you are betting on college football this season or are just a curious fan, below you can find the most important dates for the 2021-2022 NCAA Division I College Football season. Additionally, we've provided a link to ESPN so you can easily check out the full schedule for every college football team.
August 28, 2021 - NCAA Division I season starts
Conference Championships - December 3-4
CFP Selection Day - December 5th
Bowl Games Begin - December 18th
College Football Playoffs Semifinals - Saturday, January 1st
CFP National Championship - Monday, January 10th
Schedule for each team: ESPN.com
How To Bet On College Football: Betting Lines & Odds Guide
In this section, we'll cover the essential info on what you need to know after you've signed up and deposited funds into an online sportsbook with available banking options.
Because NCAA betting lines and odds have several different types, we'll define each one, how it differs from the NFL, and add examples of what you'll see prior to placing your bet. So, without further ado, let's dive right in.
Point Spread: This is the margin of victory that the favorite is expected to win by over the underdog in any given college football matchup. The spread can be much larger in college football due to the talent disparity, so keep that in mind when a team is favored by several touchdowns. (ex. Alabama -21.5, Bama must win by 22 or more points to cover the spread)
Money Line: The money line is much more straightforward since all you need to know is that you're solely betting on which college football team will win the game, but payouts are determined by the odds. (ex. Clemson -700, $700 bet wins $100)
Totals (Over/Under): Totals involve a number set by the sportsbook by on what the combined number of points will be when the NCAAF game is over. A wager must be placed on whether the actual total points will go over or under the predicted line. (ex. Over/Under 58.5 points, over will win at 59 points or more while under will win if the outcome is 58 points or fewer.
Prop Bets: Or proposition bets as they're formally called. These wagers are made on aspects of an NCAA football game that are not related to the final score. (ex. Will Trevor Lawrence throw for over 300 yards against Syracuse?)
Live/In-Play: This is when you put money on a CFB betting line while the game is going on, which is super convenient when wagering from a mobile sports betting app. (ex. Up by 7 at halftime, Ohio State -250)
Parlays: Did you know that you can combine bets on college football together and get a bigger payout? That's essentially what a parlay is, but be careful: If you lose any of your bets then all your bets lose too. (ex. Florida -10 (-110) + Michigan -7 (-110) = Parlay for 2 teams is +250, $100 bet would win $250 if both cover)
Teasers: Basically, college football teasers are parlays with the added bonus of you being able to control the spread, which does affect payout depending on whether you push the spread for/against you. (ex. Add 6 points to two-point spreads in your favor, +250 > +100)
Futures: Want to bet on which team wins the College Football Playoff, National Championship, or which player takes home the Heisman Trophy? These wagers are called futures and allow you to bet on something that will happen in the future to get a better payout. (ex. April: Odds that Georgia wins the National Championship +900)
Mobile NCAAF Betting
Sports betting is no longer confined to laptops and PCs. Mobile betting on College Football, NFL football, Aussie football, and Canadian football is in demand and our recommended online sportsbooks deliver the goods just by clicking on one of the links we've provided with a current browser like Opera, Google, Safari, Firefox, or Chrome. There's no download required.
All the NCAAF betting lines that are available on the regular website can be accessed and wagered upon using an up-to-date Android device, iPhone, or iPad.  Wagers can be made from almost anywhere in the USA, from your 50-yard line seats at the stadium or while waiting for your food in the drive-through.
NCAAF Resources: Stats, Scores, and Streams
Below you'll find several very useful resources when it comes to betting on college football, which includes a database full of statistics that go back several decades, live scores for all the Division I games, and streams to watch the teams you put money on courtesy of Reddit.