Legal College Football Betting Guide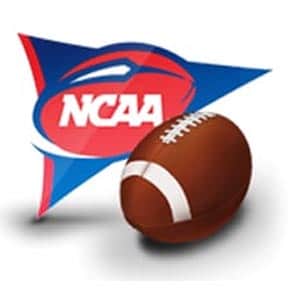 2023 College Football Futures Are Live Now
NCAAF Sportsbooks Accept Members Starting At 18 Years Old
CFP National Championship Game Futures Can Be Bet On Now
College football is where the game first began, dating back to the mid-1800s, and betting on the contests has been around just as long. There are many ways to bet on NCAA Division I College Football with odds available for rivalries, postseason bowl games, and the College Football Playoff.
If you're looking for legal sports betting options to lay some action on college football odds, then we want to provide you with the best online sportsbooks for wagering real money on the 2023-24 season, bowl games, and the CFP.
In addition to info for betting on NCAA football, we also want to help you win your wager with our legal college football betting guide and give you plenty of useful resources so sports gamblers can make the best wager on point spreads, moneylines, props, and more.
Best College Football Betting Sites
Is College Football Betting Legal?
There are no federal laws that prohibit betting on college football. In fact, legally betting on the College Football Playoffs, bowl games, and regular-season matchups can be done in the USA via two options - domestic and offshore. If your state has regulated brick-and-mortar venues, online sportsbooks, or mobile betting apps, they can be used for college football betting so long as the customer is of legal minimum age.
Another legitimate option is to use one of the online sportsbooks included in our list of the top legal sports betting site reviews. They are located and operated outside of the United States, and there are no federal laws prohibiting the use of offshore sportsbooks. Since there is no law to break, online sports bettors in the USA will not get into any trouble for gambling on NCAAF games with an offshore book over the web.
How To Bet On College Football
College Football Betting Lines (aka Game Lines): Each NCAAF game, whether it takes place in the regular season, during the playoffs, or for a bowl game, will feature a betting line. The three common components that all NCAAF betting lines will include are as follows:
College Football Point Spreads: College football point spreads take points away from the favored team and add them to the underdog to make an even matchup for gambling purposes. Bets will cover the spread if the favorite wins by more than the margin or the underdog loses by less than the spread (or outright wins the game).
College Football Moneyline Odds: Bets can be placed on the winner of the game without regard to spreads. A winning bet occurs when the team you bet on wins the game.
College Football Over/Under Betting (AKA Totals Betting): This is the final set of numbers in an NCAAF betting line and reflects the total points that sportsbooks think both college football teams will combine to score. Bet on whether the total is over or under the line and win if you are correct.
College Football Prop Bets: Any football-related outcome that isn't tied to game lines or championship futures can be considered a prop bet or a proposition. These types of college football bets included odds for the first player to score in a game, highest stat collectors for all major categories, and can even accept action on outcomes occurring outside the field of play.
College Football Futures: This typically refers to betting on the CFP National Championship winning team but can also be used to describe odds for gambling on conference winners or CFP qualifiers. Futures lines include a list of all programs that remain eligible for the said championship and take action on moneyline odds created for individual teams. If the team you bet on wins what's at stake, you win.
College Football Parlays: A parlay bet is when multiple wagers are combined. All bets included in a college football parlay must win, or all money risked will be lost. The odds of success and resulting payouts rise with each added bet into the NCAAF parlay, making them attractive to low-dollar gamblers. Some sportsbooks permit college football teasers and pleasers where the parlay odds can be adjusted, but the cash winning potential is also decreased.
Mobile College Football Betting Apps
There are several states that provide mobile sports betting apps to wager on NCAAF odds, but offshore sportsbook sites allow for betting nationwide using Apple and Android smartphones and tablets.
The only requirements are a connection to the internet and a mobile web browser like Opera, Safari, and others. Mobile college football bets can be placed from the location that gamblers choose on anything from regular season games to CFP odds.
The apps listed in our mobile sportsbook reviews represent the best options for betting on college football on the go in the United States.
Legal CFP Betting
In early December, the College Football Playoffs Selection Committee releases their final rankings, which also serve to seed the postseason bracket. Currently, the CFP is made up of the top four teams, where 1 vs. 4 and 2 vs. 3 face off in the semifinals. The two remaining teams advance to the CFP Championship Game, where the winner takes home the National Title for that year.
Betting lines for the CFP semifinals and National Championship Games will be created as soon as the participants are known. There will also be routine CFP prop bets created throughout the season that allows action on qualifiers.
New 12-Team College Football Playoffs In 2024-25
In 2024-25, the NCAA is changing to a 12-team CFP format, where the top teams are made up of the four best-ranked conference winners, the next six best at-large teams, and the following two highest-ranked conference champions after that. Check out our CFP betting page for more information on how this format will operate.
2023-24 College Football Schedule
College Football Regular Season Begins: August 26, 2023
Conference Championship Weekend: December 2-3, 2023
Heisman Trophy Awards: December 9, 2023
College Bowl Games Begin: December 16, 2023
New Year's Six Bowl Games
Cotton Bowl: December 29, 2023
Peach Bowl: December 30, 2023
Fiesta Bowl: December 30, 2023
Orange Bowl: December 30, 2023
College Football Playoffs
Rose Bowl: January 1, 2024
Sugar Bowl: January 1, 2024
CFP National Championship Game
NRG Stadium – Houston, Texas: January 8, 2024
Legally Betting On NCAAF National Championship Odds
All Power Five college football conferences are gearing up to make a run for the CFP and a National Championship, and online NCAAF sportsbooks already have College Football odds on the boards predicting the fate of each team and title.
We feature a page dedicated to legal betting on the CFP National Championship and will be updating the content as information becomes available.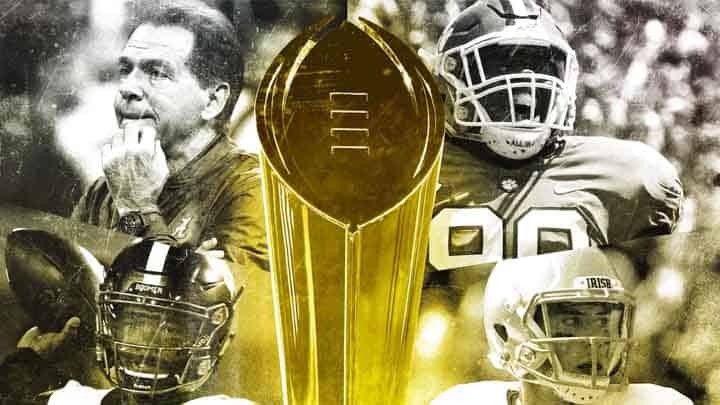 🏈 Provided by Bovada
2023-2024 NCAA Championship Winner
Georgia +300
Ohio State +700
Alabama +700
Michigan +800
USC +1200
Clemson +1600
Texas +1800
Tennessee +2000
Florida State +2000
Penn State +2000
LSU +2000
Oregon +2500
Notre Dame +3000
Washington +4000
Oklahoma +4000
*More odds available online
College Football's Power Five Conferences
The main five conferences in NCAAF largely dictate the teams that qualify for College Football Playoffs, as they possess the best programs in the USA. These are referred to as the Power Five Conferences and include the SEC, ACC, Big Ten, Big 12, and Pac-12.
Live College Football Betting
When each College Football game kicks off and the clock starts ticking, the NCAAF betting lines remain open for wagering at the sportsbooks we prefer. The point spread, total, and moneyline remain active until some point in the second half when college football bookmakers have had enough.
Most college football prop bets will remain on the boards until conclusions become more certain. If a line for in-game college football betting is removed, check another sportsbook site that we endorse because each venue strikes through their live odds at different times.
Examples Of Heisman Odds
Futures odds for the Heisman Trophy winner will be posted closer to the onset of this year's college football season and will payout when the best NCAAF player of the year is announced in December of 2023. More often than not, a quarterback wins the award, so keep that in mind when betting on Heisman odds this season.
NCAAF Sportsbook Bonuses
Each time a deposit is submitted at one of the sportsbooks that we recommend, members can add free dollars to their betting accounts for use on college football gambling or any other sport with odds on the board. First-time and follow-up deposits are matched by a percentage of the transaction, with bonus funds added to the account once completed.
These bonus dollars are free to use immediately, but there are usually terms that must be finalized before withdrawals can be made. Rollover is the most common condition we've seen. The amount of rollover is the number of times the dollars must be bet in the sportsbook before a payout can happen.
There is no requirement to accept an options sportsbook bonus. It is up to you. Just read the conditions of the sportsbook promo and take the free money if you can meet them. Read our page dedicated to sportsbook bonuses for more information on the latest offers.
Sportsbook Banking Options
Deposits: Adding funds to your account at any of the sportsbooks we suggest can be done quickly and securely using a wide variety of common and cutting-edge methods. Uploading US dollars to your account can be done using credit and debit cards, bank wire transfers, a through prepaid sportsbook vouchers that can be bought over P2P vendors like MatchPay.
Another popular method is cryptocurrency. Bitcoin, Dogecoin, Cardano, Ethereum, and more are accepted across the college football betting sites listed on this page. We prefer crypto because it is the most secure method of depositing, and the sportsbook bonus cash offers are much higher than when using USD.
Payouts: USD sportsbook withdrawals are limited to cashier's checks by courier (slow) or the sale of vouchers, which is fast but includes fees. Sub-24-hour payouts are standard when withdrawing with cryptocurrency, and each college football sportsbook will allow altcoin transactions in the same formats they allow for withdrawals. There are also no added fees to crypto payouts, and requests can be made more often and at higher sums than traditional methods.
College Football Betting FAQs