Legal Bellator Betting Online
Bellator Odds Are Live Now!
Betting Lines Are Offered For the Entire Bellator Card
Online MMA Betting Sites Accept Members As Young As 18
The second most popular Mixed Martial Arts promotion on the planet is Bellator MMA which regularly produces pay-per-views with a stacked card filled with full-contact fights. Legal Bellator betting online can be done at just about any legit sportsbook that is open for business, but our list of top MMA sportsbook sites are your best option.
Legal sports betting is available in every state across America, and our intention is to not only direct readers toward the best Bellator betting sites, but to also explain the differences in domestic and offshore sportsbooks and why the latter is the preferrable choice for MMA gamblers.
Is It Legal To Bet On Bellator?
Yes, legal Bellator betting is available at any legitimate sportsbook, whether they are domestic, offshore, online, or off. Domestic sportsbooks that are state-regulated are open for business in some states, with most requiring a minimum gambling age of 21.
18 and over gamblers can legally bet on Bellator fights online using any offshore sports betting site listed among our sportsbook reviews within any state in the USA because there are no laws in place that make the practice illegal. The Bellator sportsbooks listed below are all located overseas, and fall outside the jurisdiction of federal gambling laws in the USA.
Best Bellator Betting Sites For 2023
How To Bet On Bellator Odds
Placing a bet on Bellator fights is just like when betting on the UFC in that each fighter will be granted moneyline odds that give gamblers a preview of the probability that each will win the bout, and also discloses the amount of money that can be won. Here is an example Bellator betting line:
H3 Ryan Bader vs. Cheick Kongo
Using the above Bellator odds, gamblers can infer that Bader is favored to win because his moneyline odds are the lowest. Typically, the fighter with negative moneyline odds is the favorite, but sometimes both combatants will be listed in the negative.
A Bellator bet of $2.50 must be risked in order to net a dollar on a Bader victory, but Kongo will payout more than gamblers wager because he is the underdog. A $1 MMA bet on Kongo will net $1.85 if he beats Bader.
Any Bellator betting odds for individual fights will appear as above, but MMA prop bets will also be produced for each bout. These Bellator props cover round betting for when and how a fight will end, first fighter to bleed or draw blood, and more.
The only difference is that more than two betting options will be included within the line for a Bellator prop bet. For more detailed information, investigate our exhaustive guide on how to read betting odds.
Can You Bet On Bellator Fights Online?
Yes, you can bet on Bellator online, and that's how we prefer it! Click on any of the MMA sportsbook links we've included in the above list and research what each has to offer.
They each vary slightly in the Bellator odds that they create so becoming a member with more than one allows members to shop the odds for the best sportsbook payouts. Joining only takes a few minutes.
On any page at our recommended combat sports betting sites, the join icon can be clicked to begin the signup procedure. After entering your name, address, and other info, online gamblers can then submit their first sportsbook deposit for betting on Bellator.
These online sports betting deposits can be made using USD or cryptocurrencies like Bitcoin and other popular altcoins, and offer bonus cash promotions when making the first deposit. After accounts have funds in them, members should then look for the MMA section of the online sportsbook and locate the Bellator odds inside.
Where Can I Bet On Bellator Events?
As mentioned earlier in this guide, Bellator betting odds will be posted at any reputable sportsbook regardless of where their base of operation is. Domestic online sports betting is not available across the entire United States, but our best Bellator betting sites above operate offshore and can accept MMA gamblers across all 50 states between them.
We strongly endorse all of the online sportsbooks linked to within this page and suggest that Bellator gamblers do venture outside of these premier sports betting sites because they offer the best MMA odds, are open 24/7/365, and deliver reliable customer support if ever needed.
Mobile Bellator Betting Apps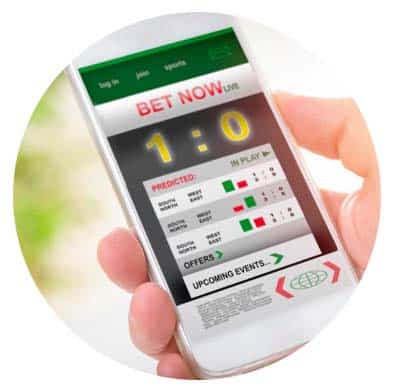 Odds are you are reading this on a smartphone or a tablet right now. Most online traffic is sourced from Apple or Android devices these days, and that is why our #1 MMA gambling sites port their mobile sports betting services to iPhones and iPads – maximum convenience.
While domestic gambling applications require a download, the MMA betting sites we mention and link to on this page do not. Just click on any of the Bellator sportsbook links we've provided here at SBL and you'll witness your portable phone covert into a handheld MMA betting station!
Is There Live Betting On Bellator Fights?
For those that are interested in placing a live bet on Bellator fights, all you have to do is login to one of our top MMA gambling sites and click on the sportsbook tab after the bout has begun. Moneyline odds to win, Bellator prop bets, and more, can all remain on the betting boards until the fight concludes.
While live Bellator odds allow for bets to be placed throughout the fight, the moneylines often become more certain as each round passes creating for smaller payouts. Odds for live MMA betting can disappear at any time and are not a guarantee to last all five rounds of the Bellator match.
What Is Bellator MMA?
Bellator is an MMA fighting promotion that began in 2008. It is owned by Paramount and is now approaching its 300th pay-per-view event that attracts Bellator bettors from around the globe to lay some action on each fight on the card.
Bellator pay-per-views typically air on Showtime and often begin during the middle of the day in the United States when they are held in Europe. The Bellator rules are very similar to UFC regulations, with bouts that often features fighters from the Ultimate Fighting Championship ranks on their PPVs.
Banking Options For Funding Your Bellator Bet
The offshore sports betting sites that populate our top list above offer options for cryptocurrency deposits to fund accounts in addition to USD methods. Here's a breakdown of the sportsbook banking options available:
Betting On Bellator With USD: Debit and credit cards, money orders, P2P options (PayPal, Google Pay, Apple Pay, MatchPay), and bank wire transfers are just a few of the US Dollar options available for uploading funds at the online sportsbooks we rank at the top.
Betting On Bellator With Cryptocurrency: Bitcoin, Cardano, Litecoin, Tether, Dogecoin, and more can be used to make a Bellator sportsbook deposit online and they transact faster and more securely that the USD options above. Cryptocurrency withdrawals are the only sub-24 hours option available at offshore sports betting sites.
Bellator Sportsbook Promo Codes
Another reason we strongly encourage readers to do business with offshore sportsbooks is that they reward new sign ups with bonus cash offers that match a portion of the first deposit and add it to accounts for Bellator betting online.
The sports betting cash bonuses escalate when gamblers use cryptocurrency over US dollar uploads as well. Just keep in mind that these promos have terms attached that must be met before withdrawals can be made. Accepting a sportsbook promo is not required to become a member.