South Dakota Sports Betting – Bet On Sports Legally In SD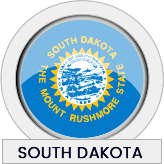 South Dakota has not been able to get a sports betting bill on the state ballot since the repeal of the PASPA act in 2018. After several failed attempts in 2019, lawmakers presented SJR501 on February 12, 2020 in what appears to be a renewed effort to embrace state-regulated sports betting.
In the mean time, South Dakotans can legally access offshore sportsbooks that will accept their registrations and allow them to bet on sports. Until the SD state legislature can pass a domestic sport betting bill the only option residents have is offshore sportsbooks.
Is Sports Betting Legal In South Dakota?
There are no state or federal laws that prohibit South Dakota residents from engaging in sports betting at legitimate sportsbooks that are operating legally.  Since the state does not yet authorize domestic sports betting facilities or state-licensed online sportsbooks, the best option for sports bettors in SD is the offshore market.
Sports fans in SD can enjoy betting on sports at legitimate online sportsbooks that are operating legally offshore without fear of violating any US gambling laws. Sportsbooks such as the ones you see featured on this page are operating legitimate within the industry.
South Dakota Sports Betting Bills
Since the repeal of PASPA in 2018, the South Dakota State Legislature has successfully killed one domestic sports betting bill. In February of 2020 SJR501 has been brought forward. We will update the status of this bill as it progresses through the legislative process. You can visit our bill tracker page to stay up to date with current sports betting legislation.
Sportsbooks That Legally Accept South Dakota Residents
If you type 'online sportsbooks' into a search engine, you will be flooded with results. How do you determine whether a site is legitimate?  Our team has personally vetted the following sites for trustworthiness, credentials, security, and quality.
The table below is comprised of offshore sportsbooks operating legally outside of the USA that check all the boxes for us. You are encouraged to browse them for yourself via the links provided in the table or visit our US friendly sportsbook reviews page for further information.
South Dakota Sports Betting Details
Since there are no state options the following details have been filled out with offshore sportsbook details. Offshore sportsbooks have accepted US citizens for almost a decade and the brands we recommend and play are the most trusted online sportsbook in the industry.
Legal Sports Betting: Offshore Only
Minimum Sports Betting Age: 18 years
Land-Based: n/a
Online: Offshore Only
Mobile: Offshore Only
In-Play: Offshore Only
Estimated Revenue: n/a
Eligible Operators: n/a
Commission: n/a
Licensing Fee: n/a
Tax Rate: n/a
Tax-Funded: n/a
What You Can Bet On In South Dakota
All betting lines, odds, and props for all games, teams, and players across all college and professional sports (via Offshore)
What You Can't Bet On In South Dakota
No restrictions (via Offshore)
Where Can I Bet On Sports In South Dakota?
Offshore online sportsbooks are the only option for legally betting on sports inside of South Dakota's state borders. Betting at these sites does not violate and state or federal gambling laws.
---
Biggest Sports Betting Cities in South Dakota
Sports Betting In Sioux Falls, SD
South Dakota is lacking in major professional and college teams though there are colleges in Sioux Falls. The colleges in SD's most populated city often plays sports, but since they are smaller schools there might not be many wagering options online. You might be able to find smaller local teams in our recommended sportsbooks, but the bulk of sports gambling revolves around teams in the NFL, NBA, NHL, MLB, and NCAA.
---
Frequently Asked Questions About Sports Betting In South Dakota
Will I get arrested for betting on sports in South Dakota?
No. There are no laws preventing SD residents from betting online with licensed sportsbooks. You can find yourself in some legal trouble for betting with illegal bookies operating with the state of SD but online sports betting is perfectly fine.
Are mobile sports betting apps legal in South Dakota?
Only apps that are operated outside of the United States are allowed to operate in Sout Dakota. Since there is no state regulation operating an online sportsbook within state lines can land you in some serious trouble.
What teams can I bet on in South Dakota?
Offshore sportsbooks offer just about every sport you can think of. The most popular teams to bet on are usually from USA sports including basketball, football, baseball, FIFA, and others.
What is the legal minimum sports betting age in South Dakota?
Most offshore sportsbooks will accept registrations from US residents over the age of 18.
---
South Dakota Legislative Resources
South Dakota Gambling Resources
We take problem gambling seriously and you should too. If you know anyone struggling with sports betting or has let their passion for gambling entertainment become a problem. We urge you to reach out to the South Dakota National Council on Problem Gambling for further assistance and immediate help.