2023 Pegasus World Cup Betting Guide
In the United States, Thoroughbred horse racing is naturally dominated by the Triple Crown events, with the Kentucky Derby getting the most betting action and media coverage of all. But even after the Triple Crown season comes to a close, there are still several huge races on the calendar, and the Pegasus World Cup is among the biggest. With a purse of $3 million, the race is one of the richest in the world.
Of course, jockeys, trainers, and owners aren't the only Pegasus Cup winners. With legal Pegasus World Cup betting, hundreds of millions of dollars are risked and won on this G1 event, and you can participate safely and conveniently by wagering online at any reputable horse racing betting site. So if you want to learn how to bet these ponies, just consider this page your own personal starting gate!
Is It Legal To Bet On The Pegasus World Cup Online?
Yes, it is! In fact, in more than 40 US states, you can legally bet on horses domestically, whether at tracks, OTBs, or online. Thanks to the Interstate Horse Racing Act of 1978 (IHRA), horse racing betting is not considered sports betting and is not limited by the Federal Wire Act.
That said, not everyone has domestic options available to them, and all domestic horse betting is pari-mutuel – or pool-based – in nature. For real house-banked Pegasus Cup betting odds, you need to sign up at a legitimate online sports betting site that offers an international racebook.
There are no federal US gambling laws banning access to such sites, and only Washington has local mandates barring online gambling (though these are historically unenforced and all top-rated online racebooks will accept members from both states at 18 and up).
Best Legal Online Sportsbooks With Pegasus World Cup Odds
Pegasus World Cup 2023 Odds
The Following Pegasus horse race odds are available from the top three international online racebooks. However, because the final field is not yet set (and there could be late scratches, DQs, and replacement horses announced leading up to the event), you'll see that different sites don't just have different odds, but they also have different lineups for the race itself.
This is one reason why it's so important to shop lines before placing your wagers, making sure to pick the best odds available on any given horse or parlay ticket. Since joining these sites is fast and free, there's no reason not to give yourself the edge when putting money on the line.
As a final note, different sites offer different horse racing bonuses (i.e. track rebates), which may also play into your decision for where to bet on Pegasus World Cup action.
Charlatan +165
Knicks Go +300
Mucho Gusto +700
Tax +700
Code Of Honor +1000
Sharp Samurai +1400
Sleepy Eyes Todd +1400
True Timber +1600
Mr Freeze +2000
Harpers First Ride +2500
Jesus Team +2500
Kiss Today Goodbye +4000
Charlatan +200
Knicks Go +300
Tax +700
Mucho Gusto +750
Code of Honor +1200
Anothertwistafate +2000
Jesus' Team +2000
Kiss Today Goodbye +2000
Mr Freeze +2000
Sharp Samurai +2000
Sleepy Eyes Todd +2000
True Timber +2000
Harpers First Ride +3300
Idol +3300
King Guillermo +3300
Math Wizard +3300
Charlatan +140
Knicks Go +300
Mucho Gusto +700
Tax +700
Code Of Honor +800
Happy Saver +1100
Mystic Guide +1400
True Timber +2000
Jesus' Team +3000
Eye Of A Jedi +3300
Pegasus World Cup Schedule
The Pegasus Cup horse race is typically held in January on the third Saturday of the month. This year, the event will take place on Saturday, January 23.
With fans allowed at just 20% of normal capacity, the race will have less pomp and circumstance than usual, though you will still be able to watch it on NBC Sports.
Live coverage starts at 4:30 PM and runs through 6:00 PM, with the race's post time slated for just before the 6:00 hour.
What Is The Pegasus World Cup?
The Pegasus World Cup, or Pegasus World Cup Invitational Stakes, is a Grade I Thoroughbred horse race held annually at the end of the typical three-year-old season, open to horses that are four years old.
As a result, many Kentucky Derby, Preakness Stakes, and Belmont Stakes contenders and winners participate in the Pegasus Cup. The race is held at Gulfstream Park (Hallandale, FL) and is contested on a 9-furlong (1 1/8-mile) dirt track.
At the time of its inauguration in 2017, the Pegasus Cup was the richest race in the world, with a massive $12 million purse. However, since its first running, that purse has decreased a bit. Nevertheless, the race is still in line with the biggest Triple Crown races, putting it on even ground with the likes of the Kentucky Derby.
The purse for the 2021 Pegasus World Cup is set at $3 million, though it should go back up in the future, as this limit is largely a result of the coronavirus outbreak and the fact that only a small number of fans will be in the stands for the event. In typical years, only the Saudi Cup has a bigger purse than the Pegasus Cup.
How To Bet On The Pegasus World Cup
In the United States, there are three ways to legally bet on the Pegasus Cup, depending on where you live. You can put money on your Pegasus World Cup picks locally at a track, at a retail or online OTB, or at an international sportsbook offer horse odds.
We prefer the latter for its heightened convenience and ease of use, but all three are viable options for most Americans aged 18 and up.
Racetrack Betting
Betting on the Pegasus Cup is possible at Gulfstream Park where the race is held, but you can also place your wagers at other tracks nationwide, as long as your state participates in simulcast horse betting.
When you bet at a track, the bets are all pari-mutuel in nature, with payouts being based on a pool system. Thus, you won't know what the exact odds for your pick will be until all betting is closed right before the race starts.
This has pros and cons for horseplayers, but many bettors prefer proper house-banked odds, because those odds are locked in as soon as you place your bets.
OTB Betting
OTB betting, which stands for "off-track betting," allows you to place Pegasus Cup bets at satellite locations around your state. These are retail outlets that operate as remote betting venues for the tracks in your state, letting you place your bets without having to travel to the actual tracks themselves.
Most states with active tracks have OTB betting, as do most states with active casinos (which often host OTB kiosks). OTB betting also includes legal online betting via domestic services, provided your state participates in interstate horse betting per the IHRA.
Domestic Internet-based horse betting sites, for the lack of a better term, can be considered online OTBs, and they are also exclusively pari-mutuel.
International Racebook Betting
The best way to bet on the Pegasus World Cup – or any major horse race – is to use an online betting site that operates internationally. The best providers are listed on this page, and they accept most USA horseplayers at just 18 and up.
Additionally, online racebooks offered by legal sports betting sites outside of the US are the only places to make actual house-banked horse bets on the Pegasus Cup, as domestic providers are bound by law to offer only pari-mutuel options.
This way, bettors know exactly how much they stand to win on any given straight or exotic bet, and the model gives horseplayers more access to a variety of lines, like horse race futures odds and cross-sport parlays that can't be found anywhere else.
Pegasus World Cup Field
The 2021 Pegasus World Cup entries have not been finalized, but 12 horses have been invited, with another four waiting in the wings (or, rather, the stables).
Should any of the 12 invitees withdraw or be otherwise unable to run, there are four alternate horses that would earn post positions at the big race. These alternates' preferred orders of selection are included in parentheses.
2021 Pegasus Cup Invitees
Charlatan
Code of Honor
Harpers First Ride
Jesus' Team
Kiss Today Goodbye
Knicks Go
Mr Freeze
Mucho Gusto
Sharp Samurai
Sleepy Eyes Todd
Tax
True Timber
2021 Pegasus Cup Alternates
Anothertwistafate (1)
Idol (4)
King Guillermo (3)
Math Wizard (2)
2023 Pegasus World Cup Favorites
Grading favorites in horse racing is usually fairly simple, which is why WPS bets don't often pay out as handsomely as the horses they represent. Everybody bets on the favorite, and the favorite wins pretty often!
But handicapping is more difficult when legally betting horses online, as you can't see the ponies up close and personal. That difficulty is also compounded by the fact that the 2020 horse racing schedule has been largely upended due to COVID-19, making training progress a major wildcard when it's otherwise a fairly reliable metric.
That said, all the best online horse racing sportsbooks have Charlatan as the overall consensus favorite to win the Pegasus, with Knicks Go in second and Mucho Gusto or Tax in third.
For what it's worth, Mucho Gusto is the defending champion, as he won the 2020 Pegasus World Cup. Most annual horse races do not feature defending champions, but bettors should be wary, as Mucho Gusto is now older than most other Pegasus Cup entries. Each of these top four horses have won the following big races:
Charlatan – Malibu (2020), Arkansas Derby (2020)
Knicks Go – Breeders' Cup Dirt Mile (2020), Breeders' Futurity (2018)
Mucho Gusto – Pegasus World Cup (2020), Affirmed Stakes (2019)
Tax – Harlan's Holiday (2020), Jim Dandy (2019), Withers (2019)
Mobile Betting on the Pegasus World Cup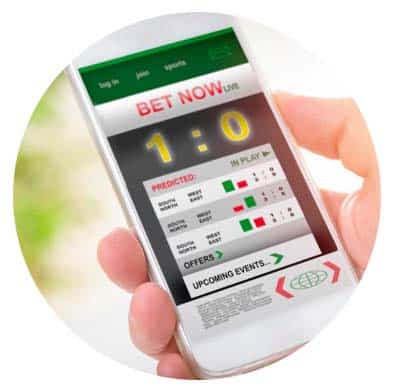 Mobile sports betting is the chief way folks wager on athletics worldwide, and the same is true for horse racing betting. All the top online racebooks featured here support full mobile betting, and because these mobile suites are entirely browser-based.
As such, there is nothing to download or update. Just log into your online betting account, tap on the "Horses" or "Racebook" category, and place your bets.
Best of all, betting on horses via mobile is device agnostic. That means that it doesn't matter whether you're using an iPhone, iPad, or Android smartphone – All the best sites conform to the specs and dimensions of your mobile device, so you'll get a touchscreen-friendly and efficient betting menu of all the Pegasus World Cup odds and other daily horse races from tracks all around the world.
As long as you've got a reasonably current device, an up-to-date web browser, and a Wi-Fi or mobile network connection, you can bet on the Pegasus Cup anywhere, anytime, with full SSL and TLS encryption.
Note: If you use a VPN on your mobile, please disable this when legally wagering on horses at the sites listed here. These respected operators all use strict KYC (Know Your Customer) standards to ensure that the right players always get their payouts on time and in full, and VPNs violate their terms of service.
Last Year Pegasus World Cup Results
Usually, the previous year's Pegasus Cup is not a great indication of which horse will win the next year's event, because most horses only ever race in a given contest a single time. That said, the Pegasus – due to it's four-year-old-plus age limit, sometimes features the same horses in consecutive years.
Pegasus World Cup 2020 winner Mucho Gusto is likely to attempt a defense of his crown in 2021, though that doesn't make him the de facto Pegasus Cup favorite. Similarly, True Timber and Tax are also expected to run in the 2021 race, as they did in 2020.
Ultimately, prior races are better for horse handicappers looking at pedigree and trainer acumen to get an edge. To that end, horses trained by the likes of superstars like Bob Baffert will usually have an edge.
Nevertheless, for the sake of history, here's how last year's Pegasus Cup ended up (trainers in parentheses):
Mucho Gusto (Bob Baffert)
Mr Freeze (Dale Romans)
War Story (Elizabeth Dobles)
Diamond Oops (Patrick Biancone)
Bodexpress (Gustavo Delgado)
Tenfold (Steven Asmussen)
Seeking the Soul (Dallas Stewart)
True Timber (Kiaran McLaughlin)
Tax (Danny Gargan)
Higher Power (John Sadler)
The Pegasus World Cup will be held on Saturday, January 23, 2021. 
The Pegasus Cup post time will be sometime between 5:30 PM and 6:00 PM EST, though the actual start time of the race is TBA.
Coverage begins at 4:30 PM on NBC Sports.
The Pegasus World Cup 2021 location is the same as ever: Gulfstream Park in Hallandale Beach, FL.
The Pegasus Cup is the marquee event for the track, and there are no plans to hold the race anywhere else in the near future.
The 2021 Pegasus Cup purse is set at $3 million.
This is the lowest-ever purse for the prestigious Thoroughbred race, though it will probably go back up as attendance and betting interest on horse racing return to their pre-coronavirus normals.
Honestly, there are only a few real horse racing strategies for the Pegasus Cup, and we'll list them briefly here:
Handicap the horses. Make sure to research factors like pedigree, trainers, and jockeys, using history to your advantage. Renowned trainers and seasoned jockeys usually win at a higher clip than average. It's also important to factor in a horse's age and previous races, as well as career race volume.
Parlay it up! While many horseplayers prefer to place WPS (Win-Place-Show) bets, parlays are where the money is. If you can hit a $2 trifecta, you can make hundreds or even thousands of dollars betting on the Pegasus Cup!
Stay on top of track conditions and don't bet too early. The conditions at a racetrack – especially a dirt track like the one at Gulfstream Park – are susceptible to many variations. The course might be dry and fast or wet and sloppy (or anything in between), and different horses perform better or worse in different track conditions. Also, it rains a lot in Florida!
Don't bet more than you can afford to lose. This isn't just the Golden Rule for legal online horse racing betting, it's the gold standard for all For bettors, unlike Thoroughbreds, slow and steady wins the race.
The Pegasus Cup statue is a 110-foot sculpture at Gulfstream Park, depicting a mythical Pegasus trampling a winged serpent beneath its hooves.
The sculpture also includes a fountain feature, and the water is lighted with different colors at night.
The Pegasus Cup trophy is a crystal award given to the winner of the Pegasus Cup. It features a pedestal with a circular centerpiece, laser-etched with a Pegasus standing atop the Earth.
You can watch all past Pegasus World Cup events on free streaming sites. Pegasus World Cup YouTube videos should probably be part of your handicapping protocol when preparing to bet on the race.
No. While some races, like the famed Kentucky Derby, have strict dress codes for all those in attendance, the modern glitz and glamor of the Pegasus Cup embraces all the eclectic styles of contemporary times.
You can typically wear whatever you want, as appropriate for the schizophrenic Florida winter.
That said, treat it like a convenience store: No shoes, no shirt, no service.
And pants. You should probably wear pants.
No. The Pegasus World Cup (aka the Pegasus World Cup Invitational Stakes) is a Grade I Thoroughbred race with one of the biggest purses in the world, and it's run annually in January at Gulfstream Park in Hallandale Beach, FL.
The Pegasus Stakes, on the other hand, is a much older race, and it's a Class III graded stakes event run at Monmouth Park Racetrack in Oceanport, NJ, usually in August.
Pegasus Stakes horses do not typically compete in the Pegasus World Cup.