Apple Pay Sports Betting Deposits – Sports Betting With Apple Cash
The most popular e-Wallet app in the world
Extra Apple security for all credit/debit/P2P transfers
Use with vouchers + MatchPay at Bovada LV
One of the newest and most popular way for iPhone sports betting players to top off their accounts is to use the Apple Pay digital wallet or e-Wallet service. Apple Pay accounts are free and easy to use, and Apple Pay sports betting deposits are more and more commonly used. Best of all, when it comes to how to send money with Apple Pay to these international operators, US bettors actually have two different options.
For legal online sports bet funding, Apple Pay can be used to make traditional credit/debit deposits, though these kinds of transfers are occasionally blocked by the federal UIGEA banking regulation. This is inconvenient, so some books also allow members to make deposits and withdrawals via the Apple Cash P2P option. Still, legal sportsbooks operating internationally are not places that accept Apple Pay directly.
Instead, as part of their sportsbook banking options, select sites employ a voucher system or MatchPay, letting members use Apple Cash to safely and securely fund their accounts. Here, we explain the Apple Pay betting banking process, and it's our favorite way to enjoy Apple Pay gambling online. Once you learn how to send money through Apple Pay, we think it'll be your favorite bet funding method, too!
Best US Legal Online Sportsbooks That Accept Apple Pay And Apple Cash
What Is Apple Pay + Apple Cash?
Apple Pay was the first popular e-Wallet and P2P (person-to-person) transfer service to be tied to a major mobile operating system. Apple launched Apple Pay in 2014, and since then, the service has become the gold standard for online wallets. As of 2022, there are nearly 400 million Apple Pay users worldwide!
Essentially, Apple Pay lets you digitally store your existing credit cards (Visa, Mastercard, American Express, Discover card, etc.) on your iPhone, iPad, or Mac, so you can quickly and easily make payments at retail locations and online.
By adding two-factor authentication security measures to every transfer – including Touch ID, Face ID, passwords, and/or PINs, Apple Pay card transactions benefit from enhanced biometric authentication.
Apple Pay also features the Apple Cash option, which works just like any other P2P service, such as PayPal, Venmo, Cash App, and so on. However, there are some limits to how Apple Cash transfers can be used to move money into and out of your online sportsbook account, which is explained in detail below.
Is It Legal To Use Apple Pay To Bet On Sports Online?
Yes, you can legally use any linked Apple Pay card to make deposits to legal online sportsbooks operating outside of US borders (as long as they're valid for international purchases).
There are no laws barring these sites or their gambling markets from US customers, as the Interstate Wire Act applies only to domestic sportsbooks, and the UIGEA banking regulation targets US-based banking institutions that knowingly process unregulated gambling transactions. Individual bettors are never targeted by these laws.
Exceptions exist for those living in Washington. For these residents, there are state-level laws that nominally prevent access to online gambling sites, though the laws are apparently unenforced and all major operators accept members from WA. Still, you are advised to follow all local gaming laws.
Benefits of Betting With Apple Pay/Apple Cash In 2023
With Apple Pay, online gambling on sports is easier than ever. But it's also safer and more secure than ever, too. If you have an Apple Pay account, you can learn how to send money via Apple Pay (as well as how to receive money on Apple Pay) in just a few minutes.
If you're on a Mac, just use your Apple Pay login via the Safari browser to set up your account. If you're using a compatible iPhone, iPad, or Apple Watch, you'll be walked through the process and features of the service upon initialization.
It takes just a few minutes to set up an Apple Pay account, and once you've done that, you can immediately enjoy the following online sports betting benefits that the platform provides:
Make card-based transactions with enhanced security via Apple Pay
Earn normal card rewards + special Apple Pay credit card rewards when using the Apple Card
Minimal card deposit fees and friendly deposit limits
Apple Cash can be used to purchase sports betting vouchers from other site members (at participating online books)
Apple Cash can be used with the third-party MatchPay service (Bovada only)
Apple Cash P2P transfers can be used to claim convenient, same-day payouts via betting vouchers or MatchPay
No added fees when using Apple Pay to gamble online
Apple Pay wallet is an all-in-one online banking solution with support for all major banks, credit unions, and cards
No Apple Pay app download required
Apple Pay transfers are eligible for all standard sportsbook bonus options
Apple Pay/Cash Online Sportsbook Bonuses
Whenever you use Apple Pay with your normal cards, you'll earn points as normal (per the terms and conditions of each individual card). Similarly, the branded Apple Card offers Apple Pay cash back rewards. However, these rewards aren't the only bonuses you'll get when using Apple Pay online to fund your bankroll.
Every major USA sportsbook operating internationally has several sports betting bonus options to choose from, both for first-time members and returning customers. These typically include the following, and each is good for matching your deposit by 50-100% for between $250 and $1000 in free plays:
New Member Sports Betting Sign-Up Bonus
Returning Member Sports Betting Reload Bonus
Online Sportsbook Refer-A-Friend Bonus
Online Sports Betting No-Deposit Bonus*
While online sports betting bonuses are entirely optional, their terms are friendly at the most reputable sites, making them perfect for the majority of members.
*Sportsbook no-deposit bonuses are typically only available during special seasonal events and are not part of the normal stable of betting bonus options at the best online sportsbooks.

Legal Apple Pay Mobile Sports Betting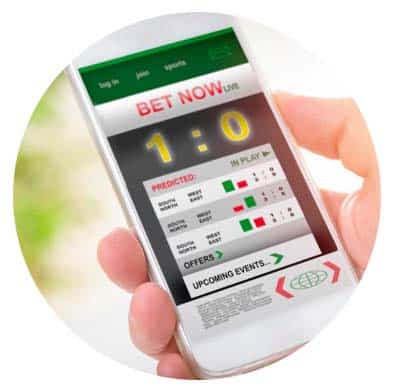 Most sports betting takes place online, and most of that takes place via mobile devices like iPhones and iPads. Thus, bettors are more apt to use banking methods they can access from the same mobile devices they use to actually place their bets. This is where Apple Pay truly shines.
In fact, because Apple Pay is built into iOS and iPadOS, you don't even have to download an Apple Pay app to use it. Most modern Apple devices support Apple Pay natively, and all Apple products made over the last several years allow you to set up Apple Pay and use its many features to streamline and secure your online banking and mobile sports betting experiences.
Note: Apple Pay is currently unavailable on Android devices, so if you use mobile devices running the popular Google OS, you won't have access to this service. However, you can use the Google Pay alternative (or Samsung Pay if you own a Samsung Galaxy device). 
Apple Cash Same-Day Withdrawals
Have you placed some winning bets online and want to withdraw your funds using Apple Cash? Then there's good news: Thanks to the voucher system and MatchPay service at world-leading sportsbooks like Bovada LV, you can easily do this. To learn how to cash out Apple Pay sportsbook wins, the next section explains all the ins and outs of the P2P-friendly sports betting voucher system (though MatchPay simplifies the process further).
If you know how to send money through Apple Pay Cash, it won't be difficult to reverse the process to claim your bet winnings. That said, because Apple Cash withdrawals do require you to find buyers for your voucher code, you won't always be able to get same-day payouts. MatchPay actually automates this step, saving you considerable time and making same-day payouts more accessible.
If you wish to reliably get your winnings within just a few minutes of requesting them from the best online sportsbooks, you'll want to use Bitcoin or altcoins instead.
Bitcoin betting has a number of benefits over all other banking options, though there is a slight learning curve (which is true for all other crypto gambling, such as Litecoin betting, Ethereum betting, and Bitcoin Cash betting).
How To Use Apple Cash With Sportsbook Vouchers
The only way to use the Apple Cash P2P feature of Apple Pay is to send private payments to other site members who are selling part or all of their account balances as voucher codes. You can also use MatchPay to streamline this process.
Not all top-rated sportsbooks support vouchers or MatchPay just yet, though we expect all the best betting sites to follow Bovada's lead in the near future and introduce similar systems. For the example below, we're citing Bovada's implementation, but all sportsbooks should use a similar process.
Follow any link here to Bovada Sportsbook and click/tap the red "Join" button.
Enter all your personal information. Please be sure to use verifiable data, as all reputable sports gambling sites use basic Know Your Customer standards. Bovada and other top sites recommended here will never sell or share your data.
Skip the deposit option for now and complete your Bovada Sportsbook registration.
Use the Bovada login panel to access your account, and head over to the Bovada Community forums. There, you will find Bovada Voucher codes for sale.
Find a Bovada Voucher in the amount you like, and make sure the seller accepts Apple Cash payments via the Apple Pay platform.
Once the deal is accepted, send your payment to the voucher seller's Apple Pay contact number.
The seller will then release the voucher code to you via text, Messages (iMessage), email, etc.
Deposit your Bovada Voucher code ASAP, and funds will be credited to your account instantly. There are no fees attached to voucher deposits, and there are no fees for private Apple Cash transfers.
How Apple Cash works for payouts is more or less identical to it works for buying vouchers. The only difference is that to sell a voucher, you're on the other end of the process. Just request any amount of your eligible account funds to be withdrawn via a voucher, and your sportsbook will send a voucher code in the amount specified to your site-linked email address.
Then, simply post an ad at the Bovada Community pages and sell your voucher. Make sure to specify that you'd like to be paid via Apple Cash instead of PayPal, Venmo, Google Pay, etc. (You can also sell your voucher codes through other online forums, though we recommend using your book's official portal.)
Note: If you want to bypass the manual posting of ads or responding to ads in order to buy voucher codes, you can use MatchPay instead. MatchPay is a third-party service that is currently available only at Bovada LV. 
Apple Pay vs Google Pay & Samsung Pay
Apple Pay vs. Google Pay
When it comes to regular use cases in terms of online and in-person retail purchases – as well as private P2P transfers – there isn't much difference between Apple Pay and Google Pay. The same is true for using either service to fund your online sports betting accounts.
However, the Google Pay vs. Apple Pay debate rages on as part of the overarching Android vs. iOS argument. However, for our purposes, it's all academic.
In reality, you should use the service that is best suited to your actual device. Since Apple Pay is only available on Apple devices, you should probably go with Apple Pay if you own an iPhone, iPad, Apple Watch, or Mac.
Remember, there is currently no Apple Pay Android app, so the decision is an easy one. That said, you can use Google Pay on iPhone and other Apple devices, so if you already have a G Pay account, you should go ahead and use it with your Apple products.
Apple Pay vs. Samsung Pay
Like Apple Pay, Samsung Pay is tied only to devices made by the manufacturer. You can't use Apple Pay on Samsung phones and tablets, and you can't use Samsung Pay on iPhones, iPads, or other Apple products. Thus, your choice of eWallet will be decided by your choice of device.
That said, these services both work the same way, allowing you to store cards and make P2P payments safely and easily with all the benefits of extra encryption and security.
When depositing or withdrawing at legal online sportsbooks, Apple Pay betting options and Samsung Pay betting options will both allow you to make card-based and voucher-based transactions, as well as MatchPay transactions (Bovada only).
Apple Pay Sports Betting FAQs
Yes!
If it's legal to gamble on sports in your area, you can freely use Apple Pay to manage your online betting bankroll without breaking any laws.
However, since the UIGEA banking regulation may cause Apple Pay card transactions to be declined from time to time, we recommend using the P2P sports betting voucher system via Apple Cash instead, as this has a 100% success rate.
We also recommend the MatchPay banking option if you're a Bovada sportsbook member.
Don't let the meddling UIGEA cause you to miss out on that valuable Super Bowl betting line!
Apple Pay transactions to the best online sports betting sites come only with the fees attached to using the linked credit and debit cards themselves.
Apple adds no extra fees to cards store in the eWallet.
For Apple Cash P2P transfers as used for purchasing online sports betting vouchers (or depositing/withdrawing via MatchPay), there are no added fees when making personal private transactions.
Absolutely!
In addition to the convenience of housing all your cards in one easy-to-use digital wallet, Apple Pay actually adds significant extra security features to each transfer.
Plus, when you use Apple's e-Wallet solution, you'll get twice the service guarantees involved, as you'll enjoy your card's fraud protections and Apple Pay's fraud protections.
With Apple Pay, you can double up to double down!
With NFC encryption, Touch ID, Face ID, and extra passcodes/PINs, when you use Apple Pay to make brick-and-mortar or online payments, your transactions are far safer than using your cards by themselves.
In fact, there is no safer way to use credit, debit, prepaid cards, or gift cards than by using them via Apple Pay.
Apple Cash payments are also incredibly secure and guaranteed, but these transactions are treated like cash, potentially making chargebacks time consuming and difficult.
This is why it is imperative to trust your online betting voucher seller when using Apple Pay P2P services to make deposits with the best online sportsbooks.
For this reason, we recommend always buying voucher codes from official site portals (i.e. the Bovada Community page) rather than third-party forums (i.e. the Bovada Reddit page).
To make things even safer for all parties involved, MatchPay is a great option, though this is limited to Bovada for now.
Definitely.
Apple Pay takes your card's normal encryption and fraud prevention features and adds further safeguards to transfers via Touch ID, Face ID, two-factor authentication, dedicated passwords and PINs, etc.
The Apple Pay digital wallet is free to use, as is the Apple Cash service.
However, you will still be assessed your normal card fees when using them through Apple Pay.  
There are no fees levied by your sportsbook of choice when using Apple Pay with vouchers, player transfers, or MatchPay.
Apple Cash, formerly called Apple Pay Cash, is the portion of the Apple Pay service that allows iPhone, iPad, and Apple Watch users to send and receive P2P (person-to-person) payments to and from other Apple Cash users.
You can send money to friends using their normal contact information, and you can even transfer funds privately and securely right through the Messages app (aka iMessage).   
To buy and sell online gambling vouchers or use the third-party MatchPay service at the best Internet sportsbooks, you must use the Apple Cash feature of Apple Pay. 
If you're wondering how to set up Apple Pay, how to send Apple Pay payments, and how to receive funds via Apple Pay (and cash them out), instructions for each of the above are included clearly within the Apple Pay app itself.
Essentially, you just take your existing cards, enter their information into your Apple Pay app, and Apple does the rest.
You can even take pictures of your cards to streamline the process further.
Similarly, the P2P Apple Cash service is as easy to set up and use as PayPal, Venmo, or any other common person-to-person instant-pay account.  
Yes!
Apple Pay Mac compatibility is available for most modern Macbook, iMac, and Mac Pro products.
Simply navigate to your computer's Apple menu, select "System Preferences," and then choose "Wallet & Apple Pay" to set up Apple Pay on your computer. 
Of course!
Apple Watch Apple Pay compatibility is available for most models of the popular Apple wearable.
That said, in order to use Apple Pay Watch functions, you will have to have a paired iPhone or iPad to set up your Apple Watch eWallet.
Unfortunately, Apple Pay is not currently supported for PCs running Windows or Linux operating systems.
However, if you have a Mac computer, you can use Apple Pay through the Safari web browser.
You can use Apple Pay pretty much anywhere that you can use a credit or debit card, in-person or online.
This is also true when it comes to the best online sportsbooks, as Apple Pay is a digital wallet that simply stores and adds extra layers of security to those cards.
That said, if you wish to use the Apple Cash person-to-person feature to purchase or sell online sportsbook vouchers or make MatchPay betting transactions, Bovada is currently the only major site we recommend that supports these options.
In order to set up Apple Pay, simply launch the app on any compatible Apple device and follow the onscreen instructions.
It couldn't be simpler, and Apple Pay setup takes just a few minutes. 
If you have any questions or concerns (or need to resolve an Apple Pay dispute), you can do so by using the Apple Pay contact number at 877-255-5923.
You can also contact Apple Pay customer service through the Apple Pay app itself, as the wallet app has a built-in Messages function for this purpose.
Is Apple Pay not working for you? Don't worry!
If you have any problems setting up Apple Pay or using the service in-person or online, simply contact Apple Pay customer service at 877-255-5923 or contact an Apple customer service rep via the Apple Pay Messages portal.
No, there are no fees assessed for using Apple Pay as an eWallet or for using the Apple Cash P2P service.
If you choose to use an Apple Card with the service, however, you will be assessed typical credit card fees for all transfers as per your card agreement.
Yes!
Apple Pay does not interfere with any of your different cards' cash back rewards programs, and it actually helps streamline account management to better track these rewards.
The Apple-branded Apple Card also has valuable cash back rewards, depending on your plan.
You earn Apple Pay cash back rewards when using your branded Apple Card to make any in-person or online purchase (per the terms of the card agreement).
However, you don't need a dedicated Apple Card to use Apple Pay, and any card linked to your account that has a rewards program will earn those rewards when you make online betting deposits.
Please note that you do not receive cash back rewards for Apple Cash P2P transfers.  
There are numerous options when it comes to how to transfer money from Apple Pay to bank accounts.
The easiest method is to simply link a debit card or bank account to your Apple Pay wallet and send your Apple Pay balance to that card or account.
Once you've done that, you can pull out your money at any bank as normal.
There are also Apple Pay ATM terminals you can find using the app's Apple Pay Near Me function.
These Apple Pay locations make it quick and easy to go from digital to cash in seconds!
Yes, we think so.
Apple Pay can be used internationally as an eWallet, and it has far greater card compatibility than Venmo, which is mostly just a P2P service.
Apple Pay is an all-in-one digital wallet and payment management app.
If you already have Venmo, of course, you can also use that to make online betting payments.
For more information, please check out our Venmo sports betting guide.
For most users, yes.
Cash App, while popular, is much more limited than Apple Pay, as it is primarily a P2P instant-pay service, whereas Apple Pay allows you to encrypt and store all your physical credit, debit, and gift cards in one easy-to-access package.
Additionally, Apple Cash does everything Cash App does on the person-to-person front.
That said, if you're a Cash App user, you can buy sports betting vouchers and initiate MatchPay transfers with Cash App and do not need to use Apple Pay for this.
Most users go with Apple Pay, and so do we.
Apple Pay, for our money, is vastly superior to PayPal.
Apple Pay does everything PayPal does and a whole lot more, giving users a one-stop shop for all their online banking via its robust eWallet interface.
Apple Pay features allow for far more versatility than PayPal features, though you can use PayPal to fund online sports betting via the voucher system or MatchPay service.  
Apple Pay itself is insured against all scams, hacks, and fraud.
However, if you find that one of your linked cards has been compromised, you can quickly deactivate that card through Apple Pay.
Further, thanks to the guarantees of Apple Pay and your various cards themselves, you shouldn't lose any money.
That said, if you accidentally send your payment to the wrong vendor or a fellow sportsbook member that has not released your sports betting voucher in a timely manner, recovering your funds will take a few extra steps. (Using MatchPay instead can mitigate this particular risk.)
Please contact Apple Pay customer care immediately for instructions on the necessary steps for how to cancel Apple Pay payments in such cases.
Disclaimer: Apple Cash/Apple Pay is a third-party P2P payment processor and eWallet service. Apple Cash/Apple Pay does not endorse this site or any online sports betting site in any way. This page is for informational purposes only.