Google Pay Sports Betting Deposits
Extra secure online payments powered by Google
G Pay betting available with vouchers + Bovada MatchPay
More Google Pay users = More same-day payouts
For years, the best legal sports betting sites for US players have offered a robust selection of online banking methods to help members get their accounts topped off. However, one avenue that remains unsupported by international betting sites is the P2P instant payment. In other words, you can't move money into and out of your betting account with Google Pay and similar person-to-person services.
That said, you can finally add Google Pay to the list of sports betting deposit and withdrawal options at many of the best sportsbooks, especially those that offer gambling vouchers, player transfers, and MatchPay support, as these let site members transfer account balances between themselves privately.
Still, not all sites have Google Pay support, as many don't yet have the above systems in place. While that should change in the future, if you want to make Google Pay sports betting deposits right now using P2P transfers, Bovada LV is the operator you'll want to choose.
Of course, if you simply want to use your Google Pay app and linked Google Pay cards as a digital wallet to fund your online betting, that's possible at all the top-rated online betting sites that accept standard credit or debit deposits. Whichever method you prefer, we'll explain the processes so you can bet on your favorite players and teams safely and legally!
Best Legal US Online Sportsbooks That Accept Google Pay In 2023
What Is Google Pay?
Google Pay, aka G Pay, is actually two different banking services in one! If you have a Google Pay account, you can use the platform as a digital wallet (or e-Wallet) that houses all your credit cards, debit cards, prepaid cards, gift cards, and rewards cards right on your mobile device or computer.
But Google Pay is also a P2P service akin to PayPal, Venmo, Cash App, and Zelle, allowing members to simply and securely send private payments to other members in the US and abroad. With 150 million global users and counting, Google Pay really helps connect people and facilitate easy online payments between individuals.
You can probably already see how Google Pay works for online sports bet funding. All the best Internet sportsbooks accept credit and debit card deposits, and you can use your Google Pay wallet to manage these transfers. But you can also use G Pay to make P2P deposits by buying online sports betting voucher codes from fellow site members at participating operators. MatchPay – currently available only at Bovada – is another viable G Pay bet funding option.
While Google Pay card deposits may sometimes be rejected due to the federal UIGEA banking law, Google Pay P2P transfers are not subject to the law at all, making them a more reliable way to get your bankroll topped off. You can even use G Pay to claim same-day payouts by selling voucher codes to other players or withdrawing through MatchPay.
Is It Legal To Use Google Pay To Fund Online Sports Betting?
Yes! It is legal to bet sports online with international betting sites because the Interstate Wire Act applies only to domestic operators, not players. Similarly, the UIGEA targets domestic payment processors that knowingly process financial transfers to and from overseas betting sites, but individual gamblers are not targeted in any way.
Still, the UIGEA banking law can interrupt card-based and traditional bank-based transactions. This is why you can't use Google Pay to transfer money directly to your overseas sportsbook site of choice.
Fortunately, there are no laws preventing you from using G Pay as a digital wallet, nor are there any laws that bar you from making Google Pay transfers to private parties via the voucher/transfer/MatchPay methods.
Benefits Of Betting With Google Pay
If you use Google Pay – or if you're thinking about employing the platform – there are some very good reasons to use G Pay for online sports betting. With over 150 million users (roughly 100 million of which are in the US), Google Pay is widely used and extremely popular.
Whether you want to simply use the wallet to organize your cards, use P2P payments to buy or sell sports betting vouchers, or use the MatchPay system, you should have no trouble with any option. As long as you have your Google Pay login, you can enjoy a host of sports betting perks.
With Google Pay, send money and receive money from other site members to buy and sell account transfers instantly
Works with MatchPay (Bovada only)
Friendly deposit limits and withdrawal limits are perfect for the majority of players
No added sportsbook fees or Google Pay fees when using G Pay P2P services for vouchers/transfers/MatchPay
All-in-one Google Pay wallet platform is convenient and used by countless people worldwide
Google Pay app is available for Android, iPhone, and iPad
No Google Pay app download required for web-based access
Google Pay lets you claim all the usual online sports betting bonuses
Claim same-day payouts using Google Pay when selling sportsbook vouchers to other site members or withdrawing via MatchPay
Help build your online sportsbook community!
Google Pay Online Sports Betting Bonus Options
While you won't be eligible to receive any special Google Pay promos when using the service to buy vouchers, initiate MatchPay trades, or make card deposits, you can still get all the typical sports betting promotions you expect for topping off your gambling account. These include signup bonuses, freebies for fresh deposits, refer-a-friend bonuses, and more.
If you want the very best possible online sportsbook bonus options, you'll want to bypass Google Pay altogether by making Bitcoin betting deposits, Litecoin gambling transfers, Bitcoin Cash deposits, Ripple transactions, Stellar deposits, or deposits using any other cryptocurrencies supported by your site of choice.
Legal Mobile Betting With Google Pay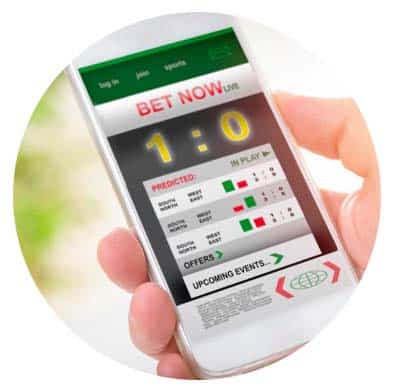 Most online gambling takes place via smartphones and tablets these days, and that's never going to change. Mobile sports betting is definitely here to stay. Fortunately, you can also access Google Pay on any modern mobile device, so you can have your sportsbook and your banking management suite in one place, ready to go, no matter where you are.
Even though Android is owned and developed by Google, you can get Google Pay on iPhone or iPad just as easily as you can get Google Pay for Android, and all three platforms offer full access to all G Pay features.
Regardless of your mobile make and model, simply visit the app marketplace for your specific device (App Store, Google Play), kick off the Google Pay app download, and set up your account. The whole process takes just a few minutes, and then you can fund your bets – and place your bets! – from anywhere you have an active Internet connection.
Google Pay Same-Day Withdrawals
Usually, if you want a same-day payout from any international betting website, you must deposit with crypto and then request your withdrawal in crypto. However, if your site supports vouchers and you want to create a betting voucher code to sell to other site members, you can often score same-day payouts – with no added fees! – using this method. Alternatively, MatchPay makes this process even easier.
Even if you deposit using your Google Pay wallet's stored cards, you can claim payouts this way, as any deposit method is eligible for the creation of voucher codes for sale as well as for MatchPay payouts. With high transfer limits and no extra costs involved, these options are great ways to get paid more of what you're owed, every time!
As icing on the cake, once you receive payment via Google Pay for your sportsbook voucher code (or to finalize a MatchPay transaction), you will be able to withdraw that money as cash by using any nearby Google Pay ATM. With these kiosks, you can pull out any or all of your Google Pay balance quickly, easily, and locally, in real cash money!
How To Use Google Pay With Sports Betting Vouchers
For G Pay users that wish to simply use a stored credit/debit card to transfer funds to their legal online sportsbook, the process is identical to making any card-based online payment and needs no further explanation.
However, if you want to use sportsbook vouchers or player transfers to deposit, you'll need to understand how to buy these with Google Pay P2P options.
Note: The voucher payout process is largely the same as that listed below, with the exception that sellers must request a withdrawal in the form of a voucher before they can advertise it for sale online.
Follow any link here or from our Bovada sports betting review, which is currently the only reputable online sportsbook supporting vouchers and player transfer deposits.
Click or tap the red "Join" button and enter all required personal information. Bovada – like all the best online sports betting sites – is SSL and TLS encrypted and never sells or shares your private data.
Skip the deposit options for now, completing your account creation.
Visit the Bovada Community pages and find a Bovada Voucher code for sale. Contact the seller of the code you wish to buy and confirm that they accept Google Pay payments.
Send your payment to the seller. You can track this payment by viewing your Google Pay history or Google Pay activity within the app or online.
Once you receive your Bovada Voucher code, visit the Bovada Cashier, select the Voucher deposit option, and choose an optional betting bonus.
Enter the Bovada Voucher code number, and your account will be credited with the full amount. You may now bet sports online for real money. 
If you use MatchPay instead (Bovada only), you don't have to buy or request any voucher codes for deposits or withdrawals, as the MatchPay service does this automatically. You can sign up to be a MatchPay Trader for free through the Bovada Cashier.
Google Pay Sports Betting FAQs
Yes!
Google Pay is not just backed by the security guarantees of all the card companies whose products are compatible with the Google Pay wallet, but the technology of the system is even more secure than standard banking platforms!
This is because G Pay adds an extra layer of encryption and anonymity to your card numbers with each transaction.
It is also safe to use Google Pay to buy and sell online gambling vouchers and player transfers, though you should only purchase voucher codes from other site members and from ads listed on your sportsbook's official forum pages.
To avoid this potential risk, MatchPay is a recommended G Pay-compatible alternative.
Yes.
Google Pay is very secure for all online and in-person transactions.
That said, it is imperative that you trust your bet voucher seller when purchasing online gambling vouchers, as these are private transactions.
Google Pay scams are not something you have to worry about if you follow all the basic advice on this page and use good old common sense.
To avoid this potentiality altogether, MatchPay is a great option to use instead of vouchers or player transfers when using Google Pay for online bet funding and payouts.
You can either use cards in your Google Pay wallet to fund your online betting through credit or debit transfers, or you can open Google Pay and use the system's P2P instant-pay option to buy online betting vouchers from fellow site members with which to deposit into your own account.
You can also use MatchPay with Google Pay if you're a Bovada member.
Different legal betting sites will have different deposit limits for both credit and debit transfers as well as P2P transfers.
This is in addition to your regular Google Pay limit, which usually doesn't have a daily send or receive limit but does have a total account balance limit of $25,000.
For the majority of online bettors, Google Pay gambling limits are more than adequate across the board.
If you use Google Pay to make credit or debit deposits at your sports betting website of choice, you may incur transaction fees and/or international transfer surcharges.
These can be for anywhere between 3% and 9% of your deposits.
However, if you use G Pay for making P2P payments via voucher, player transfer, or MatchPay, you will not have to pay any added fees within Google Pay or at your sports betting site.
Setting up a G Pay account is simple.
If you've received a Google Pay referral, just follow the link provided. Of course, you don't need an invitation, as you can also download the G Pay app or visit the Google Pay site to create your account.
All these options come with instructions to quickly teach you how to set up Google Pay, how to add money to Google Pay, and how to pay with Google Pay.
The entire process takes only a few minutes.
When it comes to who accepts Google Pay for online sports betting account funding, your options are limited only by the manner in which you wish to use G Pay itself.
If you want to use vouchers, player transfers, or MatchPay, Bovada is the best option.
On the other hand, if you're just using cards stored in Google Pay (or using a Google Pay gift card rated for international purchases), then all the most reputable online sportsbooks accept such funding methods.
Google Pay customer service is available online via the Google Pay help page and knowledge base.
Of course, if you can't find an answer to your question, you can always contact Google Pay support via telephone.
The Google Pay phone number is 1-800-419-0157 (alt. 1-855-492-5538), though you can request a Google Pay refund or payment stoppage at 1-888-986-7944.
Apple Pay is a superior platform for iPhone users and iPad users, and it's the oldest and most popular of the major mobile wallets.
But since you can actually install Google Pay on iPhone and iPad devices, there is some debate about which is actually better.
For making card payments alone, Google Pay vs. Apple Pay is a pretty moot argument, as they both do the job well.
But if you want to use the P2P services offered by these platforms to fund your betting, you should use the system that most other users are likely to have access to.
In this case, that's Apple Pay.
The sole caveat here is that if you own an Android device and use it to bet sports online legally, you will be limited to using G Pay, as Apple Pay is not available on Android at this time.
You can't read any Google Pay review online without coming across the Samsung Pay vs. Google Pay debate.
Because Samsung is the most premium Android device maker – and because Google Pay is Android's native e-Wallet solution – both platforms have huge fans out there.
But honestly, when it comes to online sports betting, neither platform is notably superior to the other for standard card-based payments.
That said, if you're going to buy vouchers/transfers or use MatchPay via P2P services, then Google Pay is better simply because it has more users in the US.
Disclaimer: Google Pay is a third-party P2P payment processor and eWallet service. Google Pay does not endorse this site or any online sports betting site in any way. This page is for informational purposes only.