Legal Virtual Soccer Betting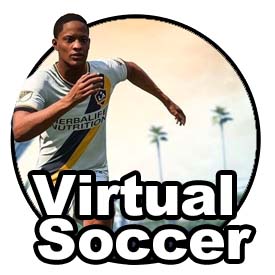 Soccer, aka football in most of the world, is arguably the most popular sport on the planet, with almost all nations participating in the competition. That's why it makes sense that legal virtual soccer betting finds itself at the top of the list when browsing the odds at the best online betting sites. Just like betting on soccer in the real world, virtual soccer can provide the thrill of live action, but without the risk of getting trampled in a riot or harassed by hooligans.
When you have completed our comprehensive virtual soccer betting guide, you will be informed as to the best sportsbooks on the web offering virtual sports wagering. We'll detail how to bet on virtual football, and what kind of lines to expect when placing a wager. We also reveal the differences between virtual sports, video game simulations, and eSports, so you don't get a red flag by venturing into the wrong virtual sports arena.
Best 2023 Virtual Soccer Betting Sites
What Is Virtual Soccer?
Virtual soccer is a simulated competition where the results are produced randomly by computer software. Teams and players are entirely fictional without any deep resemblance to real-world athletes or leagues, other than obvious references (team location, colors, etc.). National teams with accurate flag logos are sometimes used to represent the virtual soccer teams, but they are not accurate reflections of those teams or players.
Historical data offerings are slim, with minor competitive indicators suggested by previous "league" performance. Leagues start and conclude each day, with games lasting just 2-3 minutes before the next match gets underway. These games are largely for the purposes of legal entertainment gambling and are shown in highlight form that does not provide for live betting opportunities.
Is It Legal To Bet On Virtual Soccer?
Betting on virtual sports, and virtual soccer in particular, is only available online. New Jersey is currently offering legal virtual soccer betting from its regulated in-state sportsbooks, but other regions are slow to bring these simulated games onboard. These NJ virtual sports offerings are only available to those inside the state, as placing wagers across state lines is prohibited by the Federal Wire Act.
However, if you're not in NJ (and lucky you!), offshore sportsbooks offer a full bevy of virtual sports betting options, including soccer, but is it legal to participate in?
Outside of Washington, no US States mention offshore gambling via an online means in their lawbooks. Because of this, no laws are being broken when betting on virtual soccer at an offshore sportsbook site. And even if you live in WA, these books will accept your wagers. That said, we recommend abiding by all local gambling laws.
Virtual Soccer Odds And Betting Lines
The betting categories for legal virtual soccer include similar options that are offered for betting on real soccer games. The difference is that all of these categories are provided in money line form, and there are no player prop bets on the board. Below are some of the virtual soccer betting lines that top sportsbooks are offering.
Winner
Correct Score
Double Chance – Since draws frequently occur in soccer, a double chance bet allows for wagers to be placed on one of the teams to win or tie.
Goal vs. No Goal
Total Goals
Asian Handicap – This type of wager removes the draw from the equation and allows players to place a bet on their preferred handicap, or point spread. If a tie occurs, all bets are refunded.
Various Over / Under Lines for combined or individual team performances.
The Difference Between Virtual Sports, eSports, and Video Game Sims
With so many simulated sports options on the betting market, it can be hard to tell them apart from each other. Online sportsbooks are having trouble categorizing them, so bettors are sure to experience some confusion as well. Below we cover the minutiae that separate these simulated sports betting categories.
We've already covered the ins and outs of virtual soccer and how it uses fictional teams and limited historical data for its AI-based simulated gameplay. These titles use custom RNG software to ensure randomized outcomes, and each game can be tracked only in the context of its current "season."
Much like virtual soccer, betting on video game simulations involves CPU vs. CPU competitions using a software interface. The main difference between the two is that virtual soccer software features teams and players that are not really representative of their real-life counterparts. Video game sims use the popular soccer video game FIFA 21, which features accurate player and team attributes that reflect actual teams and players. Odds are focused on the skills of the virtualized athletes and the makeup of the teams, suggesting that research on real competitors can provide an advantage.
Similarly, eSports also uses popular video game franchises as the software component for competition (i.e. FIFA 20, FIFA 21, etc.), but human gamers control the teams and athletes. When betting on eSports, the lines offered are based on the skill of the gamers and the characteristics of the teams or athletes that they choose to compete with. Games are broadcast via a live stream over the internet (usually on Twitch or a similar platform) or are presented in large arenas.
Legal Mobile Virtual Soccer Betting
Just because you want to bet on virtual soccer online doesn't mean it has to be done at desk in front of a laptop or PC. Virtual sports betting on the go is given top billing at our top-rated online sportsbooks with their web apps. Once your mobile browser reaches the legal virtual sports section of your favorite betting site, the responsive design technology will conform to your device's screen and operate just like a downloadable app, without the need for a visit to the App Store or Google Play Store.
Live Virtual Soccer Betting
Unfortunately, virtual soccer betting does not provide for live betting like real soccer does. That's because the virtual soccer games are designed to recur frequently in order to maximize players' betting opportunities. Games begin every few minutes and don't require bettors to bend to the schedules of athletic seasons. Of course, because you can wager so frequently, standard virtual soccer betting happens at the same pace – or even a quicker pace! – than real-world soccer punting.
How To Win At Legal Virtual Soccer Betting
Since the teams and players involved in virtual soccer are generic and offer no historical data outside of their individual "seasons" as recorded by your sportsbook, it can be challenging to gain an edge and consistently make winning bets. Although there is no sure-fire way to dominate the legal virtual soccer field, we offer some suggestions to develop the best betting strategy and keep your virtual ball in play.
Legal Virtual Soccer Betting Tips
Because it doesn't cost anything to browse the virtual sports section of an online sportsbook, we recommended watching virtual soccer games online free to try before you buy. It is the best virtual soccer practice available.
Virtual soccer trainers recommend setting a betting limit. Experienced gamblers employ a maximum bet limit of 3% of their bankroll to avoid reckless wagering and to extend their playing time. However, we advise reducing this limit even further when just starting out.
Only spend disposable income that has been set aside for virtual sports betting. Put aside an amount that has been budgeted for wagering, and do not wager beyond that number. Bankroll management is a key component of responsible gaming.
Study the stats. While virtual soccer and its fictional teams may draw some slight statistical inspiration from their real-life counterparts, you can get the best edge by referring to each "season" statline at your sportsbook of choice. Team dominance doesn't carry over from one season to the next, so always stick to the most recent numbers to guide your wagers.