MyBookie Prop Builder
For years, MyBookie Sportsbook and other top-rated online betting sites have offered the largest selections of proposition bets for any given contest, often numbering 100 or more for even the most mundane regular-season games. In the past, a slate of 500+ props was reserved only for things such as Super Bowl betting and March Madness odds.
However, the introduction of custom prop creation tools – like the MyBookie Prop Builder – has opened the floodgates to literally thousands of props for every single matchup, and these builders can also be used with MyBookie bonus options and other promotions linked to your account.
The MyBookie Prop Builder is one of the best tools of its kind, and what makes it so powerful is the ease of use it affords to both beginners and seasoned bettors alike. To learn more about making custom props with MyBookie's Prop Builder software, our brief guide highlights everything you need to know to get started.
What Is The MyBookie Prop Builder?
The MyBookie Prop Builder is a new online betting tool that allows site members to make any player prop or parlay they want, saving them the headache of browsing traditional props menus and giving them far more options and unique sports betting lines than have ever been available before.
The software – powered by "Prop Kingz" – is the same as that used at other top-rated online sportsbooks like Bovada and BetOnline, as each operator has licensed this easy-to-use solution. Of course, just because other sites also use this same plugin, that doesn't mean the lines produced at MyBookie will be the same as those you'll find elsewhere.
As ever, you're encouraged to join multiple reputable sports betting sites to shop lines for the best possible payouts. And because this unique prop betting tool works the same way across all the major services, it'll be that much simpler to do exactly that!
How To Make Custom Bets With MyBookie Prop Builder
There are effectively two versions of the MyBookie Prop Builder: desktop and mobile. Given that bettors have more screen real estate to work with on desktops and laptops, MyBookie's solution is more straightforward on Windows and Mac.
That said, the mobile interface for MyBookie's create-your-own-props feature offers all the same options and odds as its bigger brother. Only the layout is different. Fortunately, they're both easy to use, and here's where to look to kick things off:
MyBookie Desktop Prop Builder
If you're using a Windows or Mac computer, you can access the MyBookie Prop Builder through any up-to-date web browser. Just navigate to the site using any link here, create an account, and look for the "Sportsbook" tab at the top of the page. Click that, and scroll down beneath "Featured Bets" to "Applications."
Clicking this option presents the "Prop Builder" menu, which fills the site's regular betting area with the dedicated Prop Kingz interface. We explain what to do next in the sections below, so you'll be mixing and matching your wagers in no time.
MyBookie Mobile Prop Builder
For those who prefer mobile online sports betting (which is pretty much everyone these days!), the MyBookie props tool can be found by following any link here, signing up or logging in, and tapping on the orange basketball-baseball-football icon on the top right of the screen. A menu will then slide into view.
Here, scroll down until you see "Applications," tap that, and you'll be taken to the mobile-optimized Prop Kingz panel. All the same options are available as on desktop, but they're organized slightly differently.
MyBookie Prop Builder Features
Despite the fact that MyBookie offers hundreds of premade prop bets for your consideration on any given matchup, the beauty of the site's prop tool lies in the fact that it makes those offerings absolutely pale in comparison.
Sure, there are some sites out there that post thousands of different specific betting lines for every game, but these are a nightmare to navigate, and it can take literal hours to find what you're looking for.
With the legal Super Bowl Prop Builder at MyBookie, every conceivable wager is just a few clicks or taps away. This means you can spend less time hunting and pecking and more time betting and winning on the big game or other sport of your choosing!
Here's what you'll see when you first launch the MyBookie Prop Builder (desktop version):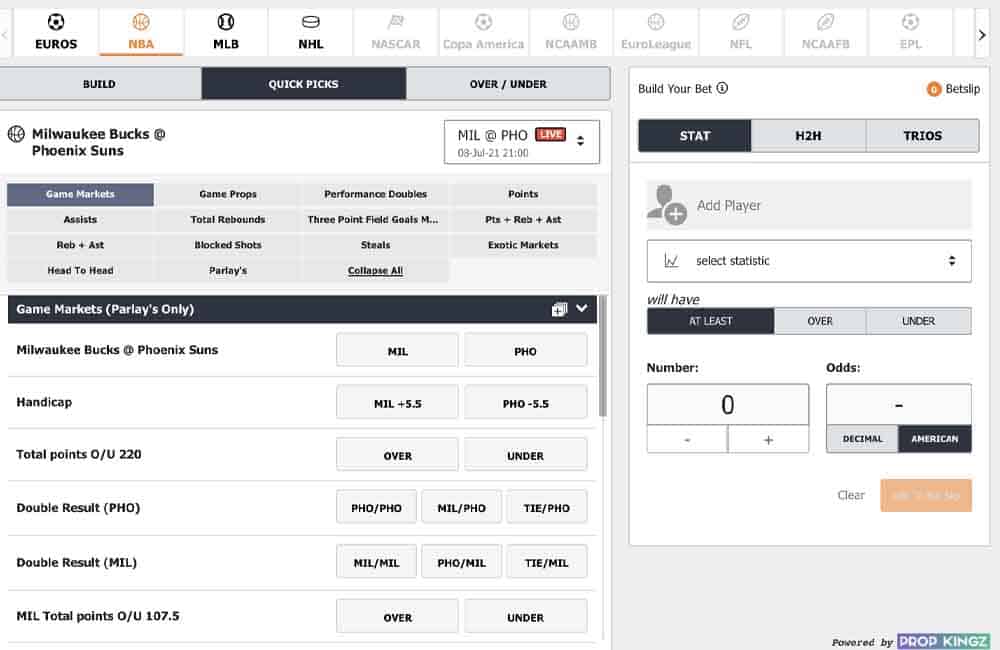 Across the top of the panel is a row of all the sports on the menu. Those with active wagering options will be displayed in bold, while those with no action for the day will be grayed out.
Simply select the sport on which you'd like to bet, and the tool will load up a series of options specific to that market. Your choices here include the following three categories:
Build
The primary "Build" option is the heart and soul of the MyBookie Prop Builder. Here, you can select individual players from any of the day's contests. When you do, you'll be able to view all their associated props, and you merely have to select the "+" icon to start assembling you wager(s). For most players, the "Build" panel is where they'll spend the majority of their time assembling their various bets.
Quick Picks
The "Quick Picks" tab includes a series of pre-made bets akin to what you'd find in a standard selection of proposition bets at MyBookie or another legal online sportsbook. These wagers are available as-is, though like the online sports betting lines in the above "Build" section, you can modify or adjust them for better odds, more lucrative payouts, and/or various parlay multipliers.
Over/Under
Once you choose a player from the Prop Builder games menu, you can browse several over/under bets (aka totals) regarding their in-game achievements. You can also inform your bets by viewing any player's recent statistical history, which can be accessed by selecting the "chart" icon next to their name. As with all Prop Builder options, you can add custom totals to your betting slip as independent wagers or parlays.
MyBookie Prop Builder Bet Slip
The Prop Builder bet slip – labeled "Build Your Bet" – is where the magic really happens. This is where you actually start piecing together the modifiable odds that dictate your risk-vs-reward.
If you're accessing MyBookie via desktop, the "Build Your Bet" option is located to the right of the main window in the Prop Builder panel and displays three main options within its section.
If you're using an iPhone or Android (or any other modern mobile device), you'll find the three tabs that comprise the "Build Your Bet" panel in a row across the top of the screen, which dynamically appear only after you've chosen a given player on which to wager (see above).
Stats
Here, you have the option on betting on various statistics for one player or two players in tandem. Once your player(s) have been selected, you'll need to choose the "Select Statistic" button. Then, scroll through all the associated data categories, select the option you want to wager on, insert the custom odds you'd like, and pick the type of totals bet you're interested in.
H2H (Head-To-Head)
The H2H section of the MyBookie custom prop tool is exactly what it sounds like: It allows you to pick two players and choose from a series of different metrics to generate custom head-to-head wagers. For example, if you think a given player will score X amount of points more than another player in a particular game, here's where you can modify that type of bet.
Trios
Trios are unique to the Prop Kingz tool at participating online sportsbooks, and they're akin to trifectas in horse racing betting. With this option, you'll pick a particular stat or performance parameter and then choose which players will meet this benchmark, in their exact order. Like trifectas, Trios are difficult to hit, but their payouts are the best on the boards, across the board.
MyBookie Mobile Prop Builder App
As noted above, MyBookie gives you two ways to use their Prop Builder: desktop and mobile. And frankly, given all the options at your disposal, it's a good bit easier to use this feature on a Windows or Mac desktop or laptop computer.
That said, it's not particularly hard to use the prop builder via mobile (especially if you have a bigger iPhone or Android device), and you still retain every single line and permutation thereof when gambling on the go.
Of course, for those bettors who have iPads or other larger tablets, these provide a happy medium and are possibly the best way to assemble your own unique online prop bets at MyBookie AG.
Still, no matter which method you choose, we're confident that the MyBookie Prop Builder leaves no stone(-cold sure thing) unturned and that you're going to enjoy this newfound gambling variety far more than the book's more traditional betting lines.