Legal Betting on Presidential Candidates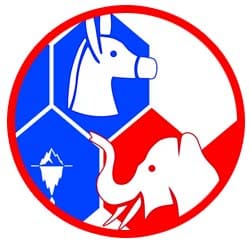 Ron DeSantis Favored To Earn GOP Nomination For 2024 Election
President Biden Odds Are Mixed On Whether He Runs In 2024
Current Presidential Election Odds Favor A 2024 Trump Loss
Betting on politics is a popular market, and the action has never been as brisk as it is right now for election results across the board. However, the only way to wager on elections – and the only place to find legitimate 2024 Presidential candidate odds – is to use an offshore sportsbook.
These sites are unbound by the US laws banning political wagering, and they are safe and legal for most American gamblers to join. 
While it may be too early for candidates to declare their candidacy for the 2024 Presidency, that hasn't stopped online political sportsbook sites from producing a bevy of odds chock full of potential GOP and DNC nominees.
Bettors can wager on Biden's odds – and all the other potential candidates' odds – at the best online betting sites right now, as well as Trump's odds to earn the GOP nomination. Read on to find out how and where to make the best Biden and Trump Presidential bets.
Is It Legal To Bet On Presidential Candidates?
Yes, it is legal to wager on political candidates, political props, debate odds, and elections, but only if you use an offshore betting site like those listed here.
Political betting is not available at domestic sportsbooks, and while you may find Vegas election odds advertised, these are merely hypothetical hot takes, as NV does not allow political wagering of any kind.
The only caveat is that the US state of Washington has laws barring all forms of online gambling on their books, which includes election betting. While unenforced, these laws do exist and have potentially steep penalties, so residents of WA must sign up and gamble only at their own risk.  
Best Online Election Betting Sites
Candidates For President 2024 - Biden vs. Trump/Biden vs. DeSantis
Right now, there are no official candidates for President for the 2024 election: Donald Trump, the de facto "leader" of the Republican Party, and Joe Biden, the sitting Democratic POTUS, are the presumed nominees. Again, anything can happen between now and election time, but if the contest were held today, Trump vs. Biden would be the most likely matchup.
Donald Trump - Potential 2024 Republican Presidential Candidate
Donald John Trump (born June 14, 1946) is one of the most famous people in the world. He lost the Presidential election of 2024, and his defeat ushered in President Joe Biden's regime.
Trump came up as a real estate magnate in New York, his home state, and was a B-list celebrity for most of his life due to his wild success in the property development industry. He was the host of the reality TV show The Apprentice, owned the Miss America Pageant for many years, and was generally well-liked until he ran on the Republican ticket in 2016. Since then, Trump has become a true A-list celebrity, and he's the most popular GOP politician – and the most polarizing one – in US history.
The Donald – aka the Teflon Don, Agent Orange, and other monikers – was the third US President to ever be impeached, and the first to ever be impeached twice, though he was acquitted by the US Senate on both occasions.
While scandals often surrounded Trump's presidency, with his Presidential impeachment odds paying out on "yes" twice, it has not seemed to lessen his influence on the right side of the political aisle. Trump's betting odds can still be found at offshore books, and he is favored to be the GOP nominee in 2024 at this time.
We must also advise that Donald Trump is currently favored to face charges in the most recent political indictment betting odds, so any potential candidacy may require him clearing some legal hurdles prior to 2024.
---
Joe Biden - 2024 Democratic Presidential Candidate
Joe Biden is the former Vice President, having served eight years under President Barack Obama. He also represented Delaware in the US Senate for over 30 years before assuming the post of VP in 2008.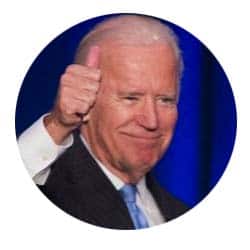 Odds available at Bovada
Ron DeSantis +310
Joe Biden +320
Donald Trump Sr. +450
Kamala Harris +2000
Gavin Newsom +2200
Nikki Haley +2500
Michelle Obama +3000
Gretchen Whitmer +3500
Pete Buttigieg +3500
Mike Pence +4000
Glenn Youngkin +4500
Mike Pompeo +6000
Hillary Clinton +7000
Elizabeth Warren +8000
Alexandria Ocasio-Cortez +10000
Amy Klobuchar +10000
Bernie Sanders +10000
Beto O'Rourke +10000
As the Presidential incumbent, it is expected that Joe Biden will run again for a second term in 2024, but he has yet to declare his candidacy. Political prop bets have been posted at offshore sportsbook sites for some time now that ask bettors to wager on whether he'll finish his first term, and that scrutiny is likely due to his failing health or perceived mental decline.
If Biden were unable to run for a second term as POTUS, the most likely candidate to fill his shoes for the DNC is his current VP, US Senator from California Kamala Harris.
2024 US Presidential Election Odds
Potential 2024 Candidates For POTUS
Republican Party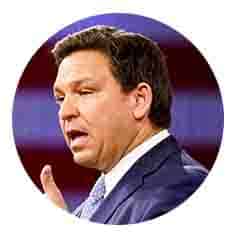 Ron DeSantis - Current Florida Governor
Governor DeSantis has emerged as the go-to, default contender for the GOP nod if Trump were to decide to forgo the next Presidential election cycle.
DeSantis rose to prominence during the onset of the COVID-19 pandemic by being one of the first US Governors to ease restrictions for public venues.
What at first appeared to be a risky proposal wrought with rising infection levels transitioned into a favorable scenario for the Sunshine State that included similar COVID-19 contamination rates as other regions, but better death ratios - all while businesses stayed open and Florida enjoyed a relatively healthy economy.
Ron DeSantis should easily be able to parlay that success toward a Presidential run and promote it on a national stage. A GOP straw poll conducted in January featured him as the second most likely candidate that the Republicans would throw their weight behind, with Trump finishing with less than 50% of the total vote.
Other Potential GOP Candidates
Glenn Youngkin - Current Governor of Virginia
Mike Pence - Former Vice President under President Trump
Nikki Haley - Former Secretary of State under President Trump
Democratic Party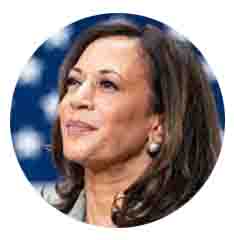 Kamala Harris - Current VP under President Biden
Harris now holds the Vice Presidency and serves under President Biden, with many pundits believing that she was selected due to her potential to step in and lead if the POTUS is unable to continue his term due to a medical or age-related issue.
She is a former US Rep from California and mostly aligns with the old guard of the DNC, but is in opposition to the new wave of House Democrats led by "The Squad."
While it would be unusual for a sitting VP to break from the incumbent's re-election campaign and run against them in the Presidential primaries, after the last four years, it is best to be mindful that anything is possible in the realm of political betting odds.
Alexandria Ocasio-Cortez - Current US Representative From New York
While the Notorious A.O.C. has not announced her intentions to run for office in 2024, her popularity, or lack thereof, on a national scale has her listed prominently in the Presidential Election odds.
She is a member of the aforementioned "Squad" in the US House of Representatives and is currently serving her second term for her constituents in New York state.
If Biden opted out of running for office again in 2024, Rep. Alexandria-Cortez would be a likely Presidential candidate, as she would be inclined to go all-in and put the national Democratic Party's allegiance to a vote to determine whether they back the old or the new guard.
Other Potential DNC Candidates For 2024
Gavin Newsom - Current Governor of California
Elizabeth Warren - Current US Senator From Massachusetts