Legal Betting on Presidential Candidates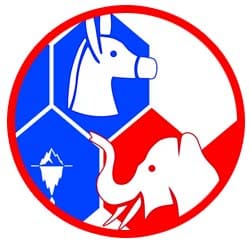 Betting on politics is a popular market, and the action has never been as brisk as it is right now for the November general election. However, the only way to wager on elections – and the only place to find legitimate 2020 Presidential candidate odds – is to use an offshore sportsbook. These sites are unbound by the US laws banning political wagering, and they are safe and legal for most American gamblers to join. 
Early on, the field for the Democratic ticket was one of the deepest in US history, with nearly 30 candidates throwing their hats in the ring. The front runner, at first, was MA Senator Elizabeth Warren, and then VT Senator Bernie Sanders took the lead at most sportsbooks. That's where he stayed right up until Super Tuesday, when underdog Joe Biden surged to top of the delegate and betting boards and is now the presumptive nominee.
Of course, that doesn't mean that he'll get the nomination, and you can wager on Biden's odds – and all the other potential candidates' odds – at the best online betting sites. You can even wager on Trump's odds to earn the GOP nomination. After all, the coronavirus outbreak has disrupted the entire election, and nothing – not even Trump being on the November ballot – is set in stone.
Is It Legal To Bet On Presidential Candidates?
Yes, it is legal to wager on political candidates, political props, debate odds, and elections, but only if you use an offshore betting site like those listed here. US law forbids political betting at domestic sportsbooks, and while you may find Vegas election odds advertised, these are merely hypothetical hot takes, as NV does not allow political wagering of any kind.
Fortunately, the Federal Wire Act doesn't apply to gambling with offshore books, and the UIGEA is a banking regulation that doesn't apply to individual bettors. Thus, when you bet on politics online, it is legal and legitimate.
The only caveat is that the US states of CT and WA have laws barring all forms of online gambling on their books, which includes election betting. While unenforced, these laws do exist and have potentially steep penalties, so residents of Connecticut and Washington must sign up and gamble only at their own risk.  
Top Sportsbooks For Betting On Candidate Odds
Candidates For President 2020 - Trump vs Biden
Right now, there are only two official candidates for President for the 2020 election: Donald Trump, the Republican incumbent, and Joe Biden, the Democratic challenger and presumed nominee. Again, anything can happen between now and election time, but if the contest were held today, Trump vs. Biden would be the matchup.
Donald Trump - 2020 Republican Presidential Candidate
Donald John Trump (born June 14, 1946) is the most famous person in the world. If you don't know who he is, you probably aren't interested in politics or betting on politics, and we have no idea how you wound up here. But just in case you've been living in a coronavirus bunker for the last four years, here's a quick refresher:
Trump came up as a real estate magnate in New York, his home state, and was a B-list celebrity for most of his life due to his wild success in the property development industry. He was the host of the reality TV show The Apprentice, owned the Miss America Pageant for many years, and was generally well-liked until he ran on the Republican ticket in 2016. Since then, Trump has become a true A-list celebrity, and he's the most popular GOP politician – and the most polarizing one – in US history.
The Donald – aka the Teflon Don, Agent Orange, and other monikers – was the third US President to ever be impeached, though he was acquitted by the Senate in early 2020. While seemingly daily scandals surround his presidency, nothing has really negatively impacted his polls or the Trump betting odds you'll find at offshore books. He's the heavy favorite to win re-election in 2020, but you can still get decent money for wagering on him at most books.
---
Joe Biden - 2020 Democratic Presidential Candidate
Joe Biden – aka Uncle Joe, Creepy Joe, Alzheimer's Joe, etc. – is the former Vice President, having served eight years under Barack Obama. He also represented Delaware in the US Senate for over 30 years before assuming the post of VP in 2008.
The Biden 2020 campaign got off to a rough start, as the candidate's apparent difficulties on the debate stage seemed to suggest that his nomination chances were next to nothing.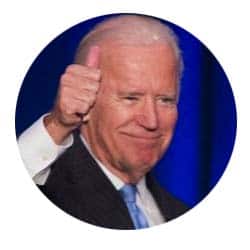 However, bettors who went in on those early lines when Biden was trending at +2000 or more may get to cash in yugely if he gets the necessary delegates and earns the DNC nomination. That's not a foregone conclusion, as other candidates could still emerge, but it's likely that Biden will be the nominee.
When and if he gets the nod, sportsbooks are sure to offer a host of Biden vs. Trump debate odds, as millions of Americans are looking forward to the two politicians going at it on stage. How Biden will hold up against the more virile (some say virulent) Trump in the debates is a subject of much debate itself, but there will be fireworks. After all, Biden – and his son Hunter's involvement in the Ukraine scandal – is why Trump was impeached in 2019.
2020 US Presidential Election Odds
Potential Candidates For The 2020 Election
Andrew Cuomo
On the odds boards, you will notice that the third person listed under Trump and Biden is 62-year-old NY governor Andrew Cuomo. Cuomo – who as early as late last year had abysmal polling numbers in the Empire State – has benefited from a surge in popularity thanks to his public response to COVID-19 and his daily coronavirus update antics sparring with the Trump Administration.
A career politician, Cuomo comes from a political family, and his little brother Chris (aka Fredo) is a popular news anchor on CNN. Still, Cuomo has stated publicly that he has no intention to declare his candidacy, but that's exactly what someone in his position would say, and sportsbooks immediately started taking action on his odds.
So, will Andrew Cuomo run for President? Nobody knows. But if you think he will, you can get excellent odds right now and a massive payout if he gets the DNC nom or wins outright.
Mark Cuban
Mark Cuban, 61, is a dotcom billionaire and owner of the NBA's Dallas Mavericks. Though he has no experience in politics, his career path is akin to Trump's. He even stars in a popular reality TV show(Shark Tank), and he has achieved celebrity status in the sports world and beyond as a result.
Cuban is on the record as considering a 2020 Presidential run, saying that he's leaving the "door open" because "anything can happen" due to the uncertainty of the economy and US politics in the face of the coronavirus pandemic.
Of course, you won't find any Mark Cuban odds to win the presidency just yet, as there are a few issues. First, Cuban – in 2017 – said that if ever ran for the office, it would be as a Republican. But a wildly popular GOPer happens to be the incumbent, and there is tremendous doubt that Cuban could strip away any of Trump's base. Second, if he runs, it'll likely be as a third-party candidate in an effort to turn a few states blue, albeit he could also declare himself a Democrat, which he basically is to begin with.
Should Cuban formally enter the fray, you should check in at your favorite betting site immediately, as you're sure to get valuable odds on his chances to win.
Other Potential Candidates For President
Other candidates for President may also emerge, as you can see on the betting boards at the best election gambling sites. While these potential candidates are longshots according to pundits, polls, and oddsmakers, anything can change between now and the Democratic National Convention.
Even the Republican ticket could get shaken up, especially if Trump impeachment odds predict another trial for the President over his administration's coronavirus response. The most popular of these might-also-runs are:
Hillary Clinton – Former First Lady, failed 2016 Democratic Presidential candidate
Michelle Obama – Former First Lady
Mike Pence – Current Vice President under Donald Trump
Odds for Trump vs Biden Presidential Debates