Legal Betting On Nathan's Hot Dog Eating Contest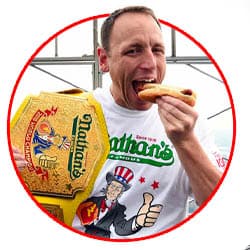 Joey Chestnut Favored To Win 2023 Nathan's Hot Dog Eating Contest
Nathan's Hot Dog Eating Contest Begins At 11 AM On July 4th
Bet On Total Dogs Eaten, Male & Female Winners, & More!
Each July, gastrointestinal expansion aficionados around the globe focus their attention on the world-famous Nathan's Hot Dog Eating Contest. What began as a fun promotional event has now become a legit competition, with professional eaters from all corners of the globe converging on Coney Island, NY, to see who can wolf down the most frankfurters in 10 minutes.
Those that are interested in legal betting on Nathan's Hotdog Eating Contest have come to the right place, as our guide will enlighten readers to the best online entertainment sportsbooks offering eating contest betting lines. We'll also help prospective bettors cut the mustard when it comes to signing up with a new sportsbook and taking advantage of new member bonuses.
Is Nathan's Hot Dog Eating Contest Betting Legal?
Yes, betting on the hotdog eating championship is legal, and there are two ways that gamblers can make it happen. If you live near a state-regulated facility that allows for hotdog contest betting, either online or off, then you can place a wager with them.
Alternatively, bettors can wager on Nathan's Hot Dog Eating Contest via legal offshore sportsbook sites. Although wagering offshore is not sanctioned by any US government entity, it is entirely unmentioned in law books. This means that no laws are being violated by wagering on the hotdog championship with an offshore betting site.
Washington has passed laws forbidding online gambling, but offshore sportsbooks still accept members from there. To our knowledge, there have been no fines or arrests for offshore gambling in WA, but we advise abiding by all local laws and only signing up to wager at your own risk.
Best Hotdog Eating Contest Betting Sites
How To Bet On The Nathan's Hotdog Eating Contest
Legally wagering on the Nathan's Famous hotdog eating competition requires joining an offshore sportsbook. Once you've selected one of the sites we've recommended in this guide, visit their page from any link here, and click on the "Join" button. The first page you'll encounter will ask for your personal data and login credentials.
The next page will ask for your first deposit and will allow for many banking options and financial bonuses which will be detailed in later sections. You can skip depositing for now, but you will not be able to place any real money online bets until funds have been deposited into your bankroll.
After you've made your deposit, navigate to the entertainment betting section of the sportsbook, which is where you will find odds for the Nathan's Hotdog Eating Contest. Place your wager on the hotdog race and cash in your payout when your bet comes through. Pork bellies are a great commodity, after all!
Nathan's Hot Dog Eating Contest Betting Apps
The legal sportsbooks listed on this page offer web apps which function like downloadable applications but don't require a visit to the Google Play or Apple App Store. All that is needed to bet with mobile sportsbooks is a current Android or Apple device and an up to date browser like Google Chrome, Safari, Opera, or Firefox.
Once your browser lands at your online sportsbook of choice, the responsive design tech will conform to your screen size and will have you placing bets on the go from the convenience of anywhere with a Wi-Fi connection or a cell signal.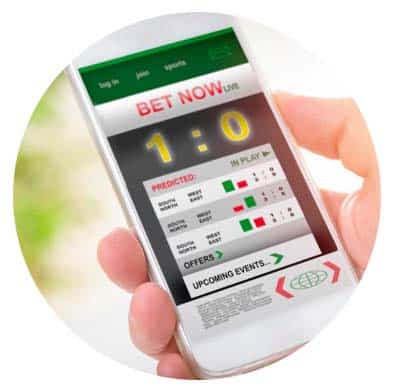 A same day payout is paramount when wagering. Think about it. You are risking your money immediately, so why wouldn't you expect to receive your money back in the same manner? Well, the only financial option for a same day payout is cryptocurrency like Bitcoin (BTC).
Cryptocurrency is unregulated and does not open itself up to any hassles from any bank or government when making an online transaction. Because of this, legal offshore sportsbooks prefer BTC and offer additional levels of bonus offers when it is used. Other cryptos we've seen accepted are Litecoin, Bitcoin Cash, Ripple, Ethereum, and others.
Traditional methods of payment are also accepted, but these feature varying delays in transaction times and fees. Deposits can be made by credit cards, debit cards, international gift cards, wire transfers, cashier's check, money orders, and person-to-person services like MoneyGram. Withdrawals can be made via wire transfers, cashier's checks by courier, money orders, and P2P services.
If you want a little extra cash to wager on the Nathan's hotdog eating contest, our recommended legal sportsbooks are anxious to get your business and will enhance your first deposit with bonus money. These sports betting bonuses are based on a percentage of your first deposit.
Common sportsbook welcome bonuses that we have seen match 50%-100% of new member's initial deposit for $250 all the way up to $1000, depending on the site you choose. If you use Bitcoin, the bonus offers usually increase significantly. Accepting a bonus offer is not mandatory for new or returning members, so check out the terms and conditions to guide your decision.
Former Hot Dog Eating Champions
If you are wondering who won the hot dog eating contest in a given year, we've got a complete listing of all male and female hotdog eating champions below. You'll notice a drastic increase in dogs consumed in 2001 when Takeru Kobayashi nearly doubled the previous year's total.
Hot Dog Eating Tactics
HBD – Removing the hotdog from the bun and eating each separately
Dipping In Water – Many competitors opt for dipping the entire hotdog and bun into a cup of water for easier swallowing down the gullet.
Eating whole – Cramming the entire hotdog down the throat is the most natural option, but it is not for everyone, as very few competitors use this technique.
Split In Half – Splitting the hotdog in half seems to help some competitors, and many employ this tactic.
Bouncing – After the eating really gets going, most competitors begin an energetic bouncing of sorts that looks like dancing. This helps with the digestive process and is more involuntary than an actual tactic.
Follow Up With Water – Some prefer to swallow water after each dog instead of dipping them first, but the additional H20 also fills bellies, taking up valuable room.
Hotdog Eating Contest Betting FAQs