Legal Sports Betting Vouchers
100% UNIVERSAL – Works with every P2P app + eWallet
Bet with PayPal, Venmo, Cash App, Zelle, Apple Pay + more!
Same-day payouts straight to cash
With the advent of cryptocurrencies, bettors no longer have to deal with hit-or-miss traditional bet sportsbook funding methods. However, crypto has a steep learning curve for some users, and it isn't for everyone.
Meanwhile, P2P payments using PayPal, Venmo, and other similar services are easier to use, but these cannot directly fund legal overseas sports betting accounts from the US. Fortunately, a new method – legal sports betting vouchers – are here to fix all that. That's right, sports bettors: The fix is in!
In short, online gambling vouchers allow bettors to use popular P2P apps to get their accounts loaded up and topped off ASAP. Sports betting vouchers are safe, quick, and easy to use, and they offer a significant amount of flexibility when you want to make fast deposits so you can bet on all the games of the day. To learn more about legal voucher options at the best online sportsbooks, our short guide will get you in the game!
New Bovada Voucher Funding Method For USA Sports Betting
Bovada is the first major US sportsbook to offer a voucher deposit and withdrawal option for its millions of American members.
Bovada Vouchers allow existing site members to designate portions of their account balances for sale to other members of the site, which can be purchased via PayPal, Venmo, Cash App, Apple Pay, and other services.
Voucher player transfers have no added fees, integrate your favorite peer to peer payment apps, and allow you to bet on thousands of daily odds and lines for dozens of the most popular US and international sports leagues, as well as eSports, sports sims, and virtual sports!
US Legal Online Sports Betting Sites Accepting Vouchers And Other Payment Options In 2023
As of December 2023, Bovada Sportsbook is the only US-friendly online bookmaker that accepts vouchers or player transfers. However, other sportsbooks support unique, convenient deposit methods of their own, including Bitcoin betting transfers, Zelle-to-Bitcoin options, and even new payment platforms, and more.
Each of the following sites is a top online mobile sportsbook for US residents, and they've all passed the test of time by offering thousands of daily betting lines across all major markets, working on any computer or mobile device, and guaranteeing timely payouts for all members.
What Are Sportsbook Vouchers And Player Transfers?
Sportsbook vouchers and player transfers are effectively the same thing, and they work by allowing existing members of a given legal online sportsbook to sell portions of their eligible account balances to other site members or prospective members, especially those who wish to use payment options that aren't offered by USA online sportsbooks directly (i.e. PayPal, Venmo, Apple Pay, and similar person-to-person instant-pay services).
To deposit with a voucher, a bettor can simply buy a sports voucher code from another site member and deposit that through the site cashier. The process is instantaneous and is extremely convenient. The voucher deposit and payout processes are explained further down this page.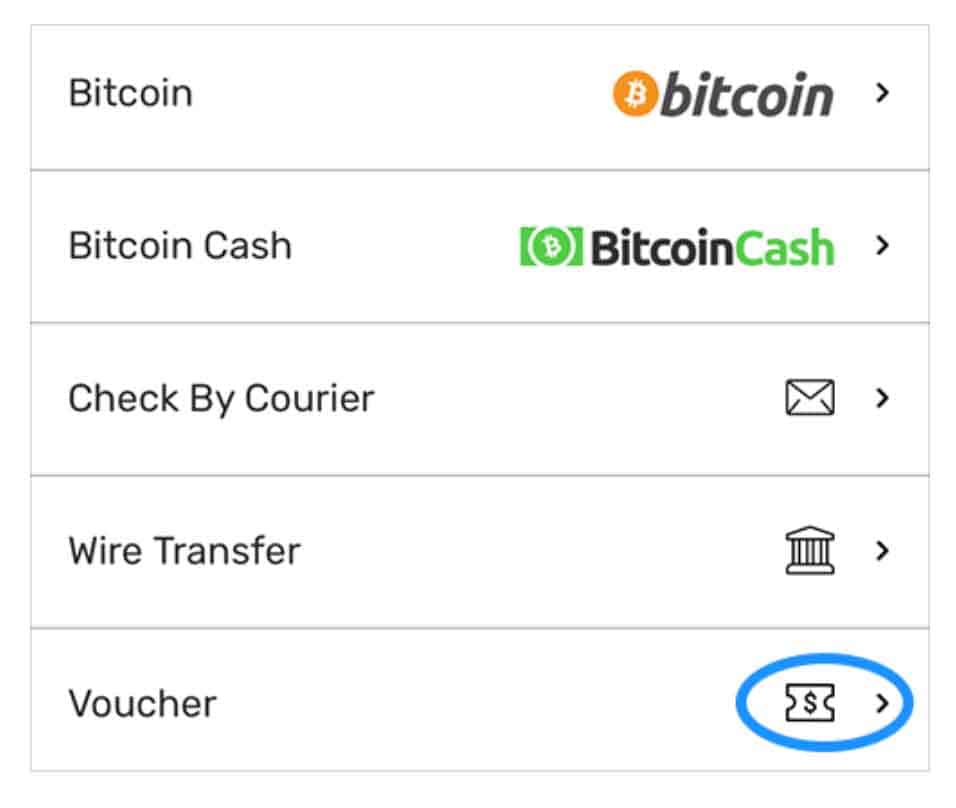 Are Sports Betting Vouchers Legal For Online Sportsbook Account Funding?
Yes! You can legally use sportsbook vouchers at any participating site that offers this online sports betting banking method. Just as there are no US betting laws that bar residents from wagering on sports at international sportsbooks, there are no laws barring the use of vouchers – and the P2P apps powering them – for making online sports betting transactions.
While not all P2P payment platforms are available for cross-border or international use, many are, and your options for which system to employ are limited only by what you and your seller both agree to use. And if your seller resides in your same country, international P2P services aren't necessary at all.
Note: Washington sports betting is nominally barred by state mandates. However, there's no record of any WA resident ever getting cited, fined, or arrested for online sports betting, and all reputable 18+ online sportsbooks accept members from both states. Still, you are advised to abide by all local gambling laws.
How Do Sports Betting Vouchers Work?
Sports betting vouchers are easy enough to explain, and even easier to use. In the following sections, we explain the process for both buyers and sellers in detail, but the long and short of it is simply this: Vouchers allow sports bettors to sell all or part of their eligible account balances to fellow members at their online betting sites.
These sales can be completed using any number of different P2P network transfers and have no added fees attached. And the cherry on top? Because vouchers are bettors helping bettors, they actually help grow the sports gambling community in a friendly, organic way. Everyone wins – which is the only time that ever happens in sports!
Note: Vouchers require some legwork on the part of Bovada members, but a new option – MatchPay – is also available. Bovada MatchPay users can get all the benefits of depositing with P2P apps and eWallets without worrying about buying and selling voucher codes via the community. Learn more about banking options with our 2023 Bovada sportsbook review.
How To Buy Vouchers
To buy sportsbook vouchers, the process is the same for both new and existing members. However, we will outline the procedure with new members in mind, as vouchers can be claimed during the signup process.
If you already regularly gamble online with a provider that accepts vouchers, you will find this option on the cashier page of your favorite online sportsbook.
Follow any link here to your sportsbook of choice, and click or tap the "Join" or "Sign Up" button at the destination.
Enter your personal information, using real, verifiable data. (This data is fully encrypted, private, and secure, but it must be accurate in order for you to collect your sports betting payouts in the future.) Enter an account password and move on to the next page. Note: Please do not use a VPN service when betting with any reputable legal offshore sportsbook.
Here, you will see several deposit options. If you wish to use the voucher method, you may skip this step to complete registration.
Once registered, head over to your sportsbook's community page or member forum and browse the postings for voucher codes for sale. When you find one, simply message the seller and set up a deal.
Using PayPal or any other popular P2P app, purchase this code for the advertised amount. The seller will release it to you after the conclusion of the sale.
With your sports betting voucher code in hand, head back to the deposit section of your sportsbook, select the voucher option, and enter the code. Your account will be instantly credited. You are now ready to browse the odds boards and place your wagers!
Please be advised that you can also buy sports betting vouchers from external sites, as these codes can be sold anywhere at the seller's discretion.
If you decide to purchase a gambling voucher at a site other than your sportsbook itself, it is imperative that you know or trust the seller personally. We do not recommend buying vouchers for betting deposits using third-party online forums or classified ads.
How To Sell Vouchers
Selling vouchers is straightforward, though the process is a bit different than buying them. All existing sportsbook members may create voucher codes for portions of their account balances, though the portions in question must be eligible for standard withdrawals.
The process is as follows:
Request a voucher payout from the sportsbook cashier page in the amount you wish to convert to voucher form.
Once submitted, the request will take anywhere from a few hours to 48 hours to process, at which time you will receive your unique voucher code delivered to your account-linked email address.
Visit your site's community forum page and create a voucher ad.
When a buyer contacts you to claim your voucher code, work out a payment solution with the buyer using any P2P platform that suits both your needs.
Once your payment is received, release the code to the buyer, and that's it!
You can also post your gambling voucher for sale at other sites, like Reddit sports betting pages or Craigslist, etc. However, most buyers will prefer the security of completing these transfers through the sportsbook's official channels.
And remember, once you receive your funds, you should do your best to send the voucher code to your buyer ASAP. Sellers who abuse the voucher system will face account suspension or termination.
Same-Day Sports Betting Payouts With Vouchers
For sellers, one of the most compelling aspects of vouchers is that they offer same-day payouts via popular P2P services, which is not possible using any other sportsbook banking option.
While Bitcoin, Bitcoin Cash, Stellar, and other crypto sports betting transfers offer same-day payouts, vouchers deliver your money in fiat currency that you can use immediately.
That said, you are not always guaranteed same-day payouts when using betting vouchers, as buyers may take several days to choose your listing among all the options available.
Which P2P Networks Can Be Used To Buy And Sell Vouchers?
The reason sports betting vouchers at the top online sportsbook sites are so highly regarded is because they are the only ways for buyers and sellers to make use of the world's most popular person-to-person instant-pay services.
Offshore sportsbooks, while legal to use, cannot accept these P2P transfers directly, due to the US UIGEA law and various service policies. With vouchers, however, these become private transactions between individuals, and they allow for the use all of the following P2P apps, just to name a few:
Samsung Pay
Facebook Messenger
Square Cash
Xoom
And more!
Benefits Of Using Online Sports Betting Vouchers And Player Transfers
The benefits of using vouchers to fund your online sports gambling activities are extremely clear. First and foremost, they allow you to use the above-mentioned P2P transfer platforms to get your account topped off or to claim fast, easy payouts.
However, there are several great reasons why the voucher system works well, all of which are listed below:
Use PayPal, Venmo, Cash App, Apple Pay, Zelle, and other P2P platforms that are not available as direct-deposit options at legal US online sportsbook sites
Make deposits and receive payouts with no added fees
Receive same-day payouts via P2P transfers when selling voucher codes
Build your sports betting community by helping your fellow bettors get in the game faster and easier than ever
Establish yourself as a trusted buyer or seller in your online sports betting circle
Meet likeminded people who share your interests in sports betting over the Internet
Voucher Bonus Options For Legal Online Sports Betting
Unfortunately with voucher deposits, online sports bettors are not eligible to receive the  sportsbook bonuses that most other deposit methods offer. As mentioned above, we recommend you make your first deposit using Bitcoin or another crypto (all of featured sportsbooks make this option user frieindly), and then for your follow up deposits where there is no bonus, use the voucher option.
Deposit promotions include the following:
New Member Sports Welcome Bonuses
Returning Member Account Reload Bonuses
Special Seasonal Promotions
Mobile Sports Betting Bonuses
Live Sports Betting Bonuses
Refer-A-Friend Bonuses
And more!
Sports Betting Vouchers FAQs