Discover Card Sports Betting Deposits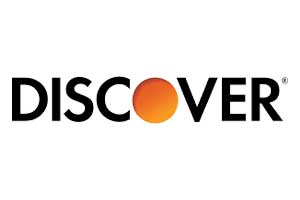 Instant online betting transfers + 95% UIGEA acceptance rate
Earn valuable Discover Cash Back Rewards for all deposits
Best prepaid card for new gamblers – Build credit FAST!
These days, the majority of serious online sports bettors have transitioned to using cryptocurrency to bet online. However, credit/debit cards remain the second most popular option, and Discover card sports betting is finally supported by several of the best sites. While Discover cards aren't the most common card-based online sports betting funding methods, the brand has more users than ever, and many gamblers have hit the jackpot with Discover's valuable member rewards.
That said, Discover remains the least-accepted of all the major credit card services when it comes to real-money online sports betting. That could change in the future, but for now, if you want to gamble with Discover, you're going to be limited to BetOnline Sportsbook and SportsBetting AG. Still, these sites are among the top operators in the business, so that's not exactly a bad thing. Read on to discover more about Discover sports betting!
Best Legal Online Sportsbooks Accepting Discover Card Deposits In 2023
Is It Legal To Bet Sports Online Using Discover Card?
Yes! There are no US sports betting laws that forbid real-money online gambling in America, provided the sportsbooks you join are headquartered outside of United States borders.
Laws like the Wire Act apply only to domestic operators and not individual gamblers, while other laws – such as the UIGEA banking regulation – are targeted at financial institutions that "knowingly" process illegal online gaming transactions. Nether law applies to you, and Discover has not outlawed the use of its card platform for legal offshore sports betting.
Note: Residents of Washington state are legally barred from all forms of online gambling, including sports betting. The best-reviewed US sportsbooks nevertheless accept WA residents, but you're advised to proceed only at your own risk.
How The UIGEA Impacts Discover Card Sports Betting Transactions
The Unlawful Internet Gambling Enforcement Act of 2006 – or UIGEA for short – is a law that requires banks, credit unions, and online payment processors like Discover to have mechanisms in place that bar any known financial transactions to or from unregulated online betting sites. While the law sounds scary, it does not target individual gamblers, and it doesn't have very much "bite."
The main upshot of the UIGEA law has been that credit card transactions to online sportsbooks are now automatically declined about 5-10% of the time. Different cards have different UIGEA acceptance rates, with Discover betting transfers being the most successful and Visa betting transfers being the least successful.
Outside of this inconvenience, the UIGEA has also caused the offshore sports betting market to abandon online credit card chargebacks and debit card refunds as legitimate payout options.
Of course, the UIGEA has also encouraged these sites to find withdrawal alternatives, which they have – most notably in the form of cryptocurrency, but also in the form of sports betting vouchers and MatchPay betting options.
What Sports Can I Bet On With Discover Card?
When you make online Discover sports betting deposits, you'll be able to bet on all the sports, tournaments, leagues, teams, and players featured at your site of choice. There are no restrictions on the kinds of events you can bet on, and that goes for every online gambling deposit method.
If you're a US-based bettor, chances are you're looking for NFL odds, college football odds, MLB odds, NBA odds, and so on. And, of course, you're probably also interested in betting on the Super Bowl and entering a few March Madness bracket challenges.
Well, you can do all that – and lots more – at any site we recommend here. With thousands of daily betting lines and live odds for just about every sporting contest and eSports event – there are always new bets to discover.
Discover Credit Card Sports Betting Banking Options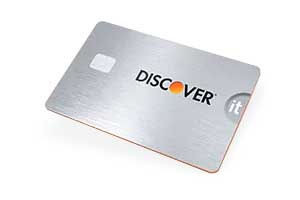 Discover has historically been the "fourth fiddle" of the branded credit card operators, behind Visa, Mastercard, and American Express. However, over the years, the company's reputation has undergone a complete overhaul.
Since the Discover's launch in 1985, the company has grown considerably and is now as commonly accepted as most other card platforms. As of 2022, two of the biggest online sportsbooks for US players – BetOnline and SportsBetting AG – accept Discover sports betting deposits, which puts the option nearly on par with American Express betting.
What's more, the Discover gambling acceptance rate is actually higher than that for Visa or American Express! You can use any kind of Discover card – from credit and debit cards to secured/prepaid cards and gift cards – to top up your online sports betting account.
Discover Credit Cards
Discover credit cards – more specifically, Discover it™ credit cards – are by far the most common option for making online Discover sports betting deposits. The company offers a wide array of different card plans, and the Discover Rewards and Discover Cashback Bonus programs associated with these cards makes them even more compelling.
Whether you use a Discover Cash Back Card, a Discover student credit card, a Discover travel credit card, or any other type of card offered by the company, you can easily fund your legal online betting account quickly and securely.
And if you're into hockey betting, it gets even better, because you can now use the official NHL Discover it™ credit card to bet on your favorite National Hockey League players and teams. Talk about icing on the cake!
Discover Secured Credit Cards
Discover secured credit cards – aka Discover prepaid cards – are among the best, most feature-rich prepaid credit card options on the market. Secured credit cards are primarily used by younger adults who are just getting started building their credit profiles and who don't yet have high enough credit scores to qualify for standard credit cards.
However, secured cards can also be used to encourage and reinforce responsible betting habits, as you must preload your card with cash you actually have before you can use it to bet online.
This makes the Discover secured card a top choice for first-time online sports bettors and those rehabbing their credit histories. That said, please be advised that if you're using a Discover secured card to raise your credit score, you must exercise even more caution than usual when betting online.
Discover Debit Cards
Discover debit cards are less common than Discover credit cards, but they are out there. In our experience, most people seem to have Visa and Mastercard debit cards, which is why the top US sports betting sites tend to support these options in lieu of most others.
Nevertheless, Discover is stepping up their game in the online checking department lately. As of 2022, the Discover network is undergoing a major renovation, and the Discover debit card program is getting an overhaul that will allow it to better compete in the bank-linked checking card space.
Discover Gift Cards
Like other top card companies, Discover has a selection of "universal" retail gift cards you can purchase online and/or at local big box stores.
Many online gamblers prefer to use gift cards thanks to their increased anonymity profiles, but the sites we recommend here are secure and trustworthy enough that we've never felt like our private information was at risk when using our standard cards.
That said, gambling with Discover gift cards at online sportsbooks is a great way to keep your bankroll in check, as it ensures that you're never betting more than you can afford to lose. For beginners, this is a good strategy for learning effective and responsible bankroll management.
Note: If you intend to bet sports online using a Discover gift card, please ensure that your card is rated for *international* transactions. All sports betting gift card deposits are technically cross-border/international purchases.
Discover Sportsbook Deposit Limits
While card-based betting deposits have the benefit of being the fastest possible ways to move money into your sportsbook wallet (card deposits are processed virtually instantly and are even faster than the fastest cryptocurrency networks), they come with some of the lowest deposit limits.
You can get around this by making multiple card-based deposits in a row, but that can get tedious – especially if the UIGEA rears its ugly head.
Still, for many players – if not most players – the entry-level $500 Discover limit for new members should be more than enough. Plus, you can always claim a bonus to add even more money to your initial bankroll.
Minimum Discover Deposit Limit: $25
Maximum Discover Deposit Limit: $500
Note: You can increase your Discover betting limit from $500 to $1000+ once you've established yourself as a sportsbook member in good standing. This is common practice in the industry for credit/debit deposits.
Discover Sportsbook Deposit Fees
One of the biggest selling points for Discover is that the vast majority of their card plans – from secured cards and student cards to debit cards and high-limit credit cards – come with no annual fees. But that doesn't mean Discover transactions are similarly fee-free.
Typically, commercial retailers – including legal online sportsbooks – are assessed a fee of around 3-5% every time they process a Discover transfer. This is usually passed on to the consumer, and that's the case whenever you make a Discover betting deposit online.
That said, Discover does have one advantage compared to many other cards: There are zero foreign transaction fees. Since the best online betting sites are all located outside the US, foreign transaction fees can really add up. With Discover, though, you can always bet with more of what you deposit.
Discover Sportsbook Payout Options
In ye olde days what when online betting were first discover'd by the mythical Internet Explorers, it was common practice for the fastest-payout online sportsbooks to simply charge players' winnings back to their credit and debit cards.
These days, unfortunately, Discover chargebacks – and all credit/debit chargebacks – are pretty much out of bounds. The UIGEA law has made the cost of issuing payment this way a nonstarter, and no reputable sports betting site currently supports the practice.
Of course, things have evolved, and chargebacks would be obviated by now even without the UIGEA. It's far cheaper and more profitable for both you and your sportsbook operator to simply pay out your winnings in crypto. Crypto payouts come with no added fees and are even faster than old chargeback payouts used to be, with most players getting their coins within 2-3 hours.
If you don't want to deal with crypto, though, you don't have to, as all the best sites still offer payouts via courier checks and bank wires. Yes, these do come with added fees and can take 5-10 days to show up stateside, but they're always 100% guaranteed.
Discover Sports Betting Bonus Options
One of the negatives about funding your online sports betting account with a Discover card – or any credit/debit/gift card – is that you'll only be able to claim your site's standard sportsbook bonuses.
While these are certainly valuable and well worth accepting for most players, they're definitely not as big as the bonuses you get for depositing in crypto:
Discover Sportsbook Sign-Up Bonus: 50% Up To $1000
Discover Sportsbook Reload Bonus: 25% Up To $250
Discover Sportsbook Refer-A-Friend Bonus: 200% Up To $200
Important: Because Discover limits are set at $500 for most new players, your sports betting Discover bonus will effectively max out at $250. However, once you've become a regular, you can get your limit raised and take full advantage of your site's "bonus for life" reload promotion.
If you really want to maximize your sportsbook bankroll when signing up or making fresh deposits, Bitcoin betting, Ethereum betting, and Litecoin betting are the best options. Additionally, the same legit online sportsbooks that accept Discover also accept exciting new crypto coins like Cardano, Solana, Avalanche, Dogecoin, and more.
Another perk of depositing in crypto is that you can then more easily withdraw in crypto, which is something we recommend even for those depositing with Discover cards or other credit/debit/gift card options.
Disclaimer: Discover is a third-party payment processor and does not endorse this site or any online sports betting site in any way. This page is for informational purposes only.