Legal PBA Betting Guide
Basketball was introduced to the Philippines by American colonists over 100 years ago, and it has since become extremely popular in the island nation. Naturally, it was only a matter of time before the country developed a professional basketball league of their own: the Philippine Basketball Association. The Philippines boasts a large fanbase for professional basketball, and some of the most popular legal sports betting options in PH unsurprisingly follows both PBA and NBA leagues.
Although Filipino punters cannot wager on the PBA online through a domestic sportsbook located in the Philippines, they can access basketball betting lines via reputable offshore sportsbooks. Our PBA betting guide will detail the avenues that law-abiding PH bettors have available to them and will reveal the best sportsbooks for Filipinos to wager with.
Update: After getting started on March 8, the 42nd Philippine Cup was immediately delayed by the coronavirus for seven months. However, it restarted on October 11, 2020, giving fans and bettors a chance to once again wager on their favorite teams at the best online sportsbooks. The PBA will be utilizing a "bubble" format, much like that used for the 2020 NBA restart. All games will be played at the Angeles University Foundation Gym in Angeles, Pampanga. 
Is It Legal To Bet On PBA Basketball?
In the Philippines
Yes, betting on PBA game is legal as long as those best are placed in person at one of the retail betting outlets or online through a legitimate offshore sportsbook. Philippines gambling laws do not permit residents to place bets online with local sportsbooks.
It is perfectly legal to access PH basketball betting lines and wagers at offshore sportsbooks operating online. The Philippine government has gone on record in the past stating that the activity does not break any PH gambling laws.
Outside of the Philippines
You don't have to be in the Philippines to bet on PH basketball games.  US bettors and bettors from other countries are also provided access to PBA betting lines at reputable offshore sportsbooks.
Best PBA Basketball Betting Sites
Current PBA Teams
There are 12 teams in the Philippine Basketball Association, and every year they compete in three different "tournaments" (aka "conferences"), each with their own championships. This is much different than how American basketball leagues are structured, and it gives PH fans a chance to see their favorite club win up to three titles per season. The three tournaments are called the Philippine Cup, the Commissioner's Cup, and the Governors' Cup. Each has its own team-makeup rules and tournament-style playoff to determine a champion.
For 2020, as a result of significant coronavirus delays in the Philippines, the PBA will not be holding the Commissioners' Cup or the Governors' Cup. Instead, the league will be restarting the 2020 Philippine Cup utilizing a "bubble" format, with all games hosted at the Angeles University Foundation Gym (Angeles, Pampanga).
PBA Betting Odds
Since the league is currently on a break due to the coronavirus pandemic, there are no betting odds offered at popular offshore sportsbooks. As soon as play begins again when the season resumes, however, bettors can expect PH basketball odds to appear en masse, featuring many of the same wagering options that can be found when browsing betting lines for NCAA basketball as well as betting options for the NBA. We detail what types of basketball bets gamblers can expect to find at offshore sportsbooks in the following section.
Types Of Bets That Can Be Made On PBA Basketball
Point Spread
Teams are rarely equal, so oddsmakers produce point spreads to indicate which team is favored and by how many points. The team that has odds placed in the negative are favored to win by that many points.
If a team has -7 placed by their name, that means they are favored to win by seven points and will thus need to win by 8 or more points in order for you to win the bet. Alternatively, if a team has a +5 next to their name, then they can lose by up to four points (or win outright) in order for your wager to payout.
Moneyline
Money line odds (aka straight moneyline odds) are for bettors that don't like to think about point spreads and are only interested in selecting the team they believe will win. Three-digit odds will be placed next to each team's name and will be either in the positive or negative. Just like point spread bets, the team with odds in the negative are the favorites.
If the odds are positive, that means that $100 wagered will earn a cash payout that is equal to the positive odds (ex. $100 wagered on +120 will earn $120). Wagering on a favored team with negative odds will require a bet of that amount to earn $100 (ex. $120 wagered on -120 will earn $100). These are merely ratios, not betting minimums, as most sites accept wagers of as little as $0.50 to $1.00.
Live Betting (In-Play)
The betting doesn't have to stop after the opening tip-off. You can stay in the action with live betting that updates odds throughout the game. Just because the game is a blowout, that doesn't mean that intriguing wagers are off the board. With live betting, you can wager on which PBA team will be in the lead at halftime, on updated overall winner odds, or on prop bets until the final seconds have ticked off the clock.
Prop Bets
Proposition bets are wagers that can include almost any in-game occurrence not directly related to the outcome of a given PH basketball game. Individual player performances such as point totals, rebounds, or assists can be included.
Other potential prop bets can include whether a player's spouse will be shown in the crowd during the telecast or if a player will mention a particular subject during their post-game interview. Prop bets are incredibly popular because they range from pure entertainment to lines that require intense research.
Totals (Over/Unders)
Bettors can place wagers on how many points both PBA teams will combine to score or how many points an individual team will score over the course of a game. Oddsmakers set the line, and bettors have to choose whether the total will be above or below the line, which is why these betting lines are also referred to as over/under bets.
Futures
Futures are any betting line that can be placed on a game or action that has yet to occur and is a long way off. These can include, but are not limited to, what player will be this season's MVP, which Philippine Basketball Association team will win each conference championship, and so on. The earlier you bet on a futures line, the bigger the payout will typically be.
Parlays
These types of bets combine several wagers into one ticket for increased payout potential. All bets must win in order for the entire parlay to win. If any of the bets fail, the entire parlay bet fails. Big risk, big reward!
Teasers
Teasers work in a similar manner to parlays, with the one major difference being that the bettor can adjust the point spread to their liking, depending on what each sportsbook will allow. This makes a teaser slightly more enticing than a parlay, as it gives the bettors a little more control of the action.
Mobile Betting On PBA Basketball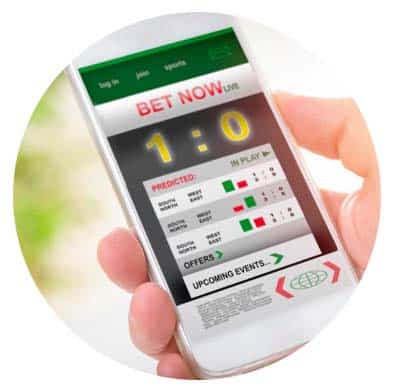 Our top-rated sportsbooks that we have listed on this page all allow for mobile betting via the use of web apps. No basketball betting app download is required. The sportsbook web apps are accessible through modern mobile browsers such as Chrome, Firefox, Opera, and Safari (to name a few) and can have users of Android devices, iPads, and iPhones gambling on the go in no time.
The best part is that all betting features included on the sportsbook's main desktop site are also available via their mobile web apps. Plus, as long as your device is up-to-date, you'll have increased data security for all your wagers, too!