Sports Betting In Chicago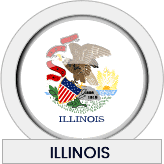 Online Sportsbooks Available In Chicago: Offshore & Domestic
Domestic IL Sportsbooks Available In-Person, Online, & Via Mobile Apps
Legislative Movement Toward Sports Betting: IL Sports Betting Is Legal
Chicago, known as the Windy City, is one of the best metropolitan areas in the United States for sports. The city is rich with sports history, and fans can get in on Chicago sports betting action through domestic sportsbooks as well as international betting sites. Whether you're interested in the Chicago Bears and betting on the NFL, or wagering on Major League Baseball and the Cubs or the White Sox,
This page was made specifically for Chicago residents and has information on federal gambling laws, Illinois sports betting, legal sportsbooks, available betting lines, and more. ONce completed, you'll be armed with all the vital information needed for Chicago sports betting.
Is Sports Betting Legal In Chicago, IL?
Yes, betting on sports within the city limits of Chicago, Illinois is legal, and bettors have three avenues at their disposal. The first is domestic sportsbooks which were made legal by the Illinois legislature in the summer of 2019.
In addition, Chicago area bettors are able to wager on sports using state-regulated betting apps that can be downloaded onto tablets and smartphones.
While Illinois gambling laws specifically allow for sportsbooks to reside in Chicago's professional sports stadiums, a city ban on gambling at athletic venues is in place. A current ordinance is being reviewed by the city council, and if passed, it will remove the ban and allow for these domestic sportsbooks to begin construction.
The final and most convenient sports betting option for Chicago visitors and residents are international sportsbook sites operating outside of the United States. Gambling laws, both state and federal, do not include restrictions regarding offshore betting sites and their use, so IL bettors can enjoy these sportsbooks without violating any gambling laws.
Best Legal Sportsbooks In Chicago
Live Betting In The Windy City
Live betting, or in-play betting, allows Chicago, residents to place wagers during the course of a sporting event. For example, you can lay some action during halftime for the Bears to come out and score a touchdown first in the third quarter.
Live betting creates a more engaging sports gambling experience where bets don't have to be made before the game begins. Hedge that losing pre-game wager and get back in on the action with live, in-game betting. Updated in-game odds can typically be found in the same location as the pre-game odds.
Chicago, IL Mobile Sports Betting
Long gone are the days where a laptop or a personal computer is a requisite for online sports betting. iPads, iPhones, and Android-based smartphones and tablets can access the top offshore betting sites on the go by simply clicking on one of our links in the table above using an up-to-date mobile browser. Wagers can be made at Wrigley Field or out in the middle of Lake Michigan, as long as mobile gamblers have a solid internet connection.
There are no restrictions when opting for mobile Chicago sports betting over a stationary PC, as all features are ported over to the smartphone and tablet-based version of the site. There is also no need to download anything, as these mobile betting applications are web-based and can be accessed on the fly.
Financial Options
The type of currency that a sports bettor prefers largely depends on demographics. That's why the online sportsbooks that have passed our test and are included in our recommended list allow for a large variety of payment and withdrawal options, including the following:
Deposit: Credit Card, Debit Card, Wire Transfer, Money Transfer Servies, Cashier's Check, Cryptocurrency - Bitcoin (BTC), Ethereum, Ripple, Bitcoin Cash, Tether, Litecoin
Withdrawal: Wire Transfer, Money Transfer Services, Cashier's Check by Courier, Cryptocurrency*
*Bitcoin and other Cryptocurrencies are the only method that we've seen that allows for a payout within 24 hours of its request. All other methods require at least a one-day waiting period before the transaction can be completed.
Sportsbook Promotions And Bonus Offers
Online sportsbooks often offer new members bonus promos to entice them to join. Sports betting bonus offers typically match 50% or more of the initial deposit made, with maximums hovering between $250 - $1,000. There are are also bonus offers extended for other functions, such as reloading accounts with additional funds, referring friends and family, or earning bonus dollars by participating in a sports betting-related contest.
There are terms and conditions associated with most bonus offers so read through them to ensure that the promotion is advantageous to you. Accepting a promotional bonus is not a requirement of joining, and new members can decline the offer.
Betting On The NFL & Chicago Bears' Odds
Whether wagering on regular-season NFL games or betting on the Super Bowl each February, the Chicago Bears will be a part of the action. The 1985 Bears hoisted a Lombardi Trophy following a season where they only lost a single game, but the 2006 Bears were defeated in the Super Bowl by the Indianapolis Colts.
The Chicago Bears play in the NFC North Division and host home games at Soldier Field. Da' Bears have resided in Chicago since 1921, playing a single season prior to that as the Decatur Staleys. Several NFL bet types will be offered for Chicago Bears odds at online sportsbook sites that cater to Windy City bettors, including props, moneylines, totals, and more.
Sports Teams In Chicago, IL
National Basketball Association (NBA)
Chicago Bulls
Arguably the most treasured professional sports franchise in Chicago are the Bulls, who won six titles in the 1990s with legendary players Michael Jordan and Scotty Pippen. They have yet to return to that level of play, but they have made many noble attempts over the ensuing years. The Bulls play in the Eastern Conference - Central Division, and host their home games at the United Center. REgional sports gamblers can bet on NBA games whether or not the Bulls are involved.
Major League Baseball (MLB)
Chicago Cubs
The Chicago Cubs are one of the most famous professional athletic teams on the planet, regardless of sport, from the ivy-covered walls of Wrigley Field to the iconic C adorning their ballcaps. The Cubs have been a member of the National League since 1876 and play in the Central Division.
Just like their cross-town rivals, the White Sox, the Cubs have captured three World Series crowns in their long and storied history, with the first two coming over a century ago and the most recent championship happening in 2016. Bets on the World Series can be made on the Cubs during the preseason or the MLB Playoffs.
Chicago White Sox (MLB)
The Chicago White Sox play in the American League, where they have been a member since 1901. They compete in the AL's Central Division, and they host their home games at Guaranteed Rate Field. They have won three World Series titles in their history, with the last one occurring in 2005. They've not made much of an impact as of late, but they have a dedicated fan base and intend to climb to the top of the standings once again.
National Hockey League (NHL)
Chicago Blackhawks
The Chicago Blackhawks have won six Stanley Cup Championships, with their last title coming at the end of the 2015-16 season. They play their home games in the United Center and are a member of the Western Conference's Central Division. NHL betting sites will feature odds on the Blackhawks for a majority of the calendar year.
One of the best Chicago Blackhawks betting tips we can offer is to shop the odds across several sportsbooks to find the best payout, as hockey scores are so low that every little decimal point of difference can gain bettors a considerable edge.
Major League Soccer (MLS)
Chicago Fire FC
The Chicago Fire FC have been a part of the Chicago area professional sports scene since 1997. The Fire compete in the Eastern Conference and play their home games at Soldier Field. They have yet to net a title but they are one of the longest-tenured franchises in the MLS and are poised to bring a championship to the Windy City in the near future. MLS betting odds for the Chicago Fire can be found at any of the online sportsbooks we promote above.
Chicago, IL Sports Betting FAQs
Chicago sports betting is safe as long as you stick with a state-regulated sportsbook or mobile app, or visit one of the online sportsbooks recommended in this guide. Both options are reputable and safe when it comes to gambling on athletics in the Chicago area.
Yes. Chicago bettors can wager on any major athletic contest occurring around the globe at domestic and offshore sportsbooks. International betting sites also offer entertainment odds on television programs, political elections, and awards shows, a category that domestic books have not warmed up to just yet.
Yes. Betting on NCAAF can bet done at domestic sportsbooks located in or around Chicago, or at offshore betting sites like the ones we recommend on this page. Wagers can be placed on local colleges like the Northwestern University Wildcats, or you can lay some action on the Hawaii Rainbow Warriors. Any Division I NCAAF game will have odds available at reputable sportsbooks.
While in-stadium sportsbooks are currently banned, IL state gambling laws allow for them. An ordinance is up for passage at the moment and if it is approved, the ban on in-stadium sportsbooks in Chicago will be lifted. We'll update this page when that occurs.
Chicago, Illinois Resources: