Super Bowl Prop Bets at Online Sportsbooks
Because the Super Bowl is routinely the most highly viewed sporting event of the year, it attracts new bettors that may be placing a wager for the first time. Because of this, Super Bowl prop bets receive a large bulk of the action on each year's big game, and the betting options for Super Bowl 58 will be no different.
These Super Bowl prop bets appear at legal online NFL sportsbooks even before all of the NFL Playoff odds have cashed in, granting them at least two weeks of pregame attention prior to kickoff.
Read on to discover what Super Bowl 58 props can be expected, and in what order these events might occur during the SB LVIII broadcast.  We also dive into the legal aspects involved in betting on Super Bowl 2023 prop bets, and share the top SB sportsbooks on the web.
Is It Legal To Bet On Super Bowl Props?
Yes. People in the United States can legally wager on NFL prop bets for the Super Bowl at domestic and international sportsbooks.
International – Overseas sportsbooks can accept action on Super Bowl prop bets over the Internet without defying any existing federal or state laws. Outside of the state of Washington, there are no laws on the books to break.
Domestic – Almost half of the states in the USA are now offering some form of legal domestic sports betting.
Best Super Bowl 58 Prop Betting Sites
Best Super Bowl Prop Bets
The beauty of prop bets for the Superbowl is that they are meant to take action for the entire game. If you develop a sound SB prop bet strategy, bets will be cashing in every few minutes. To learn the best practices for betting on the big game see our guide to Super Bowl betting tips.
Below, each category is presented in the order that they will occur, creating a schedule of events for Super Bowl prop betting lines.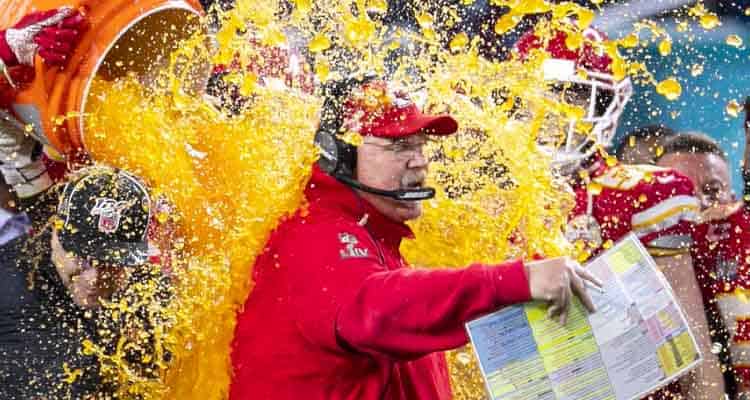 Pro Tip: Set A Super Bowl Prop Bet Schedule
The key to keeping the action going throughout the entirety of Super Bowl Sunday is setting a prop bet schedule. If you place all your bets for outcomes that will not be known until the end of the game, then all action takes place at once.
Bet on props throughout the game so that action, and payouts, occur during the entire Super Bowl. Here is our suggested Super Bowl prop schedule:
Super Bowl Commercial Props
Betting On The SB National Anthem Performance
Betting On Coin Toss Odds
First Player/Team To Score Props
Player/Team Prop Bets For Statistical Achievements
Halftime Performance Props
Color Of Drink Poured On Coach Props
Will A Player Propose Marriage Props
Super Bowl MVP Odds
Super Bowl Commercial Prop Bets
Prop bets on the glut of Super Bowl commercials that appear routinely throughout the game are a highlight at offshore sportsbook sites. Super Bowl odds are available for the order the commercials will appear in, and will also offer groupings of corporate entities asking which one will air first.
Fun Super Bowl Prop Bets
We're listing this item first because it encompasses events that can occur before the National Anthem is performed at the Super Bowl. These types of Super Bowl prop bets include lines that can happen at any time during the broadcast, such as who will be shown on camera first in the stands, the color of each head coach's attire, or what the announcers will say.
Super Bowl National Anthem Prop Bets
NFL Super Bowl National Anthem prop bets are up next, as it is the first major event to occur during the SB telecast. Odds are available for the length of the Star-Spangled Banner performance, what the performer will wear, who will be shown on camera first during the song, as well as National Anthem props on whether the singer flubs a lyric.
Super Bowl Coin Toss Prop Bets
Next up is the Super Bowl coin toss which gives the winning team the choice of receiving or kicking to begin the game. Wagers can be made on whether the Super Bowl coin lands on heads or tails, and if the team that calls it correctly will win the game. Prop bets on the Super Bowl coin toss can cash out earlier than just about any other, and some of the most popular NFL odds on the big game.
Super Bowl Player Props & Team Bets
After the coin toss is over, the game begins, allowing for payouts to be earned starting with the opening kickoff. For instance, a winning wager could instantly cash in on a Super Bowl prop bet asking if kickoff return TD will be scored during the game.
Individual 2023 Super Bowl player props and SB team prop bets can be placed on just about any stat occurrence, or non-occurrence, including total yardage, touchdowns scored, points, interceptions, fumbles, sacks, and more.
Super Bowl Halftime Prop Bets
Halftime prop bets on Super Bowl LVIII will feature odds for which songs will appear on the setlist, which song will be performed first, potential special guests, and can even get a little raunchy and ask if any skin will be revealed as it has happened in the past.
Halftime show prop bets are some of the riskiest Super Bowl odds because the entire concept of the performance is based on unpredictability and surprise. However, if Super Bowl bettors can correctly select the amount of wardrobe changes of the performer, halftime prop bets can pay out big.
Superbowl Gatorade Prop Bets
As the final seconds tick off the clock, the winning team's players will typically spill a cooler full of Gatorade onto their head coach to celebrate. If you are looking for one final Super Bowl prop bet, Gatorade color odds might be your last opportunity of the night.
Super Bowl MVP Prop Bets
After the game is over and the NFL champion has been decided, the game's most valuable player will be chosen. Super Bowl MVP prop bets can be lucrative if picked correctly, especially if a position other than quarterback is selected as the winner. QBs are typically awarded the Super Bowl MVP Trophy, but still feature profitable money line odds that are listed in the positive.
Super Bowl Prop Builders
Super Bowl Prop Builders are interactive tools available at popular online sportsbooks. Bettors use prop builders to create custom prop bets on everything from individual player performances to team stats. There is no excuse with prop builders, you can literally bet on any aspect of the game.
Live Betting On Super Bowl LVIII Props
Because SB prop bets involve time frames that are entirely based on the duration of the game's broadcast, all Super Bowl prop bets are in-play as soon as the telecast begins. That means that all Super Bowl prop bets can be considered live, except for the type that feature later start times, such as halftime show props and MVP odds.
Best Super Bowl Betting Apps For 2023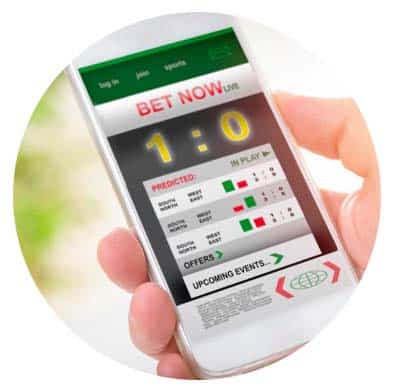 No matter how many Super Bowl prop bets are created (we expect the total to surpass four figures), all of them can be wagered upon using the top mobile betting apps around.
Simply click on one of the legal Superbowl sportsbook sites we've included in the table above using a current mobile browser and your Apple or Android smartphone or tablet will be given access to all their SB props while on the go.
These NFL betting applications do not require a download because they are web-based for the quickest access possible via iPhones and iPads. The opportunities to wager on Super Bowl prop bets can pass by quickly, so that's why you need the fastest betting apps on the planet to capitalize on these advantageous Super Bowl 2023 odds.
Deposit And Withdrawal Options
The online Super Bowl sportsbooks we recommend here at SBL operate offshore, and because of that, they specialize in cryptocurrency deposits and withdrawals. The types of crypto accepted vary from site to site, but between them, most of the popular altcoins are represented.
Bitcoin, Ethereum, Cardano, Dogecoin, Litecoin, Tether, and many more are on the table for funding your Super Bowl prop bet online. USD is an option as well, but not always for withdrawal. Also, US dollar transactions move slower than crypto and feature less attractive sportsbook bonus offers.
Super Bowl Sportsbook Promo Codes
Online sportsbooks are anxious to attract new clients and most of them offer them deposit matching bonus cash offers for the first upload. Sportsbook bonuses are entirely optional, but can be very beneficial to gamblers if all terms are met.
Just read through the Super Bowl bonuses' conditions first. If you can meet them, go for it and earn that free cash!