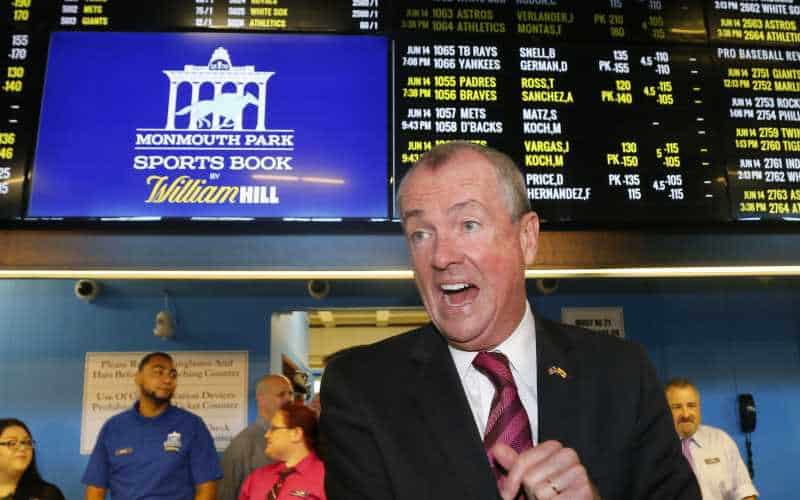 Plenty of interesting stuff happened in and around New Jersey this week, but we'll leave the politics for the 2022 political betting season.
Except, of course, for this:
During Tuesday's New Jersey statewide election, there were two questions on the ballot, and both had to do with gambling:
Public Question 1: Allow sports gambling on collegiate postseason events that take place inside New Jersey borders as well as betting on college games involving New Jersey-based teams.
Public Question 2: Allow non-profit organizations to use money earned from charitable bingo, raffles, etc. to fund further organizational initiatives.
Interestingly, Public Question 1 was soundly defeated, 56.84% to 43.16%. Considerably less interestingly, Public Question 2 was approved by an even wider margin (64.13% to 35.87%).
Of course, we're not concerned with number two (although we might revise that assertion after we finish our first cup of coffee – Ed.).
In reality, we're not even concerned with number one, as all the best online sportsbooks we regularly use accept every kind of college sports bet you can imagine.
But we are a bit perplexed by the outcome. New Jersey, after all, is now the unequivocal Sports Betting Capital of America.
Indeed, in the month of September, New Jersey sportsbooks turned a combined handle of $1.01 billion. This is the single biggest month of action ever recorded anywhere, and NJ is the first state in history to pass the billion-dollar mark on sports betting handle.
Yes, domestic sports betting has only been available outside of Nevada since mid-2018, but that makes this all the more impressive.
Even when Las Vegas had an effective monopoly on legal US sports betting from 1993 through 2018 – and even as the Westgate SuperBook and similar outfits still make headlines and earn citations in the sporting media – Nevada never saw numbers like this.
And New Jersey is doing it without a big chunk of local gambling interest being represented on the betting boards.
Whether or not voters in the state ever approve NJ college betting remains to be seen (it'll probably happen eventually), but for now, NJ – even handicapped – is running up the score on all other legal sports betting states.
Which got us to thinking.
New Jersey is relatively unique among legal gambling states in that it makes all popular gaming markets accessible online, statewide.
NJ offers legal online sports betting, legal online casino gambling (aka iGaming), legal online poker, and legal online horse racing betting.
Basically, anything you can bet on at a site like Bovada or BetOnline, you can bet on using a local New Jersey gambling app.
Now, that's a risky tack to take in many ways. At least, according to conventional wisdom.
For example, in several states where tourism gambling is the name of the game – like, say, Nevada – there is no industrial or legislative appetite for online casino games in particular.
Online poker is a bit more palatable for operators and lawmakers, though that market is fairly underrepresented in America, too.
But the theory re online casino gambling is that such access would dramatically cut down on destination gambling and all the economic offshoots thereof.
And that's understandable. It's even sensible. Maybe.
Now, for vacationers visiting a given state for the purpose of experiencing everything a proper casino district has to offer, online iGaming wouldn't have much of an impact. It doesn't replace – and can never hope to replace – the brick-and-mortar market.
But a tremendous amount of money is gambled in these districts by locals and in-state residents, and given the option, such residents might prefer to gamble online more frequently than they enjoy legging it to any nearby casino.
Losing this business is the bigger fear, presumably.
However, for states where established gambling districts aren't a big thing – and even, to a lesser degree, for states where they are (i.e. New Jersey) – there's an argument to be made that legal domestic iGaming and other forms of online gambling would actually benefit tourism.
Sure, this might not work somewhere like Nevada specifically, given how the state's tourism infrastructure is predicated on the retail casino experience.
But in most other states that are fearful of the impact of online gambling on their destination tourism markets (even if casinos are one of those markets), legal online gambling could prove beneficial.
Yes, many people know that you can already gamble legally online using an offshore provider, but there's a huge swath of players and participants for whom the very idea is simply a nonstarter.
For them, it's domestically legal or its "illegal," full stop.
That's a stigma we fight every day, but there's no doubt that millions of potential gamblers are always going to "err on the side of caution."
At any rate, the idea is simply this: Every state has some kind of tourism allure. Every state has an industry – or a series of industries – based on the notion of attracting visitors from out of state.
If such states make online casino gambling and online poker legal, even though it's all geofenced, the calculus that such would only deter locals from gambling at retail venues and would do nothing to bring more business into the state might just be a wrong one.
After all, New Jersey was able to turn a billion-dollar betting handle in a single month not just on the backs of locals, but because hundreds of thousands of gamblers came into the state and took part.
Here's the concept in a nutshell:
If you live in a state that borders several others, you have a decision to make regarding where to take your day trips or weekend getaways or weeklong vacations.
You likely have several destinations in mind across several different states.
If you're generally ambivalent on which of those destinations to pick, the deciding factor may very well be the fact that one state allows for legal online gambling while the others do not.
Thus, whatever you're visiting to do, gambling is on the menu by default.
Legal online gambling with offshore sites doesn't carry this same cachet when it comes to traveling. It's not a draw in the same way.
States would do well – at the very least – to study the potential of this phenomenon to have a viable, economically beneficial effect on all their destination tourism markets, not just their casino venues, betting halls, and ancillary industries.
Literally every tourist attraction in such a state could advertise (or be paid to advertise) the fact that whatever you're there to do, gambling is on the menu if and when you want it.
Of course, we're not running the show. We're only standing by and scratching our heads.