2023 CFP Betting Guide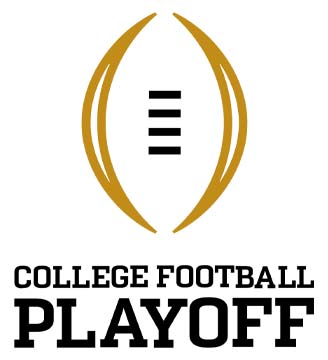 College Football Playoffs Futures Are Posted All Year
18 And Over Bettors Can Wager On CFP Odds
CFP Betting Lines Debut Once Committee Reveals Final Four
Since the 2014-15 season, the College Football Playoffs have determined the four best NCAA Division I FBS teams that will play for a chance to win the national championship. Beginning in 2024-24, the CFP field will expand from 4 to 12 NCAAF programs.
As a result, College Football Playoff betting on semifinal matchups receives the most action out of any of the games played during the NCAAF bowl season. If you are looking to get in on the postseason wagering, read through our 2023-24 CFP betting guide to gain a competitive edge prior to laying any action.
There are some noteworthy trends you should be aware of before placing a wager on the betting lines for the CFP semifinals at online sportsbooks. Along with the legal status of betting on college football, we cover tips and strategies to help aid in your betting decisions while providing the latest odds of being picked by the selection committee in December.
We'll also reveal our list of the top sportsbooks on the web that are accepting bets on the NCAAF playoffs so you can find the most advantageous CFP odds.
Is It Legal To Bet On The College Football Playoffs?
Yes, and legally betting on bowl games and the CFP postseason matchups is easier than ever at online sports betting sites. There are two ways to bet on the CFP semifinals legally.
Some states inside of the USA feature domestic brick-and-mortar sportsbooks or mobile apps that allow for CFP wagers to be placed, with most requiring a minimum age of 21 years old to participate.
If access to a region with legal domestic sportsbooks is not feasible, the best option is wagering with an international betting site that is operating outside of the jurisdiction of the United States.
Federal gambling laws fail to mention offshore wagering, leaving a mammoth-sized loophole that allows for legal sports betting online. Washington state has made all forms of online wagering unlawful, so it is highly advisable that you become familiar with local sports betting laws prior to wagering on the CFP.
Best College Football Playoff Betting Sites
Who Will Make The College Football Playoff In 2023?
As of September 2023, the top four rankings in the CFP odds belong to:
Alabama
Georgia
Ohio State
Michigan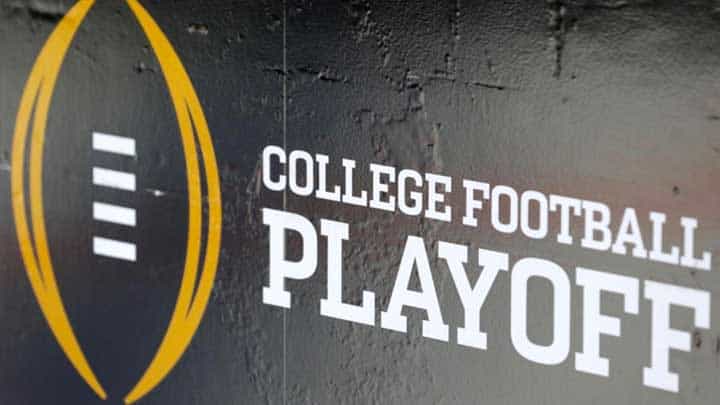 🏈 Provided by Bovada
2023-2024 NCAA Championship Winner
Georgia +300
Ohio State +700
Alabama +700
Michigan +800
USC +1200
Clemson +1600
Texas +1800
Tennessee +2000
Florida State +2000
Penn State +2000
LSU +2000
Oregon +2500
Notre Dame +3000
Washington +4000
Oklahoma +4000
*More odds available online
How To Legally Bet On CFP Odds
Just like when betting on football at any level, most of the action is placed on the point spread, the over/under, and straight winner odds provided by the moneyline. Readers can learn more about these types of football wagers by reading our page on how to read betting odds.
The remainder of all CFP bracket betting opportunities at online sports betting sites will be contained within futures odds that predict eventual NCAAF or Conference Champions, or College Football prop bets that cover stats, and any other incidents that occur during the game's broadcast.
How Does The CFP Work?
After the college football season wraps, the College Football Playoffs Selection Committee decides the final four teams that will make it to the CFP. Two semifinal games make up the entirety of the CFP, where 1 vs. 4 and 2 vs. 3 contests decide who makes it to the National Championship Game.
New 12-Team CFP Format
Beginning after the 2024-25 college football season, the field for the playoffs will expand from four to twelve. Seeds 1 through 4 will receive an opening week bye, and seeds 5 through 12 play each other (5 vs. 12, 6 vs. 11, 7 vs. 10, and 8 vs. 9).
The second round is seeded where the #1 ranked team will play the winner of 8 vs. 9, #2 against the winner of 7 vs. 10, #3 against the winner of 6 vs. 11, and #4 against the winner of 5 vs. 12. New Years Six Bowl Games are used for second round CFP locations.
In the semifinal round, the highest remaining seed plays the lowest seed on the boards, with the two leftover programs playing each other. The winner of this third round of CFP games gets to play for the National Championship.
CFP Selection Trends
The 13-member College Football Playoff selection committee has been tasked with picking which four teams will play in the two semifinal games since the 2014-15 season.
The teams are ranked starting in October and then officially selected and seeded (1 vs. 4/2 vs. 3) after the conference championship games are played at the beginning of December.
Before betting on which college football teams will or won't be selected, here are some trends to know ahead of time. The selection committee does not have a strict criterion—only to "select the four best teams"—but here's how they've picked the "best" teams since the playoff format was introduced.
Only undefeated and one-loss teams have been selected. No team with two or more losses has made the CFP.
If two teams have identical one-loss records, the team will the loss to the stronger team is valued higher. Example: in 2018 Oklahoma was selected with a loss to Texas, but Ohio State was not with a loss to Purdue.
Winning a Power Five (ACC, Big Ten, Big 12, Pac-12, SEC) conference championship isn't a requirement. Example: 2018 - Notre Dame (Independent), 2017 - Alabama.
A Power Five conference can have more than one team selected. Example: 2017 & 2021 - Georgia, Alabama.
Non-conference strength of schedule matters. All teams selected so far played and beat at least one Power 5 team in non-conference play.
Past CFP Semifinal Selections And Results
Here you can see which four college football teams have been selected each year since the inaugural season as well as the results from those matchups.
Season
Bowl
Matchup Results
2014-15
Rose Bowl
Sugar Bowl
No.2 Oregon 59, No.3 Florida State 20
No.4 Ohio State 42, No.1 Alabama 35
2015-16
Orange Bowl
Cotton Bowl
No.1 Clemson 37, No.4 Oklahoma 17
No.2 Alabama 38, No.3 Michigan State 0
2016-17
Fiesta Bowl
Peach Bowl
No.2 Clemson 31, No.3 Ohio State 0
No.1 Alabama 24, No.4 Washington 7
2017-18
Rose Bowl
Sugar Bowl
No.3 Georgia 54, No.2 Oklahoma 48 2OT
No.4 Alabama 24, No.1 Clemson 6
2018-19
Orange Bowl
Cotton Bowl
No.1 Alabama 45, No.4 Oklahoma 34
No.2 Clemson 30, No.3 Notre Dame 3
2019-20
Fiesta Bowl
Peach Bowl
No. 2 Clemson 28, No. 3 Ohio State 49
No. 1 LSU 63, No. 4 Oklahoma 28
2020-21
Sugar Bowl
Rose Bowl
No. 2 Clemson 29, No. 3 Ohio State 49
No. 1 Alabama 31, No. 4 Notre Dame 14
2021-22
Orange Bowl
Cotton Bowl
No. 2 Michigan 11, No. 3 Georgia 34
No. 1 Alabama 27, No. 4 Cincinnati 6
Legal CFP Betting Apps
Bettors no longer need to run to their nearest personal computer to place an NCAA CFP wager at an online sports betting site. Tablets and smartphones can access the best legal mobile online sportsbooks in operation by clicking on one of the betting site links we've provided above. That's right, skip past all application stores and get straight to the betting with the web apps that our top CFP wagering sites.
Any odds that are available on the regular website are accessible via iPhones, iPads, and Android devices, as long as you've got a solid connection to the net.  There's literally no advantage to using a laptop or a PC to wager on the CFP, and bets can be made while watching the games on TV or at the stadium.
In-Game Live CFP Betting
All bets are typically required to be made prior to the beginning of the game or competition that is being wagered on at online sportsbooks. In-game, live betting odds throw those rules out the window and allow for bets to be made on a game until all time has expired from the game clock.
As scenarios develop in-game, odds are adjusted in real-time to reflect them. In-game online betting action can be laid on winners, leaders after a given quarter, totals, as well as game or player props. Live odds can typically be accessed by venturing to where the betting line was located at the legal sportsbook prior to the game beginning.
How CFP Winners Affect National Championship Odds
The two teams that win the college football playoffs will advance to the national championship game. Odds for the big game at online sports betting sites can change based on how well the team performs in the CFP, injuries that may have occurred, and other deciding factors.
Our guide to legally betting on the College Football National Championship is a helpful resource that illustrates the legal options of betting on the championship game. Preseason odds favor an Alabama and Clemson rematch, but there are a bunch of other good teams out there looking to keep them out of the college football playoffs.