Legally Betting On The Baltimore Ravens' Odds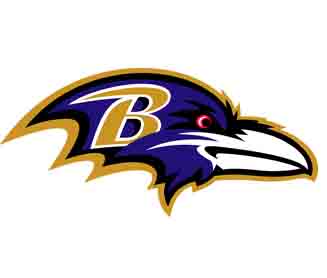 The Ravens Are Favored To Win The AFC North In 2022-23
Lamar Jackson's Over/Under For Rushing Set At 900 Yards
Baltimore Is Favored To Win Over 10 Games This Season
The Baltimore Ravens play in the AFC North and moved to the Maryland area in 1996 after existing as the Cleveland Browns prior to their arrival. Legally betting on the Baltimore Ravens' odds can be done throughout the entire United States, and this guide is your go-to playbook to find out how and where to place a pro football wager.
Don't rush off to bet on NFL teams without reading this primer first. Legal online NFL betting is available anywhere you look, but following our recommendations will ensure that you'll find the best Ravens betting lines with online sportsbooks that deliver guaranteed payouts.
Bovada Sportsbook

#1 Site For NFL Team Betting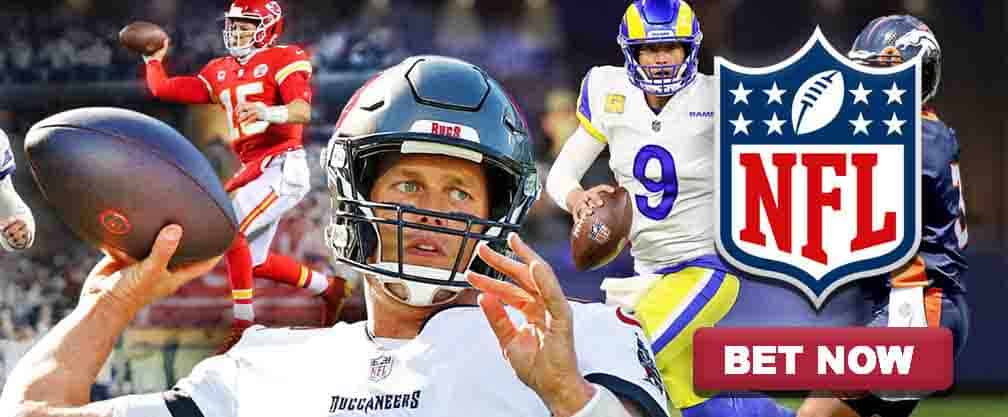 ✔ Pros
Welcome Bonus of 50% up to $1,000
Same-Day Payouts with Bitcoin
Options to Use Venmo, Paypal with Vouchers
Also Offers Casino, Poker, and Horse Racing
Wide Selection of Sports Coverage & Wagering Options
Operating From The Legal Jurisdiction Of Costa Rica
 ✘ Cons
Does Not Accept Players From NJ, NV, DE, NY, or MD
Best NFL Sportsbooks For Betting On The Baltimore Ravens
Is It Legal To Bet On The Baltimore Ravens?
Yes. Any legitimate sportsbook will offer NFL betting as it is the most popular wagering sport in the United States. Legal sports betting can take place in the USA via domestic and offshore sportsbooks.
We recommend international sports betting sites like the ones listed below because they extend their services to 18 and over customers and allow them to bet on Ravens odds 24 hours a day. These offshore NFL sportsbook sites are rated the highest by our staff and can legally accept Ravens' bets over the web because there are no laws in place that prohibit their operation.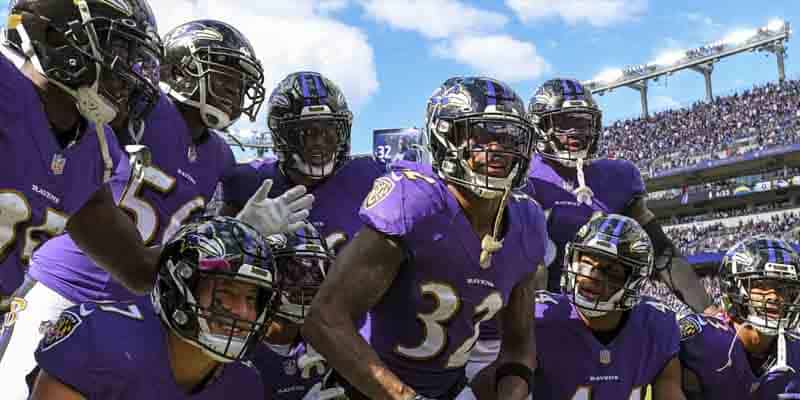 Baltimore Ravens Info
Super Bowls Won: 2
AFC Conference Championships: 2 (2000, 2012)
Owners: Steve Bisciotti
Head Coach: John Harbaugh
2021 Record: 8-9
Stadium: M&T Bank Stadium
How To Bet On Ravens Games
Every game on the Ravens' schedule from the preseason through the Super Bowl will feature betting lines at online sportsbooks. These game lines will include Ravens point spreads, moneyline odds for winners, and the over/under.
NFL Point Spread Betting: NFL games are handicapped based on how many points each team is expected to win or lose by. NFL point spreads are granted to each team in the positive (for the underdog) and negative (for the favored franchise). The Ravens can cover the spread by winning by more, or losing by less, than the margin.
NFL Moneylines: Betting on the Baltimore Ravens to win the game can be done by wagering on their moneyline odds. NFL moneyline betting typically requires more risk than reward when gambling on favored teams, and vice versa for underdogs.
NFL Over/Under Betting: The projected point total between the Ravens and their opponent is represented by the over/under total at the end of the betting line. Winning an NFL over/under bet requires placing a wager on whether the final point total will be above or below the line.
How To Bet On The Ravens Online
Each of the offshore NFL sportsbook sites we recommend above offers year-round odds for betting on the Ravens but requires membership before the football gambling can commence. Accounts can be created within a few minutes by following these procedures:
Look through each of the online sportsbook reviews for the gambling sites we endorse here at SBL to learn more about what they have to offer their members. Joining more than one sportsbook site allows football bettors the chance to line shop for the best payouts.
The account signup process can begin once new members click the 'join' button at the top of any page within the online sportsbook site.
Type in your account information and create a confidential sportsbook login.
Submit the first deposit into your account using cryptocurrency or USD.
Consider adding bonus cash with a sportsbook promo code before submitting the first upload.
Click on the sportsbook tab and locate the Ravens game odds, futures, prop bets, and more.
Odds For The Ravens To Win The Super Bowl
Legal Super Bowl betting is offered all year long, well before the two teams are decided at the end of the NFL Playoffs.
From February to February, NFL futures betting takes action on all playoff-eligible teams, listing them in the order of their moneyline odds. Gamblers can bet on the Ravens' odds to win Super Bowl championships as long as they've not been eliminated from the playoffs.
Of course, if the Baltimore Ravens win the AFC and earn a spot in the Super Bowl, betting lines will flood the boards with point spreads, straight winner odds, and over/unders for both teams.
Odds For The Ravens To Win The AFC
Betting on the AFC Champions involves laying some action on futures odds or wagering on the AFC Championship Game. AFC futures betting allows wagers to be placed on any team that remains in the playoff hunt and will payout if the correct conference champion is bet upon.
AFC Championship Game betting lines will feature point spreads, moneylines, and the over/under once the last two teams advance to the final round of the NFL Playoffs. The Ravens will not be a part of any AFC Championship betting line unless they are among the final two teams.
Ravens Odds To Win The AFC North
The AFC North consists of the Pittsburgh Steelers, Cincinnati Bengals, Cleveland Browns, and the Ravens. Odds for all four AFC North teams will be offered to reward gamblers with payouts if wagers are placed on the division-winning franchise.
As teams are mathematically eliminated from AFC North contention, they will be removed from any divisional futures betting lines, with all wagers placed on them deemed failures
Baltimore Ravens Prop Bets
Don't limit yourself to standard NFL betting options. NFL prop bets allow gamblers to wager on outcomes that don't directly involve winning and losing the game. Ravens' bets on the activities in the stands, on the sidelines, or inside the broadcast booth are all fair game when dealing with NFL props.
Also included are superlatives like NFL MVP odds which often include a member of the Ravens roster. Just remember that NFL propositions will not earn a payout until a conclusion is reached, so be mindful of the timelines involved.
Live Betting On The Baltimore Ravens
After the game clock starts running, live betting odds take over the action at online sportsbooks. All Baltimore Ravens games will feature lines for live NFL betting, which will include the spread, over/under, and moneyline for winners.
Live bets can be made on Ravens' odds throughout the entire game, but the lines can disappear without notice. These live betting lines will alter as the game progresses and offer a unique gambling experience that pregame odds do not deliver.
2023 Best NFL Betting Apps To Place Bets On The Ravens From Your Phone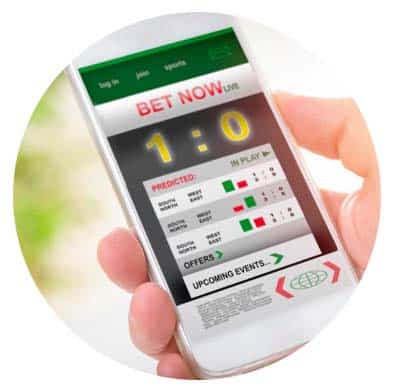 Bets can be made on Ravens games using Apple and Android smartphones and tablets using any of the offshore sportsbooks we endorse within this guide. Mobile sports betting with our preferred NFL sportsbooks does not require a download to your device.
When you click on any of the pro football betting sites we recommend on this page, mobile screens populate with the latest odds on the Ravens and all other NFL teams. Every feature included at the desktop sportsbook site is transported onto iPhone and iPad displays for a primo mobile Ravens betting experience from anywhere in MD or across the entire USA.
Funding Your Baltimore Ravens Bet
Domestic sportsbooks require that members place wagers with standard US dollar methods, but our top offshore betting sites allow deposits to be made using popular cryptocurrencies.
Gamblers can bet on the Ravens with Bitcoin, Ethereum, Tether, Cardano, Dogecoin, and other popular altcoins and are encouraged to do so with sportsbook promo codes that deliver staggering amounts of bonus cash.
No online funding method is safer or more secure than crypto, and it is the only way to withdraw your winnings within 24 hours.
NFL Sportsbook Promo Codes
Don't complete an online sportsbook deposit without first investigating the many bonus cash promos that are extended to new and existing members. Extra cash is inserted into accounts based on a percentage of the total. These dollars can become real money once all conditions are completed.
Some terms include extended bet schedules, so make certain you can complete them to receive the full benefits of the sportsbook bonus. Withdrawals can be requested once all terms have been met, so consider accepting a bonus prior to making your first Ravens bet.
Baltimore Ravens Betting FAQs
Yes. Legal Maryland sports betting can occur at the age of 21 at state-regulated sportsbooks. 18+ sports bettors can wager on Ravens odds at any of the offshore sportsbook sites mentioned within this guide.
Yes. In-game betting is available at all of the online sportsbooks that we recommend for gambling on Ravens odds. In-play betting on Ravens games is offered on all regular and postseason contests, including the Super Bowl, and offers action on the point spread, over/under, and moneyline into the fourth quarter. This includes the two games that the Ravens play against the Cincinnati Bengals each season. 
Each Ravens game will feature a point spread, moneyline odds for betting on the team that will win the game, and the over/under total for points scored by both teams. There will also be numerous Ravens prop bets for all other trackable outcomes that aren't included in the options mentioned earlier.
The Ravens Super Bowl odds often place them among the league's best teams each season. They are incredibly consistent and rarely produce a sub par on-field product. The Baltimore Ravens won Super Bowl XXXV and Super Bowl XLVII.
While there are numerous domestic and offshore NFL betting sites in business today, we recommend sticking with the pro football sportsbooks we list in this guide for wagering on Ravens odds. They've been in the game for years and continue to deliver superior customer service, fast payouts, and supply a plethora of NFL odds for the Ravens and all other teams.