Legally Betting On Denver Broncos Odds
Broncos Add QB Russell Wilson From Seahawks
Denver Ranks 7th In Preseason Super Bowl Futures At +1600
AFC West Is Most Favored Division To Win Super Bowl LVII
The Denver Broncos are members of the AFC West Division and are no strangers to AFC and Super Bowl Championships. Legally betting on Denver Broncos odds can be done in a variety of ways across the United States, and we've compiled the best online sportsbooks serving 18+ NFL gamblers today.
This guide also explains what odds are offered for betting on NFL teams. We also detail how to join top-rated online NFL betting sites and some of the perks they provide to their stateside members looking to wager on the Broncos.
Best NFL Sportsbook Sites With Denver Broncos Odds
Is It Legal To Gamble On Broncos Betting Odds?
Yes. There are domestic and offshore options that offer legal NFL betting, including Broncos odds, depending on where you are standing in the USA.
Domestic – Many states now offer regulated sportsbooks with mobile, online, and in-person options for legal NFL betting. A majority require a minimum age of 21, but some states are 18-friendly.
Offshore – The online NFL sportsbooks that we recommend in this guide operate within licensed international gambling districts that fall outside of the jurisdiction of the United States. Our top legal online sportsbooks allow for members to join and legally bet on the Denver Broncos at 18 years old and cover all US states and territories between them.
Denver Broncos Info
Super Bowls Won: 3 (1997, 1998, 2015)
AFC Conference Championships: 8 (1977, 1986, 1987, 1989, 1997, 1998, 2013, 2015)
Owner: Rob Walton
Head Coach: Nathaniel Hackett
2021 Record: 7-10
Stadium: Empower Field at Mile High
How To Wager On Broncos Betting Lines
The main components of any NFL betting line are the point spread, moneyline, and the over/under. Below is a Denver Broncos vs. Kansas City Chiefs betting line to use as an example.
Denver Broncos @ Kansas City Chiefs
Point Spread: Broncos +5.5, Chiefs -5.5
Moneyline: Broncos +210, Chiefs -185
Over/Under: 53.5
Point Spread Betting - Denver Broncos spread betting involves placing a wager on the number of points that have been granted or taken away from them depending on if they are favored or expected to lose. NFL point spread bets made on the Broncos at +5.5 in the above line requires them to lose by 5 points or less in order to cover.
Moneyline Odds - Betting on the Denver Broncos moneyline only requires them to win the game to win the wager. Making a legal NFL moneyline bet using the above Broncos odds of +210 to beat the Chiefs will reward payouts of $3.10 per dollar wagered. Sportsbooks will pay more on the prospect of a Broncos win because they are the underdog. Alternatively, wagers of $1.85 made on KC will earn $2.85 if they win.
Over/Under Betting – The third element of any NFL betting line is the over/under, which is the projected total combined points of both teams. Betting on the Broncos over/under above requires that wagers be placed on whether the total points are above 54 or below 53.
How To Bet On The Broncos Online
The sportsbook sites that we feature above are the best options for online Broncos betting no matter where you are located in the United States. The first step toward betting on Denver Broncos odds is joining as a member with one or more of our top NFL betting sites.
The reason for joining multiple books are many, but shopping the lines for the best payouts is the primary goal.
Read the online sportsbook reviews we feature and decide which ones you intend to join.
After arriving at the sports gambling site, locate the join button at the top of the page and click it.
Submit your personal data and create a confidential sportsbook login.
Look through the various sportsbook bonus cash offers before making your first deposit.
Fund your account for the first time using cryptocurrency or USD.
Locate the sportsbook section of the site and find the Broncos betting line, prop, or futures odds you intend to wager on.
Betting On The Broncos Super Bowl Odds
As soon as a Super Bowl championship team wins, futures odds for the following season's champion debut at online sportsbooks. Broncos' odds to win the Super Bowl will be listed next to their name, with all 32 NFL teams ranked from first to worst.
Game lines for Super Bowl betting will not appear until both the AFC and NFC Championships are over. There will also be Super Bowl prop bets for all occurrences during the broadcast of the big game that will number in the thousands across the NFL sportsbooks we recommend.
Denver Broncos Odds To Win AFC Championship
Much like Super Bowl odds, betting on the Denver Broncos to win the American Football Conference involves NFL futures until the final two teams qualify for the championship game. Moneyline odds for all 16 AFC teams will be available until each is eliminated from contention or they lose a playoff game.
After the divisional round of the playoffs, if Denver is still around, betting lines will emerge with odds for the Broncos to win or lose the AFC Championship game. Point spreads, moneyline odds to win, the over/under, and loads of prop bets will be offered for the Broncos if they earn a trip to the game.
Broncos Odds To Win AFC West Division
The Kansas City Chiefs, Los Angeles Chargers, Las Vegas Raiders, and Broncos make up the AFC West. Odds for all four AFC West teams will remain posted until they are each eliminated from contention.
These AFC West futures involve moneyline odds for each team in the division. These odds for betting on the NFL Playoffs, like most other futures, will deliver much higher payouts the earlier that wagers are placed.
Denver Broncos Prop Bets
Just about anything offered at an online sportsbook that falls outside of game lines and futures is in the category of NFL prop bets. Propositions mainly involve player or team stats but can include odds on any occurrence that will have a definitive outcome during the game's broadcast.
Many of the online sportsbooks we recommend now offer prop builder apps that can quickly gather hundreds of propositions across several sports into a single screen. These apps are beneficial each February when Super Bowl prop bets flood the boards.
Live Betting On Broncos Games
Broncos betting lines for all preseason, regular season, and playoff games become live once the kickoff happens. The point spread, moneyline odds, and the over/under will all continue to receive action from the first through fourth quarters when seeking out live NFL betting lines.
Live betting lines can be easily found upon entering any online sportsbook we feature in this guide after the Broncos game begins. In-play betting is the perfect solution for Broncos gamblers struggling with a pregame decision.
The Best NFL Betting Apps For 2022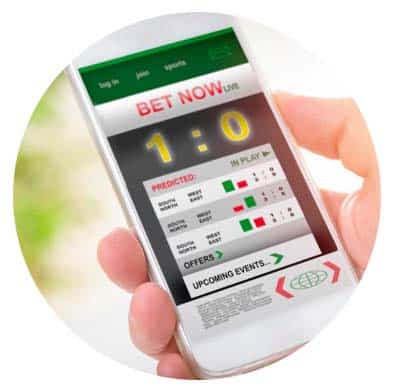 Using your Apple or Android device to bet on the Denver Broncos is offered in all 50 states between the online sportsbooks we endorse here at SBL. These NFL betting applications do not need to be downloaded to smartphones and tablets.
Web-ready devices can access these NFL apps through onboard mobile browsers like Opera, Safari, Google/Chrome, Firefox, and others.
Betting lines for the Denver Broncos can be pulled up on mobile screens in an instant. Check out our mobile sportsbook reviews for more information.
Sportsbook Banking: Depositing & Withdrawing Funds
One of the most significant advantages that keeps us returning to offshore NFL sportsbooks is their ability to accept deposits and deliver payouts in cryptocurrency. Traditional USD methods are still in play but take much longer to transact, both going and coming, than other sportsbook banking options.
That's not the case when depositing and withdrawing winnings with popular cryptocurrencies like Bitcoin, Tether, Ethereum, Dogecoin, Cardano, etc. Funding your account with crypto completes within minutes, and most payouts can be secured within the same day they were requested.
NFL Sportsbook Promo Codes
Any online NFL bettor interested in adding some extra cash to their accounts for free can opt for a deposit matching bonus when funding their account the first time.
Each NFL gambling site differs in how they deliver sportsbook bonuses, but they typically involve matching a percentage of the first deposit and adding it back into accounts. Some books also reward bonuses for additional deposits.
These bonus dollars can be used to bet on the Broncos or on any other sport the site offers odds on. To withdraw funds, completion terms must be met that involve playthrough. Meet the conditions, and the bonus becomes free cash.