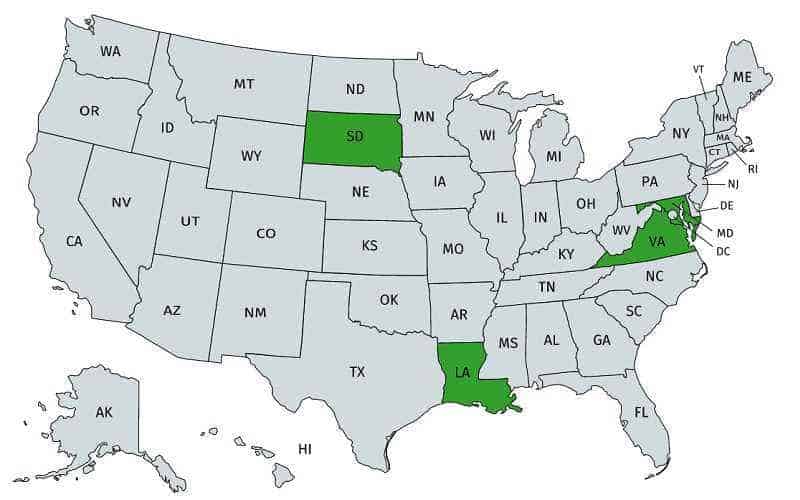 Residents of three states voted to legalize domestic sports betting on November 3rd, and now Maryland, Louisiana, and South Dakota lawmakers must decide how to regulate sportsbook operations within their borders.
This strategy is nothing new, as a two-step process has been common amongst states that are considering allowing sports betting operations to begin.
Items such as minimum age requirements, percentage of sportsbook holds that must be dedicated to state tax collectors, as well as what types of contests will be allowed to be wagered upon, will need to be decided upon in all three states.
All professional athletics, such as NFL odds, NBA betting lines, and options for wagering on the MLB, are typically part of what domestic books offer to their regional patrons, but sometimes, NCAA sports can cause for a wrinkle.
Some US states have restrictions on whether bets are allowed on NCAA games when in-state teams are involved. Other states offer no such restriction.
Another major consideration is whether these states will allow brick-and-mortar sportsbooks, mobile sports betting apps, online sports betting, or a combination of all three.
Sports Betting In Louisiana
Louisiana sports betting was placed on the ballot for approval in each parish. All that was needed to keep the ball rolling in LA was for one single parish to adopt sports betting.
The ballot initiative was passed in 55 of 64 parishes, including major markets such as New Orleans and Baton Rouge.
Once LA gets their sportsbook operations up and running, Texas, Florida, and Alabama will be the only remaining Gulf coast states that do not allow for domestic sports betting.
Louisiana is not expected to accept any state-sanctioned sports bets until some time in 2022.
Sports Betting In Maryland
The answer to "Question 2" in Maryland was given a resounding response of, "yes," by MD voters, as the decision to allow for sports betting inside the state will now move on to the regulatory phase.
Much like Louisiana, venues for sportsbook operations, minimum ages, and more will need to be decided in future legislative sessions, but unlike LA, Question 2 allows for operations to exist in the entire state.
This is all procedural, and Maryland Sports Betting is poised for the legislative fast track after witnessing the profits brought in by nearby Washington, D.C., and their recent mobile sportsbook app from the DC Lottery.
South Dakota Sports Betting
Bettors in the SD region were anxious to approve of in-state sports betting options, which happened on November 3rd by an overwhelming majority (58.5%)
Perhaps the limited scope of South Dakota sports betting is what jettisoned JR 501 into such widespread acceptance, as only the tourist town of Deadwood will be allowed to erect sportsbook facilities.
Of course, there is the wide-open potential to expand beyond the city limits of Deadwood. For now, the city will act as a testing ground for which the legislature can make judgments on further sports betting expansion in the state.
Virginia Casinos
Virginia, who adopted sports betting in April of 2020 for a first-quarter 2021 launch, now has approval from voters to proceed with the construction of four in-state casinos. These domestic operations will have the option to pursue a license to open an in-person sportsbook.
Online VA sports betting is expected to debut in Virginia at some time prior to the end of February 2021.
Source: Sports Illustrated