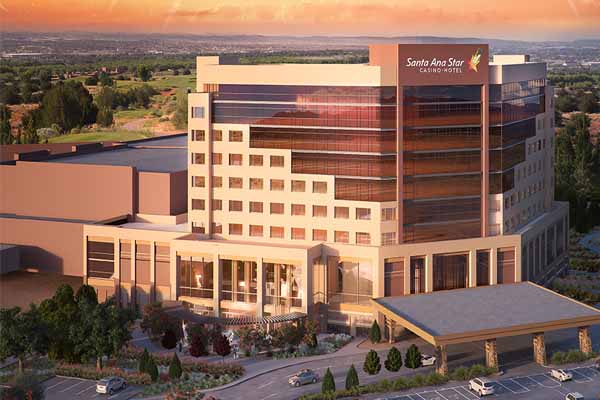 Tribal casinos in New Mexico have utilized a legal loophole in their Gaming Compact with the state to begin offering sports wagering.
October 16th, the Santa Ana Star Casino in Bernalillo, NM began offering single-game sports wagering on all major league, minor league, and amateur sports from the NFL, NBA, and the MLB to even include wagering on local teams such as the University of New Mexico and New Mexico State games; betting on high school sports is prohibited.
The Tamaya Nation Tribe of the Pueblo of the Santa Ana own the Santa Ana Star Casino which operates under a Class III license as stated within their Gaming Compact, Class III licenses are full-range licenses which allow the operation of sports betting, casino gambling like card games and dice & ball games, poker, bingo, and slots.
The Class III license condition of operating sports betting had no ground during PASPAs enforcement prior to May 2018, however, current liberations toward sports wagering have allowed the Tamaya Nation to offer betting in their casino without changing their compact.
Legislators were taken by surprise by the announcement of Santa Ana Star Casino's sportsbook launch in mid-October. However, the tribe was legally capable of operating a sportsbook without state approval, changes to their compact, or state-enacted sports betting legislation so long as betting remained on-site. The state's Gaming Control Board has no jurisdiction over Class III games but rather the Pueblo of Santa Ana Gaming Regulatory Commission does thereby bypassing New Mexico state regulators.
Once legislators realized they were missing out on potential revenue they began to scramble. The state of New Mexico was thrown a curve ball suddenly and needed to act fast. However, they had never considered proposing a legal sports betting bill after PASPAs removal from the books or the even proposing to offer or legalize modern sports wagering in their state's entire history.
The tribe's Gaming Compact with the state had no sports betting regulation, guideline, or tax structure meaning the state would see zero return for the operation of these games. The other 17+ tribes within the Pueblo of Santa Ana have quickly acted to review their own gaming compacts with the state and are well in the process of launching their own sportsbooks. Realizing the potential profits lost, New Mexico legislators are determined to meet with the tribes to arrange proper statutory and regulatory oversight.
By all technicalities, the Indian Gaming Compact with the Pueblo of Santa Ana tribes and New Mexico state only allows for electronic or machine-based casino game revenue sharing on games such as video poker or slot machines. Online gambling and sports betting are still considered illegal outside of New Mexico tribal casinos. The Santa Ana Star Casino is currently the only legally operating sportsbook in New Mexico as of the time of this writing.
However, due to the Tamaya tribe's success, other tribal leaders across the country are reviewing their state compact agreements to see if they can begin offering sports gambling. This may worry other state legislators who have yet to organize a sports betting bill or have broad compact agreements with tribes in their state.