Super Bowl 55 National Anthem Prop Bets
There's no denying that betting on the NFL causes the most traffic at sportsbooks across the web, so when the Super Bowl comes around each February, that activity spikes considerably. Once the game gets going, so do the proposition bets, and the Super Bowl 55 National Anthem prop bets are some of the lines that will receive action.
Before you lay some of your hard-earned cash on this year's rendition of the Star-Spangled Banner, be sure to read through our guide to learn about Super Bowl odds, some betting history on the SB Anthem performance, what kind of prop bets you can expect, and all about the most reputable sportsbooks offering Super Bowl National Anthem lines.
Is It Legal To Bet On Super Bowl National Anthem Props?
Yes. US-based gamblers can lay some action on Super Bowl prop bets, including odds on the National Anthem, at domestic or international sportsbooks.
International – Offshore sportsbooks can legally accept wagers on Super Bowl National Anthem prop bets from US customers over the web because there are no laws in place to stop them (outside of CT and WA).
Domestic – Nearly half of the states in the USA have some form of domestic sports betting option that can be traveled to or visited online.
Most Trusted Super Bowl LV Sportsbook
Best Sportsbooks with Super Bowl 55 National Anthem Prop Bets
Who Is Singing The National Anthem At Super Bowl 55?
There will be two singers of the Star-Spangled Banner at Super Bowl LV - Eric Church, and Jazmine Sullivan. Eric Church is a popular country singer and Jazmine Sullivan is a top R&B artist, so the duet should make for an interesting musical pairing.
Prop bets for Super Bowl 55's National Anthem should appear any minute now. We will compile them and post them hear once they do.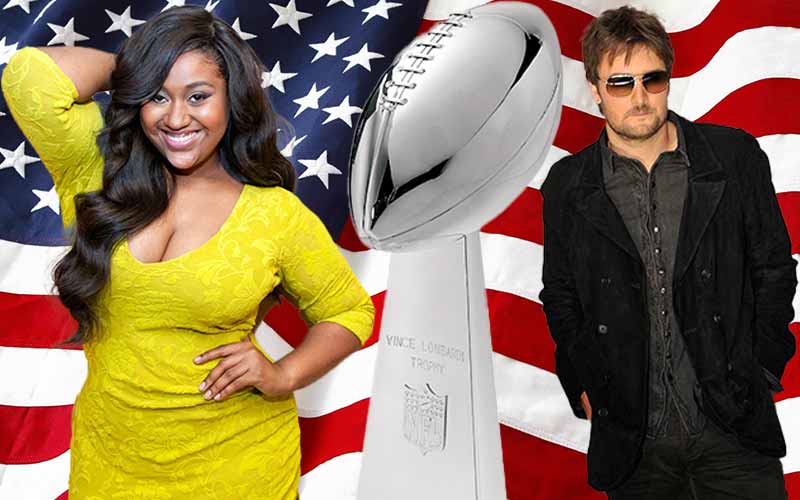 *Super Bowl 55 National Anthem Singers Jazmine Sullivan and Eric Church
How To Bet On Super Bowl National Anthem Props
Once you've become a member at one of the top international sports betting sites that we recommend, there'll be no shortage of SB National Anthem prop bets once the NFL Playoff odds cash in and the Super Bowl matchup is set.
The best preparatory tool for Anthem prop betting is research, and here are a few pointers.
The shortest and longest all-time performances of the Super Bowl Anthem frame the expectations of oddsmakers, so be aware of those times. Neil Diamond (1:02) and Alicia Keys (2:35) hold the current shortest and longest times.
Research past performances by the musician for insight on duration, attire, and other aspects that may appear as a Super Bowl prop bet for the National Anthem.
NFL prop bets are meant for entertainment so don't wager with money that isn't disposable. Declare a Super Bowl betting budget prior to the start of the game and don't go over it.
Of all the NFL bet types, prop bets can be the most addictive. If you continue to suffer losses, do not attempt to double-down or bet larger amounts in an effort to recover your Super Bowl bankroll. Once your budget is blown, it's time to stop and enjoy the game without action on the line.
National Anthem Prop Bets For Super Bowl LV
We expect the usual overabundance of SB action including coin toss props, MVP props, Super Bowl commercial props, halftime props, and national anthem props. National Anthem betting lines will debut within minutes of the announcement of the performer, so check back here shortly after as we'll post a compilation of the most interesting lines as they appear.
For now, here are some example Super Bowl National Anthem prop bets from the past as an example.
🏈 Odds Provided By Bovada
How Long Will It Take Jazmine Sullivan Or Eric Church To Sing The US National Anthem?
Over 1 Minute 59 Seconds

-105

Under 1 Minute 59 Seconds

-135
Who Will Be Shown First
Travis Kelce

-140

Rob Gronkowski

EVEN
Who Will Be Shown First?
Patrick Mahomes

+110

Tom Brady

-150
Who Will Be Shown First?
Andy Reid

-140

Bruce Arians

EVEN
FAQs About Super Bowl National Anthem Prop Bets
Knight's performance of the National Anthem in 2019's Super Bowl 53 had an over/under set at 1:50. Oddsmakers declared the song over at the end of the first mention of the word brave, which concluded the song at 1:49. Gladys sang the final word a few more times, extending the song to 2:01. Some books decided to pay out on all bets made on the Anthem and take a complete loss. 
Sometimes there will be cause for dispute amongst the results of an Anthem prop bet, and each book has the authority to make their own final decision regarding payouts. We advise sticking with the online NFL sportsbooks we list on this page for reputable and reliable Super Bowl prop bets, and also suggest reading any fine print attached to the betting line for information regarding how action is calculated and scheduled.
The performers for Super Bowl LV's National Anthem will be R&B singer Jazmine Sullivan and country singer Eric Church. 
The general consensus regarding the top Super Bowl National Anthem performance of all time points to Whitney Houston's rendition of the Star-Spangled Banner at SB XXV in 1991. Houston actually lip-synced the song to a recording she had made the prior day.
Although not required or enforced, proper etiquette for the National Anthem is to stand when the song begins playing, face the American Flag, and place your right hand over your heart. In recent years, some players and coaches have used the platform to protest civil injustice, police brutality, and racial inequality.
Yes. The NFL sportsbook sites we recommend on this page prefer Bitcoin and cryptocurrency over any other funding option because their unregulated status and built-in encryption provide for the fastest, and safest, online transactions available today.