Legal Betting On Dallas Cowboys Odds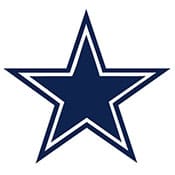 Bet On The Dallas Cowboys Super Bowl LVIII Odds Now
Dak Prescott Is A Leading Candidate In The NFL MVP Odds
NFL Futures Suggest The Cowboys Will Earn A Wild Card Spot
The Dallas Cowboys are one of the most popular NFL teams to bet on due to their enormous fanbase that spans across the entire United States. In the 1970s, the 'boys earned the title of "America's Team," and naturally, legal betting on Dallas Cowboys odds generates a lot of interest.
Below we have provided the best online NFL betting sites in operation today that include Dallas Cowboys betting lines for season games, as well as opportunities for betting on the NFL Playoffs. We also list out what pro football bettors can expect to find when visiting an online sportsbook, and what bonus offers and banking options are in store for new members.
Bovada Sportsbook

#1 Site For NFL Team Betting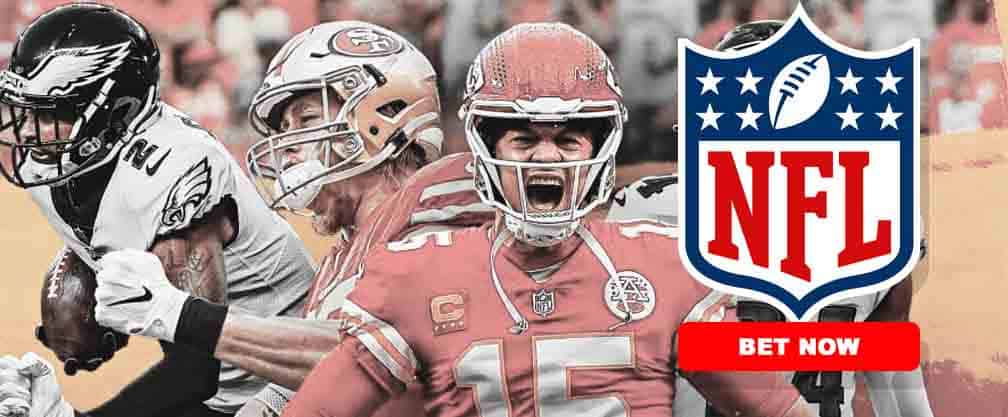 ✔ Pros
Welcome Bonus of 50% up to $1,000
Same-Day Payouts with Bitcoin
Options to Use Venmo, Paypal with Vouchers
Also Offers Casino, Poker, and Horse Racing
Wide Selection of Sports Coverage & Wagering Options
Operating From The Legal Jurisdiction Of Costa Rica
 ✘ Cons
Does Not Accept Players From NJ, NV, DE, NY, or MD
Best Online NFL Sportsbooks With 2023 Dallas Cowboys Betting Lines
Is It Legal To Bet On The Dallas Cowboys?
Yes. Domestic and international sportsbooks allow for legal NFL betting from just about anywhere inside of the USA.
Some states have decided to allow for domestic sportsbooks to operate within their borders and provide NFL betting services via in-person locations, mobile sportsbook apps, or online options. Unfortunately, legal sports betting in Dallas is not available via a domestic venue at this time.
Online NFL sportsbooks located overseas are able to take bets on the Dallas Cowboys over the Internet because there are no federal or state laws in place to prevent them outside of Washington, which has passed a prohibition on all online gaming.
Dallas Cowboys Info
Super Bowls Won: 5 (VI, XII, XXVII, XXVIII, XXX)
NFC Conference Championships: 8 (1970, 1971, 1975, 1977, 1978, 1992, 1993, 1995)
Owner: Jerry Jones
Head Coach: Mike McCarthy
2022 Record: 12-5, Earned 5th Seed In The NFC, Lost In Divisional Round
Stadium: AT&T Stadium
How To Bet On Cowboys Games
Dallas Cowboys betting lines will be available to wager on at any reputable sportsbook, and will include the following NFL bet types – a point spread, moneyline odds for winning teams, and the NFL over/under odds.
Cowboys betting odds will also include NFL Prop bets which cover all occurrences that can potentially happen during a game broadcast. Player statistical totals, over/unders for flags thrown, and comments uttered by the broadcasters are all fair game for prop betting odds to be produced.
How To Bet On Cowboys Games Online
While many states feature domestic sports betting options for NFL odds, very few of them offer mobile or online sportsbooks. Offshore sportsbook sites are less restrictive and allow for betting on the Dallas Cowboys and their NFL odds across the entire United States from the comfort of your own home or via a mobile device. Betting on Cowboys games online at an overseas sportsbook site requires bettors to create an account, and the process is detailed below.
Click on one or more of the sportsbook links provided above using a laptop, PC, smartphone, or tablet and locate the join button on the homepage.
Enter your accurate information (name, address, email, etc.) so that there are no issues when collecting your winnings made from successful Cowboys bets.
The next page will ask for new members to fund their accounts with betting dollars. USD and cryptocurrency options are plentiful, and we advise investigating these methods thoroughly because withdrawals are often determined by the initial funding method. For more information on sportsbook funding options, check out our section on it below. and while you are there, investigate the benefits of deposit matching bonus offers and promotions as well.
Once your sports betting bankroll is funded, make your way to the sportsbook section of the site and locate the "NFL" or "Football" tab and find the Cowboys betting odds that interest you the most.
Select the Cowboys point spread, NFL moneyline odds, the over/under, championship futures, or prop bet that you want to wager on and enter the amount of money that you want to risk in the bet slip.
Once the game is complete, make your way back to your sportsbook account and request a withdrawal after "Big D" secures the win.
Don't forget that each online NFL sports betting site will provide Cowboys odds that differ, so we advise becoming a member at more than one book so that online sports gamblers can take advantage of the most profitable lines.
Dallas Cowboys Odds To Win Super Bowl LVIII
Throughout the entire calendar year, Super Bowl futures odds will be available for betting on all 32 NFL teams until they are eliminated from postseason contention.
Moneyline NFL odds will be placed next to each team to indicate their potential for hoisting a Lombardi Trophy at the end of that given season's Super Bowl, with the franchises listed from first to worst.
Super Bowl futures betting typically feature all available NFL teams with a positive moneyline, which means a winning bet will secure a jackpot larger than the amount risked in all cases, including the Dallas Cowboys.
Cowboys Odds To Win NFC Championship
Winning a conference in the NFL equates to an automatic trip to the Super Bowl, and requires winning 2 or 3 NFL Playoff games prior to achieving that goal depending on the seeding that was earned.
The Dallas Cowboys play in the National Football Conference which allows for 7 NFC teams to qualify for the postseason - 4 division winners with 3 additional wild card spots awarded to the best of the rest.
All 16 NFC teams will be listed with moneyline odds from first to worst, just like the Super Bowl futures but with slightly narrower betting odds across the board.
Cowboys Odds To Win NFC East
The Dallas Cowboys play in the NFC East Division alongside the Philadelphia Eagles, New York Giants, and the Washington Commanders.
Because there are only four teams in play, the Dallas Cowboys odds to win the division will be more reasonable than the betting lines posted for Super Bowl and NFC Championship futures.
Dallas Cowboys Prop Bets
As mentioned earlier, proposition bets on the NFL can include any event that happens during the telecast from members of the audience shown on screen to the color of the head coach's hat. Speaking of the HC, next Cowboy coach odds have been spotted on the boards recently as their play calling staff is no stranger to an overhaul in recent seasons.
Outside of the odds for the next Cowboys head coach, other props we've seen include Celebrity betting odds on which starlet the Dallas quarterback will date next, as well as statistic-based props that feature yardage, touchdown, interception, and win/loss totals.
Live Betting Odds: Dallas Cowboys
No matter the reason, if you missed the beginning of the Dallas Cowboys game, NFL bets can still be placed utilizing the live betting odds posted at the online pro football sportsbook sites that we recommend on this page.
Points spreads, the over/under, and moneylines are updated throughout the game with the only limiting barrier being the final whistle. Set your own bet schedule by choosing to wager on the live NFL odds posted for the Dallas Cowboys.
Dallas Cowboys Mobile Betting Applications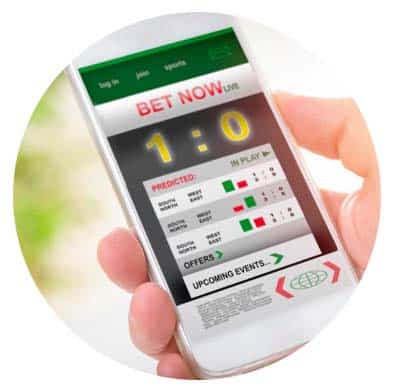 NFL bettors inside of the USA have access to domestic and offshore mobile sportsbook applications. Some states, but not many, permit the existence of NFL sportsbook applications that are downloadable and can be used on current tablets and smartphones.
The NFL sports betting apps that are offered by our top-rated sportsbook sites can be accessed by all major Apple and Android devices (iPhone, iPad, Samsung) by using a current mobile browser to click on one of the links we've provided in the table above.
Dallas Cowboys betting enthusiasts are always just one click away from the latest NFL odds when using the web-based sportsbook apps suggested in this guide.
Banking Options For Betting On The Cowboys
While most domestic venues require the use of the US Dollar, offshore sportsbook sites taking bets on the Dallas Cowboys over the web allow for Bitcoin deposits and withdrawals, as well as several other types of cryptocurrencies.
If crypto's secure and speedy transactions aren't enough to entice new members to fund their account with it, consider the heightened bonus offers that are often included when depositing with BTC.
Other banking options for online betting on the Cowboys include the following:
Deposit: Credit Card, Debit Card, Wire Transfer, Cashier's Check, Third-Party Money Transfer Services, Cryptocurrency
Withdrawal: Wire Transfer, Cashier's Check By Courier, Cryptocurrency (the only method that allows for same-day withdrawals)
Bonus Offers For Cowboys Betting
Whether making the first deposit into a sportsbook account, or reloading your bankroll for Dallas Cowboys betting, NFL sportsbook sites usually offer a bonus that offers to match a portion of the transaction amount.
Sportsbook bonus offers can deliver up to $1,000 in bonus cash depending on which NFL betting site is chosen, but be mindful of the terms and conditions, as they must be met before any cash winnings can be withdrawn based on bets made with promotional dollars.
Dallas Cowboys Betting FAQs