Legally Betting On NFL Parlays
Wagering on football games in the United States is big business at online and in-person sportsbooks, and with multiple NFL bet types, the wagering options are endless. Legally betting on NFL parlays has become more popular among seasoned bettors due to their huge payouts.
NFL parlay odds involve the combining of two or more pro football occurrences, and as more outcomes are added to the bet, the cash winnings increase exponentially. Read on to learn more about how to make NFL picks and parlays, the legal aspects of betting on the NFL.
Is It Legal To Make NFL Parlay Bets?
Yes. NFL betting is hugely popular in the United States and is a major component of any reputable sportsbook offering their services. There are many US states that have regulated sportsbooks that offer pro football odds, but whether or not they offer NFL parlays is subject to their own discretion, and in some cases, regional laws.
NFL picks and parlays can be made at any of the offshore sportsbook sites that we endorse in the table below because there are no laws in place that stand in their way. These online sportsbooks are able to offer their services to USA-based NFL bettors because they operate in an overseas location that falls outside of the jurisdiction of the United States.
Best Online Sportsbook Sites Offering NFL Parlay Odds
What Is A Parlay Bet?
A parlay bet is the combination of two or more outcomes into one wager for the purposes of heightening the odds and the subsequent payouts. Because the odds increase exponentially when combining more than one occurrence, massive cash payouts can be earned versus little risk.
For instance, a single bet on the Dallas Cowboys and their +230 moneyline odds to defeat the Tampa Bay Buccaneers will reward $230 for each $100 wagered.
When combining the above-mentioned wager with the odds for betting on the Pittsburgh Steelers to beat the Buffalo Bills at +225 raises the stakes to an overall moneyline of +973.
Adding a third outcome to the NFL parlay will continue the exponential rise in the total NFL moneyline. The +275 odds of the Chicago Bears beating the Los Angeles Rams raises the moneyline of the parlay bet to +3922, which will cash in at $39.22 for each dollar risked.
The above NFL parlay example involves heavy underdogs in all cases and represents an incredibly unlikely scenario for success – hence the hefty cash totals that are on the table.
However, additional profits can be secured by legally betting on NFL teams that are favored to win. By flipping the above bet and taking the favored team in all three cases, the NFL parlay odds still increase to +138. While this moneyline is not as promising as when betting on the NFL underdogs, it still offers positive odds on three nearly certain outcomes.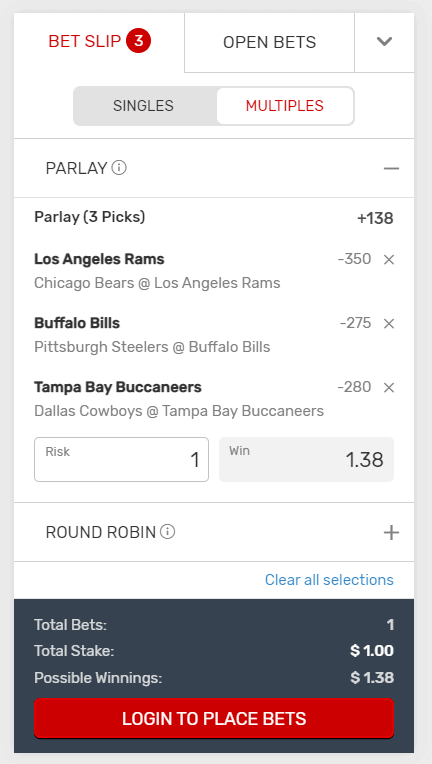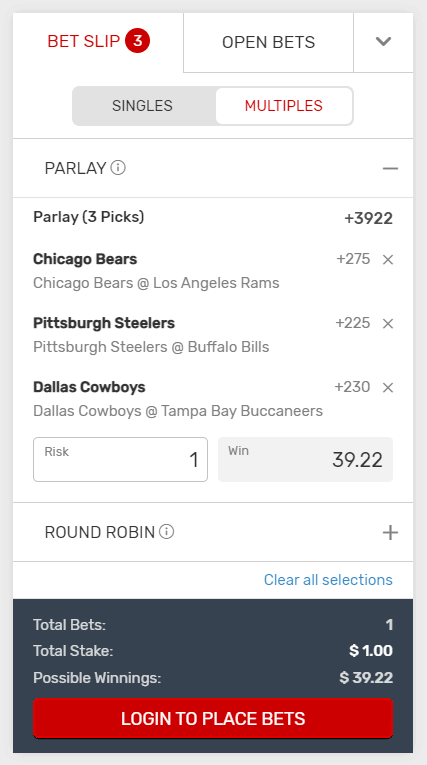 Online NFL Parlay Betting Options In 2023
NFL betting online is the most convenient option available to US sports gamblers because it doesn't require traveling to a retail sportsbook location. While domestic options for online mobile NFL or Super Bowl parlay betting are few and far between, offshore sportsbook sites are available across the entire country and are accepting combination football bets right now.
These online sports betting sites provide NFL parlay calculators for customers so that they don't have to crunch any numbers. Just simply select the components of the parlay bet and decide how much money you want to wager on the multiple outcomes.
Before an online NFL bet can be made with one of our recommended sportsbook sites, an account must be created by clicking on "join" or "sign up" on the NFL betting site homepage. The following page requires entering information to complete your user profile.
The next page necessitates the depositing of funds for betting on NFL parlay picks. We cover sportsbook banking options and the bonus cash offers that will be extended in later sections on this page.
Once you've funded your online NFL betting account, find the football section of the sportsbook site and begin to formulate your NFL teaser, pleaser, or parlay picks for the regular season, NFL Playoffs betting, or the NFL Super Bowl.
Strategies For How To Bet NFL Parlays
Since the likelihood for an NFL parlays to hit are often so low, our NFL strategy guide recommends that online pro football bettors only risk small amounts of cash on combination wagers. Our staff is hooked on NFL parlay bets, and to curb our potential to overindulge, we set a limit on our combination wagers for each weekend.
We recommend limiting yourself to $5 wagered on NFL parlays on a given Sunday, and to use them as a way to hedge your bets. As an example, let's say you've bet on the New England Patriots, the San Francisco 49ers, and the Green Bay Packers to win their games, and they are all favored.
A way to hedge those wagers is to bet $1 on an NFL parlay that includes the three underdog teams that are facing the Patriots, 49ers, and Packers. See our guide to the best Super Bowl betting tips and tricks to learn more about smart ways to bet on the big game.
Advantages Of NFL Parlay Betting
As mentioned in other sections, the main purpose of creating NFL picks and parlays to bet on is that the combined odds escalate to create for much larger cash winning potential. Think of them like a lottery ticket in that the likelihood of winning is not that great, but a lot of money can be won versus relatively little risk on an NFL parlay.
There's not really any other way to convert a dollar or two into large amounts of cash unless you stack several outcomes together and increase the betting odds by creating an NFL parlay pick and laying some action on it. The key is to use NFL parlays to accent the action, and not to rely on it as a main factor of your overall football betting strategy.
Other NFL Combination Bets
There are two more common types of NFL bets that feature combinations of multiple outcomes, and they are detailed below.
NFL Teaser Picks – A teaser NFL bet allows for the gambler to adjust the moneyline odds, point spreads, or over/under totals to a degree that the sportsbook allows. While these adjustments may provide an easier route to a win, the overall odds are decreased which causes for smaller payouts.
NFL Pleaser Bet – This type of NFL bet works the same way as a teaser, but in this case, the sportsbook gains points instead of giving them away, narrowing the odds and winning potential. The book assigns the amount of variance, and the bettor applies it to the lines.
Best NFL Parlays Betting Apps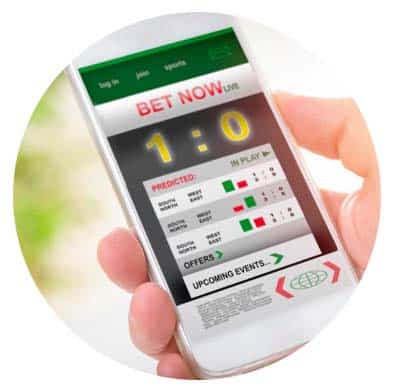 Our top recommendation for legitimate mobile sports betting on NFL parlays is the web-based applications that are offered by our top offshore sportsbook sites that are listed in the table above. Using any current mobile browser on a modern iPad, iPhone or Android-powered device will connect bettors to NFL parlay sites without the need for a download.
These mobile sportsbooks behave similarly to a downloadable NFL betting app with push-button controls and sleek designs that adhere to all standard screen sizes for maximum convenience. All of the same NFL parlay options available on the main website are ported to smartphones and tablets from anywhere with a solid web connection.
Bonus Cash Offers For NFL Betting
Deposits can be enhanced by a significant margin when opting for legitimate sportsbook bonus offers that matches a portion of the transaction total and adds it to user's bankrolls for online NFL parlay betting. Amounts reach $1,000 or more and match up to 100% depending on the time year.
These bonuses are legitimate, but members must be advised to read through the conditions of the promotion to ensure that the terms can be met. These requirements often include extended betting periods so check to make sure you can complete them before accepting.
Live NFL Parlay Betting
Live betting on the NFL can be done in parlay form while games are in play from the kickoff all the way through the final two-minute warning. Some NFL sportsbooks may differ in what they allow for live NFL parlays, but most will simply calculate it instantly in the bet slip across lines, props, and futures that allow for more than single bets.
If live betting on NFL games and outcomes isn't exciting enough for you, pile several into a parlay, teaser, or pleaser bet at rake in the massive payouts when they all hit.
NFL Sportsbook Banking Options
The legal online sports betting sites that we list on this page accept USD and cryptocurrency which is a major perk over domestic gaming venues that are much more limited in their sportsbook banking options. Cryptocurrencies such as Bitcoin (BTC) are incredibly advantageous because they transact faster than USD, feature increased cyber-security, and come with larger sportsbook bonus offers.
If you are interested in a same-day payout transaction, cryptocurrency is the only way to get that done, so be sure to investigate the plentiful options available at our top online NFL sportsbook sites.