Legally Betting On NFL Player Props
Place Bets On In-Game States For Each NFL Player
NFL Odds For Season Yardage And Touchdown Totals
Bet On The First Player To Score Or Anytime TD Scorers
If betting on the NFL is the king of sports gambling, NFL prop bets represent the cool uncle of pro football wagering that offers more entertaining odds not contained in standard game lines. Legally betting on NFL player prop bets is detailed within this exhaustive guide that also covers the best online sportsbooks that offer them to US gamblers.
Whether interested in betting on a player's total yardage, how many touchdowns a player will score, or whether someone will protest the National Anthem, props are the NFL bet type that caters to those needs. Keep reading to learn more about betting on the NFL propositions for player performances and how to find the most legitimate sportsbooks in business today.
Bovada Sportsbook

#1 NFL Betting Site
 ✔ Pros
Welcome Bonus of 50% up to $1,000
Operating From The Legal Jurisdiction Of Costa Rica
Same Day Payouts with Bitcoin
Options to Use Venmo, Paypal with Vouchers
Also Offers Casino, Poker, and Horse Racing
Wide Selection of Sports Coverage & Wagering Options
 ✘ Cons
Does Not Accept Players From NJ, NV, DE, NY, or MD
Are NFL Prop Bets For Player Performances Legal?
Yes, and any reputable sportsbook, regardless of origin of operation, will feature NFL betting due to its status as the most popular gambling sport in the United States. Bettors that reside within a US state that regulates their own sportsbooks can visit one and lay some action on NFL player props.
Adults across the entire USA can access offshore pro football sports betting sites via the web and gamble on NFL player props without violating any federal gambling laws. That's because there aren't any, so US-based gamblers can partake in legal sports betting on NFL player props 24 hours a day.
Best Online Sportsbooks For NFL Player Prop Bets In 2023
What Are NFL Player Prop Bets?
NFL prop bets can cover any event that that happens while a pro football game is on tv, from total number of field goals to whether a player wears a certain type of ballcap on the sidelines. NFL player prop bets, for the most part, involve stat totals and awards, but also include more entertainment-based outcomes.
Gamblers can place a bet on NFL players achieving statistical thresholds (total passing yards for Tom Brady), or outcomes that have little to do with the outcome of the game (will Tom Brady mention Giselle Bundchen in his post-game interview?).
Props are also a common offering for betting on the NFL Playoffs as well as during the Super Bowl at the end of each season.
How To Bet On NFL Player Props
Each outcome presented in a pro football player prop bet will include NFL moneyline odds. Using the following example, we can walk through how NFL props work.
Patrick Mahomes Total Passing Yards
Over 289.5 -190
Under 289.5 +225
Mahomes throwing for over 289.5 is the favored outcome because it has the most likely odds of occurring. Because the over has a negative moneyline, more money must be risked than can be won. A $1.90 bet is required to net $1 on Patrick Mahomes throwing for 290 yards or more.
The above NFL prop bet suggests that there is a low probability of Mahomes throwing for less that 289.5 yards in this given game. Because oddsmakers do not favor this outcome, they'll award more than bettors must risk. A $1 wager on Patrick Mahomes throwing for 289 or less yards will net $2.25
How To Bet On NFL Player Props Online
One cannot partake in NFL player props online without becoming a member with a pro football betting site like the ones linked to on this page. Registration can be completed quickly and can have bettors ready to submit a wager within minutes.
Click on the join icon atop any page at the NFL betting site of choice and enter the requested information once prompted. After submitting, consider which cryptocurrency or US dollar method you'd like to use to make your first sportsbook deposit and then submit your transaction.
After sports betting accounts are funded, locate the NFL section of the website and inside of each game line or prop builder will be player propositions for performance totals and thresholds.
Best Player Prop Bets NFL
When it comes to selecting the best NFL prop bets for player performances, it all begins with the quarterback position. Yardage totals, touchdown thresholds, Defensive POTY odds, NFL Comeback Player of the Year odds, MVP betting odds, and head-to-head matchups are just a taste of what is offered for QBs.
If you're interested in other positions, not to worry. There's NFL prop bets for receivers and backs in the NFL, and can also include kickers and players with game-changing ability on the defensive side of the ball.
Most defensive NFL props do fall into the team category, as there are often too many players to consider for each defensive stat.
Types Of NFL Player Prop Bets
Performance NFL Props
Statistical Yardage Totals For Yards, TDs, Interceptions, Fumbles, Sacks, Tackles
Head-To-Head Positional Stat Battles
First Player To Score
Superlatives: Regular Season & Super Bowl MVP Odds, Offensive/Defensive Rookie Of The Year, Comeback Player Of The Year, Man Of The Year
Entertainment-Based Prop Bets
Content Of Players Post-Game Interview
National Anthem Protest Odds
Free Agent Player's Next Team
NFL Betting Apps For Player Props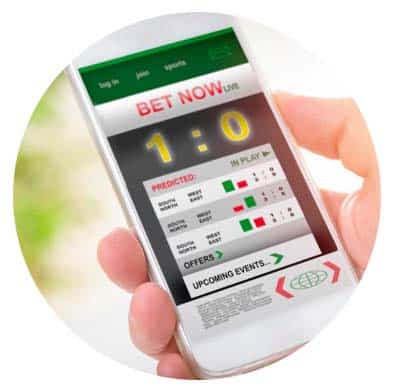 NFL player prop bets can be completed across the entire USA by accessing the mobile sports betting options presented by the sites included in our top online sportsbook reviews. Using a current iPhone, iPad, or Android device, click on any of the links we've included on this page for immediate entrance into mobile NFL player props on the fly.
These mobile sports betting options do not require a download which means no pesky updates. As far as operations are concerned, push-button controls allow for quicker navigation than even the desktop sportsbook site, and features all the exact same lines and odds.
Live NFL Betting
The term live betting largely refers to in-game wagering on the NFL point spread, moneyline odds, and the over/under. Technically, live NFL betting includes all prop bets because online sportsbooks can take wagers on them until an outcome is decided.
Therefore, NFL player prop bets can be considered live, or in-game odds, and do not require the submission of pregame wagers. Keep in mind that NFL props can and will be removed from the boards at the time of the bookie's choosing, so do wait too long to lay some action.
NFL Prop Builders
Because the potential for prop bets is unlimited, NFL betting sites collectively produce hundreds of them for each professional football game. It takes a lot of time for patrons to line shop through each of those props, so online sports betting sites have created NFL prop builder apps that pull all that action into one screen.
These builder apps for NFL prop bets are purely focused on player and team-based odds and do not offer lines for outcomes unrelated to statistics and totals. These prop builders also allow for easy NFL parlay bets to be calculated on the fly for enormous payouts. Super Bowl prop builders are also incredibly popular each February.
Funding Your NFL Player Prop Bet
Before any action can be laid on the player odds and NFL prop bets at online sportsbooks, a deposit into your account must be made first. While both cryptocurrency and USD will be an accepted form of deposit at all of our top NFL sportsbooks, we suggest Bitcoin and other altcoins over traditional methods.
The reason is that the uploads happen faster, the withdrawals complete the quickest, and the online transactions are the most secure when opting for crypto. Also, sportsbook promo codes for BTC and other cryptocurrency deposits are often much higher than USD bonuses.
Sportsbook Bonuses For NFL Betting
When making a deposit at an online NFL sportsbook, new members (and sometimes existing users) are treated to sportsbook promo codes that deliver extra cash to online bankrolls that is based on a percentage of the transaction total.
Once terms are completed, withdrawals can be made at will, just be sure the conditions fit your anticipated NFL bet schedule first.
More NFL Player Prop Betting Resources