Legally Betting On NFL MVP Odds 2023
At the conclusion of each Season, the Associated Press awards the NFL Most Valuable Player Award to the athlete that is most responsible for the success of his team. Legally betting on NFL MVP odds is available at any reputable sportsbook, with lines taking action for most of the season.
Learn more about the types of bets offered for the NFL, MVP betting odds, and how they work. We also include and NFL MVP list and other historic information to guide your pro football betting decisions.
Last but not least, we deliver a handful of the top legal NFL betting sites in the game today, and include several aspects that rank them above the rest.
2023's Best NFL MVP Betting Sites
Is Wagering On NFL MVP Betting Odds Legal?
Yes. Domestic and international sportsbooks feature NFL betting as a main component of the businesses, and MVP odds are always a part of the action. If you're in a state that allows for legal sports betting via domestic sportsbooks, visit one and wager on the latest 2022 NFL MVP odds.
Overseas sports betting sites, like the online sportsbooks included in the table above, are able to serve every state in the USA and allows for gambling on the NFL's Most Valuable Player each year. US gambling laws do not govern international sports betting sites, allowing them to cater to state-side customers over the web.
Current NFL MVP Odds
The current NFL MVP race has prompted the online sportsbooks that are included in our list of sports betting site reviews to post moneyline odds for each potential winner. Below are the latest odds to win NFL MVP 2022-23.
How Does NFL MVP Betting Work?
At the conclusion of each NFL Season, members of the Associated Press vote on the athlete that will receive that year's official National Football League Most Valuable Player award.
Players that top the NFL MVP list are typically reserved for those that are contributing to winning teams on their way to the playoffs, or ballers who are amassing stat totals impressive enough to wow sports writers.
Online pro football betting sites will feature NFL MVP odds all year long that ask gamblers to lay some action on the player they think will win the top honors at the end of the year.
Earlier NFL MVP bets typically equal much higher payouts for gamblers that can predict the Most Valuable Player well in advance of the award being given out to the league's top guy.
NFL MVP betting odds will be arranged with a list of players that have moneylines posted next to each one. These NFL moneylines let bettors know the Vegas NFL MVP odds for each player which reveals their chances of winning plus the amount that can be won.
How To Bet On Odds To Win NFL MVP Online
Before wagering on the odds to win NFL MVP, gamblers must create an online account with one of the sportsbooks we recommend above. Click through to each one of them and browse their NFL betting odds catalog in order to determine the sites that you want to join.
We recommend joining with more than one because it allows bettors to line shop for the best sportsbook payouts. The signup process can begin by clicking the join button atop just about any page at the sportsbook site.
The first page will ask for information entries to populate your membership profile. The next page will prompt your first sportsbook deposit which will need to be completed before any NFL MVP betting can occur.
Once your account in funded, locate the sportsbook tab, then find the NFL betting section. NFL MVP lines can be categorized within NFL prop bets, NFL player propositions, NFL specials, or will have a category all to itself.
When Is NFL MVP Announced?
The NFL Honors is an annual awards ceremony that is televised the week prior to the Super Bowl and grants the season's MVP award and other superlative winners their hardware in a pre-recorded event that is aired later that evening.
2022-23 NFL Honors
February 9, 2022 (Time TBA)
ESPN, ABC, NFL Network
Previous NFL MVP Winners
2022 - TBD
2021 - Aaron Rodgers, Green Bay Packers
2020 - Aaron Rodgers, Green Bay Packers
2019 - Lamar Jackson, Baltimore Ravens
2018 - Patrick Mahomes, Kansas City Chiefs
2017 - Tom Brady, New England Patriots
2016 - Matt Ryan, Atlanta Falcons
2015 - Cam Newton, Carolina Panthers
2014 - Aaron Rodgers, Green Bay Packers
2013 - Peyton Manning, Denver Broncos
2012 - Adrian Peterson, Minnesota Vikings
2011 - Aaron Rodgers, Green Bay Packers
2010 - Tom Brady, New England Patriots
2009 - Peyton Manning, Indianapolis Colts
2008 - Peyton Manning, Indianapolis Colts
2008 – Tom Brady, New England Patriots
Football Positions Who Won NFL MVP
Just like when betting on Super Bowl MVP odds, gamblers need to be wise to which positions attain the hardware the most. Once again, quarterbacks dominate the action, and for good reason. Outside of the center, they're the only player to handle the ball on every play, and the results of most games swing upon the actions of the QB.
Quarterback – 45
Running Back – 18
Linebacker – 1 (*Lawrence Taylor, New York Giants, 1986)
Defensive Tackle – 1 (*Alan Page, Minnesota Vikings, 1971)
Kicker – 1 (*Mark Mosely, Washington Redskins, 1982)
Who Has Won The Most NFL MVP Awards?
The player with the most all time NFL MVP Awards is Peyton Manning who won the honors five times - four with the Indianapolis Colts (2003, 2004, 2008, 2009) and one with the Denver Broncos (2013). There is a five-way tie for second place with three NFL MVP Trophies, and Tom Brady and Aaron Rodgers are among that logjam of contenders.
Has A Rookie Ever Won MVP (NFL)?
Yes. Prior to the Super Bowl era, Hall of Fame Cleveland Browns running back Jim Brown became the NFL MVP as a rookie in 1957, and is the only first-year player to ever do so.
NFL MVP Betting Apps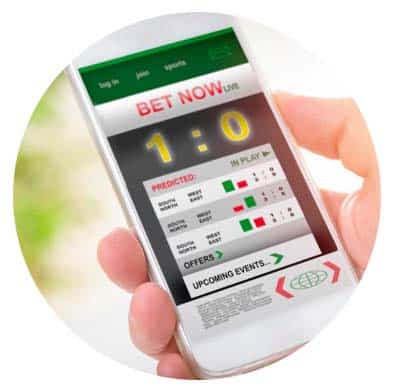 Each of the online NFL betting sites linked to within this page allows for access to their sportsbooks through iPhones and other popular handheld devices that are connected to the web. These aren't downloadable mobile betting applications – all that is needed is an onboard browser like Opera, Google/Chrome, Firefox, or Safari.
Many football gamblers prefer using the mobile NFL betting apps because the push-button controls allow for one-handed navigation that operates just like downloadable software. All current Apple and Android tablets and smartphones can connect to these NFL betting apps on the fly for quick MVP bets from anywhere in the country.
Live MVP Odds NFL 2021-22
Live betting odds typically describe in-game betting on NFL point spreads, moneylines, and the over/under for regular-season games, playoff contests, and the Super Bowl. Because wagers can be placed on NFL MVP odds until the Most Valuable Player Award has been given out, they can also be considered "live."
Although the odds to win 2021-22 NFL MVP can receive action up until the winner is announced, online sportsbooks can remove lines at any time they choose. That means that NFL MVP odds can disappear the day before the ceremony, so don't wait too long into NFL Playoff betting territory to lay some action.
Depositing & Withdrawing At An Online Sportsbook
Cryptocurrency and US Dollar options are plentiful across the spectrum of online NFL betting sites that we endorse in this guide.
Our review team highly suggests considering the use of cryptocurrencies like Bitcoin, Ethereum, and Cardano, as they transact faster and more securely than USD methods and also come with higher sportsbook bonus cash offers.
Check out our page dedicated to sportsbook banking methods to learn more about what currencies are available and what benefits they offer to online gamblers.
Sportsbook Promo Codes For NFL MVP Betting
When members make a deposit at an online NFL betting site, they'll be prompted with bonus offers that match a portion of the transaction total and add it to bankrolls to use at the virtual bookie window.
Sportsbook bonus offers an increase in volume when crypto is used for depositing, so consider BTC or other altcoins before committing to using the US Dollar.
Be sure to investigate any conditions attached to the sports betting promo as extended play is often required in order to withdraw winnings that were based on bonus cash.