Coin Toss Prop Bets for Super Bowl 58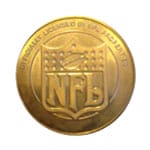 Bet On Super Bowl Coin Toss Results
One Of The First Super Bowl Prop Bets To Payout
Wager On Heads Or Tails, If The Correct Team Wins, & More
Because prop bets are entertainment-based and intended for casual patrons, the odds often feature an even chance for both outcomes to occur. The same is true when discussing the probability of a coin toss. The process is fair and easy, so when it comes to Super Bowl prop bets, how to bet on the coin toss shouldn't keep you up at night doing research.
The 50% probability of either heads or tails landing face up is the exact reason that a coin toss is used to determine the team that will choose what happens with the opening Super Bowl 58 kickoff. Read through our exhaustive guide for the info required to safely bet on Super Bowl coin toss prop bets, what NFL betting sites we suggest, and much more.
Is Betting On The Super Bowl Coin Toss Legal?
Yes. If you are in the United States and are looking to lay some action on Super Bowl coin toss prop bets, then you've got two options – international sports betting sites and domestic sportsbooks.
International – Online NFL sportsbooks that operate from a regulated overseas location can take wagers over the web from US patrons on the Super Bowl coin toss without breaking any existing state or federal laws (except in WA).
Domestic – Bettors in or near a state that features domestic sportsbooks can visit one in-person or online and bet on coin toss results from Super Bowl LVIII.
Best Super Bowl 58 Betting Sites For Coin Toss Odds
What Are Super Bowl Coin Toss Prop Bets?
Although coin toss prop bets for the Super Bowl typically involve which side it will land on and the fate of the team who calls it correctly, these NFL bet types can include anything that is related to a heads or tails outcome.
We could speculate, but we'll provide examples below as they appear for the most accurate reference of what you can expect to find at Super Bowl betting sites.
2023 Super Bowl Coin Toss Props
Below are Super Bowl coin toss prop bets from prior games that will serve as an example until the Super Bowl 58 odds are posted. Check back often, as we'll update these listings once more SB coin toss odds are posted.
As you can see, most of these coin toss odds hover towards even the same probability of a coin toss flip performed in person. Besides being one of the earliest wagers to cash in during the Super Bowl broadcast each year, just before National Anthem, Halftime props, MVP props, and Super Bowl commercial props, they also attract a lot of action due to their even odds for both outcomes.
How To Bet On Superbowl Coin Toss Props
Because coin toss prop bets for the Super Bowl 2023 usually feature even odds, we suggest keeping your expectations low and laying action on these lines for fun only. If it is more research-intensive legal sports betting that you are after, then perhaps focus on other NFL prop bets, the point spread, or money line odds.
For more information, our guide to how to make the best Super Bowl bets is a great resource for bettors looking to learn professional betting tips and tricks.
2023 Super Bowl Coin Flip Procedures
The away team gets to call heads or tails in all NFL games, including the NFL Playoffs and the Super Bowl. The home team in the Super Bowl 2023 operates on a simple rotation between the AFC and the NFC.
The team that wins the coin toss is allowed to choose whether they want to receive the opening Super Bowl kickoff and possess the ball first or defer to the second half and receive the ball first in the third quarter.
The team that loses the Super Bowl coin toss chooses which side of the field they want to defend. Wind strength and direction, sunlight, and other weather conditions can play into this decision.
The official coin used for the toss at each year's Super Bowl is 1.5 inches in diameter and printed by the Highland Mint. Each coin includes one side with etchings of the Lombardi Trophy, as well as the helmet of each Super Bowl team from that year. Replica copies are sold at the Highland Mint's website.
How To Win A Coin Toss Bet
Because the odds are always even, there's no sure-fire way to win a coin toss bet every time. However, you can avoid losing big with by setting a budget for your Super Bowl betting and sticking to it. Bankroll management is a priority when betting on the NFL, so be smart, and don't overspend.
Want to parlay? Use Super Bowl prop builders to wager on anything from the coin toss to the last team to score.
How To Watch Super Bowl 58
Date: February 11, 2024
Location: Allegiant Stadium in Las Vegas, Nevada
Broadcast: CBS
Time: 6:30 PM
Teams: TBD
Halftime Show: Usher
Stream: CBS
Super Bowl Coin Toss History
We've compiled the table and data below to provide comprehensive information regarding the Super Bowl coin toss results from each year's big game.
Total Super Bowls: 57
Super Bowl Coin Toss Lands With Heads Facing Up: 26
Super Bowl Coin Toss Lands With Tails Facing Up: 31
Number Of Times Coin Toss Winner Won The Super Bowl: 25
Number Of Times Coin Toss Winner Lost The Super Bowl: 32
Longest Streak Of Heads In Superbowl: 5 (Super Bowls 43-47)
Longest Streak Of Tails In Superbowl: 4 (Super Bowls 32-25, 37-40, & 48-51)
Longest Streak Of Coin Toss Winner Winning Super Bowl: 3 (Super Bowls 7-9, 18-20. & 28-30)
Longest Streak Of Coin Toss Winner Losing Super Bowl: 8* (Superbowls 49-56)
More Super Bowl Coin Toss Betting Resources