Legally Betting On NFL 2023 Preseason Odds
NFL Hall of Fame Game Begins Preseason On August 3rd
NFL Preseason Futures Odds Favor Chiefs In SB LVIII
NFL Regular Season Begins On September 7, 2023
Sports gamblers are rabid when it comes to betting on the NFL, so much so that laying some action on preseason games and odds are becoming more popular each year. Legally betting on NFL preseason odds can be done at domestic and international sportsbooks, and we've compiled the best of the best here for our reader's convenience.
Legal sports betting on the NFL preseason isn't limited to game lines. There are preseason NFL odds to win the Super Bowl, MVP odds, prop bets, and more. By reading the remainder of this guide, football gamblers will be informed on all of the preseason betting options and will also be advised of the top NFL sportsbook sites in operation today.
Bovada Sportsbook

#1 NFL Betting Site
 ✔ Pros
Welcome Bonus of 50% up to $1,000
Operating From The Legal Jurisdiction Of Costa Rica
Same Day Payouts with Bitcoin
Options to Use Venmo, Paypal with Vouchers
Also Offers Casino, Poker, and Horse Racing
Wide Selection of Sports Coverage & Wagering Options
 ✘ Cons
Does Not Accept Players From NJ, NV, DE, NY, or MD
Is NFL Preseason Betting Legal?
Yes. All sportsbooks that offer their services to US citizens will include NFL betting as one of their most prominent options as wagering on pro football odds takes in the most revenue across the board. Domestic and offshore NFL betting options are in play depending on which state the gambler is located inside of.
The domestic sportsbooks that exist in the USA will accept bets on NFL preseason games, futures, and more. Offshore sportsbooks that reside in legal gaming jurisdictions outside of the United States can accept online bets on NFL preseason odds from US-based sports gamblers because federal and state laws fail to prohibit them from doing so.
Best NFL Betting SItes For 2023 Preseason Odds
Betting On Preseason NFL Games
Beginning in 2021, the NFL preseason reduced the schedule from 4 to 3 games to make way for the 17-game regular season, but not to worry. NFL preseason betting trends are on the rise as sports gamblers just cannot wait for Week 1 to get in on the pro football action.
NFL preseason betting odds operate identically to the regular season and include game lines with spreads, moneylines, and totals. The element that separates betting on NFL preseason and regular-season games is the personnel.
Before the season begins, all 32 NFL teams will need time to evaluate every single player on the roster. Because of this, the regular starters will only play for a limited number of snaps in a preseason game, with the second, third, and fourth string players on the field for a bulk of the action.
That makes it difficult for oddsmakers and gamblers to predict the outcome of any given NFL preseason game, regardless of what two teams are facing each other. While these waters may be murky, they also provide for unpredictable outcomes that can award big when an NFL underdog comes through.
Betting On Preseason Futures Odds
There is no shortage of NFL bet types that are available in the preseason. Below is a selection of the most popular preseason NFL betting lines that are available prior to Week 1.
NFL Preseason Super Bowl Odds – Betting on the Super Bowl begins as soon as the big game concludes the prior year, with odds available for the entire calendar year. Bets can be made on each of the NFL's 32 teams until they are eliminated from postseason contention.
NFL Preseason MVP Odds – NFL MVP prop bets involve a list of all eligible players that are in contention for the league's Most Valuable Player honors. NFL moneyline bets can be made on the odds placed next to each potential MVP candidate, with the lines receiving action until the winner is announced during the NFL Playoffs.
Preseason NFL Division Odds – NFL Division betting odds are some of the easiest preseason lines to earn a win with because there are only four teams in play. These NFL prop bets are also indicators of which teams will qualify for the postseason as each Division winner is awarded a spot in the Playoffs.
Preseason NFL Conference Odds – The AFC and NFC Championship futures are similar to the Super Bowl futures odds but feature half the teams in play. This provides for slightly easier odds to navigate and also indicates a berth to the Super Bowl of that given year. These NFL Conference preseason futures also provide insight into which teams will qualify for the postseason based on their overall positioning, so this is technically betting on the NFL Playoffs.
Preseason NFL Prop Bets – There are a plethora of prop bets that are placed on the boards and NFL sportsbook sites each preseason that predict any number of outcomes, but usually involve statistical over/unders and win totals.
Mobile NFL Preseason Betting Apps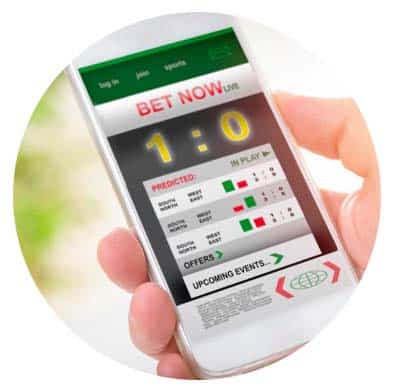 Why bother running out to a domestic book when NFL preseason bets can be made on iPhones, iPads, and other popular smartphones and tablets. Mobile sports betting on Las Vegas NFL preseason odds is accessible by using any popular Apple or Android device to click on one of the sportsbook links we've included in the table above.
These NFL apps for iPhone and Android can quickly and easily access the latest Vegas NFL preseason odds on the fly because there is no program to download. These web-based mobile NFL betting apps grant full access to the online sportsbook site, including futures odds, prop bets, and betting on all other major pro and college sports from the palm of your hand.
NFL Preseason Betting Tips
Because the starters will only play for a limited amount of time, this makes it more difficult to select NFL preseason betting picks. Because of this, more attention than usual must be paid to the reports coming out for each team. NFL head coaches are usually pretty straight forward when declaring the amount of time will be dedicated to starters and backups, so tune in and take notes.
The quarterback depth chart has more importance than usual since the second and third string QBs will be taking a majority of the snaps. Teams that are sporting a trio is seasoned veterans at the position will likely fare well throughout the entirety of the preseason, whereas franchises that are testing out unproven talents will possibly struggle.
Manage your bankroll and limit the amount of action that you place on NFL preseason bets. If you want to wager on NFL teams throughout the preseason weekend then limit your individual game bets to 3% of your total bankroll.
Other NFL Preseason Betting Resources