MVP Prop Bets For Super Bowl 58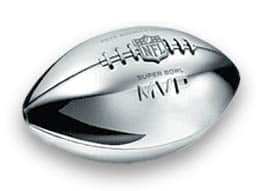 The winning team's top performer is awarded the Super Bowl MVP Trophy after the conclusion of each season's final NFL contest. NFL betting sites debut their SB props well in advance of the big game, and MVP prop bets for Super Bowl 58 are often some of the first available.
If you're interested in raking in some cash by payouts provided by SB MVP odds, then you've come to the right place. Learn more by reading about the legal aspects, how the MVP money line odds work, what player is favored to become the Most Valuable Player of Super Bowl LVIII, and much more.
Is Betting On Super Bowl MVP Props Legal?
Yes, placing a bet on SB MVP props is legal in a majority of the USA. Almost half of the states in the US have adopted domestic sports betting, and outside of Washington, 18 and over patrons can bet on Super Bowl MVP props over the Internet via overseas-based NFL sportsbook sites.
The reason for this is simple. There are no laws in place that say it is illegal. WA has laws that prohibit all online gaming, but the online Super Bowl sportsbooks we recommend accept members from those states. That's why it is crucial to become familiar with regional sports betting laws and sportsbook membership criteria.
Best NFL Betting Sites For Super Bowl MVP Odds
Super Bowl 58 MVP Prop Bets
The most typical Super Bowl MVP prop bet compiles a list of all possible SB Most Valuable Player challengers and places money line odds next to each of their names.
The NFL moneyline odds indicate how much will be required to bet vs. how much will be won for Super Bowl 2023, and the most favored player to win the MVP Trophy will feature the lowest odds.
A player with negative odds will require more money to be risked than can be won. For example, -200 odds will payout at $100 for each $200 wagered because the candidate is more likely to win, inspiring sportsbooks to risk less than the bettor.
A player with positive odds will payout at a higher amount than what is wagered. For instance, if someone has +240 odds of winning the MVP of Super Bowl 58, then each $100 bet on them will reward savvy bettors $240 in cash.
Superbowl LVIII props for the MVP also include other NFL bet types like the following two lines.
Who Will The Super Bowl MVP Mention First In His Speech?
Teammates

-120

God Or Jesus

+200

City

+650

Coach

+1000

Owner

+1600

Family Or Family Members

+550

Does Not Mention Any Of The Above

+1000
Super Bowl MVP - Winning Position
Quarterback

-350

Wide Receiver

+350

Tight End

+800

Running Back

+900

Any Defensive Position

+1000

Kicker

+6600
If you check out the SB MVP historical data we've provided at the bottom of this page, you'll see that quarterbacks win the MVP an overwhelming majority of the time. That's why QBs are always hovering toward the top of the MVP props.
How To Bet On The 2023 Super Bowl MVP Odds?
Before you can place a bet on Super Bowl 2023 prop bets, you'll need to register with at least one of the online NFL sportsbooks that we've included in the table above. Click on one of the links we've provided and locate the join button on the homepage.
You'll first encounter a page asking for your information and the creation of confidential login credentials. The next page will ask for your first deposit and will offer a bevy of sportsbook funding options that include Bitcoin, the most popular cryptocurrency on the planet, and the only same-day payout withdrawal option.
Once you've completed the deposit process, locate the sportsbook section of the website and then look for the NFL tab. Inside you'll find NFL point spreads, money lines, over/under bets, Pro Bowl odds, coin toss props, SB National Anthem odds, and of course, odds for the Super Bowl's Most Valuable Player.
Legal SB 58 prop builders offer bettors more ways to bet on Super Bowl props. Interactive prop builders offer odds on any aspect of the big game, and you can build parlays.
More Super Bowl MVP Betting Resources