Legal NFL Point Spread Betting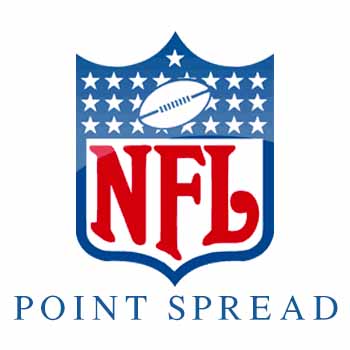 The most common sight at an NFL sportsbook site is a game line with a point spread featured prominently.  Legal NFL point spread betting easily receives more action than any other type of wager, and that's because pro football is the most popular sport to gamble on in the USA.
This page is dedicated purely to betting on point spreads for NFL games. We provide detail regarding what an NFL point spread is, how to cover the spread, and some strategy for how to secure an easier path to victory. We also include our top online sportsbooks offering pro football odds and discuss why they're #1 for making NFL picks against the spread.
Is It Legal To Bet On NFL Spread Picks?
Yes. Offshore and domestic sportsbooks will all include NFL point spread bets for USA-based patrons to wager on. Those inside of one of the many US states that allow for legal sports betting, visit a domestic sportsbook and place an NFL spread bet if the bettor is of legal age.
Another legit option for betting on NFL point spreads are the international sportsbook sites that operate in jurisdictions outside of the US. They admit pro football bettors at the age of 18 and can legally accept NFL bets over the web without violating any laws except for in the state of WA.
Best Online Sportsbooks Offering NFL Point Spreads
What Is An NFL Point Spread?
The point spread in the NFL represents the number of points that a team is expected to win or lose by and is typically the first option to wager on inside of a standard football betting line.
Favorite – Favored NFL teams will be listed with a negative point spread. If you want to bet on the Pittsburgh Steelers and their -7 spread, they will have to win by 8 or more to cover. If they win by 6 or under the bet fails, and if they win by 7, the bet is a push and is refunded.
Underdog – The team that is expected to lose will have a positive point spread. When betting on the New England Patriots to cover their spread of +5, they'll need to lose by 4 points or less. If they lose by 5 it will be a push, and a loss by 6 or more will result in a losing bet.
What's With The Half Point? – Oftentimes NFL oddsmakers will split hairs by offering point spreads that are fractional with a half-point decimal trailer. Using the half-point, the variance is narrowed from 2 points down to 1, and the outcome of a push is removed.
For example, if the Green Bay Packers are favored by -4.5, a 5 point win covers while a 4 point victory does not.
What Does "Cover The Spread" Mean? – If an NFL team is able to win by more than the amount predicted, or lose by less than the amount of points implied by the point spread, then they have covered, thus securing the bettor a win.
Current Point Spread Odds For Betting On NFL Games?
Which Online Sportsbooks Offer The Best NFL Game Point Spreads?
Each of the NFL sportsbook sites that are listed in the table above are fully endorsed by our staff and we use each one of them for betting on NFL point spreads. While we do prefer some over others for one reason or another, our staff recommends becoming a member with more than one so that the odds can be shopped.
Pro football fans will want to belong to more than one book when it comes time to wager on the NFL Playoffs or bet on the Super Bowl because of the enormous amount of game, quarter, and other lines that will feature point spreads attached to them.
Line shopping for the best sportsbook payouts can't be done unless bettors belong to multiple books, so we suggest doing so in order to find NFL point spreads that vary in the direction that the gambler prefers.
For instance, if the customer is interested in betting on the Dallas Cowboys to cover their -5 point spread and win by 6 or more, wouldn't it make sense to place that wager at another book that was offering -4 on Big D?
Strategy For Making NFL Picks Against The Spread
We've already mentioned the benefits of belonging to more than one sportsbook site and shopping the NFL odds, but there are other ways of gaining an advantage on gameday with NFL betting strategies.
One trick our staff often uses is taking the entire NFL game line and using each element to produce a final score. Take the following conversion as an example.
Dallas Cowboys @ Tampa Bay Buccaneers
Point Spread: Dallas

+6.5

, Tampa Bay

-6.5

Moneyline: Dallas

+240

, Tampa Bay

-285

Over/Under: 51.5
Final Score Prediction: Tampa Bay 29, Dallas 22
Using the over/under and the point spread we can make the above final score assumption. Having that all laid out in front of the bettor gives the full picture of what the oddsmakers are suggesting, and more importantly, what is actually being bet on.
Furthermore, using the NFL moneyline odds attached to each team allows for further investigation into how well a squad is expected to perform.
If line shopping isn't providing a point spread that the bettor feels comfortable with, there are still options in play. Spreads change as wagers are placed on either side, so wait a day or two to see if the spread moves in your favor. Live betting odds allow for NFL spread bets while the game is in play, and are detailed in a section below.
Another option is purchasing points from the book. Many online sportsbook sites allow bettors to purchase an extra point or two or variance but moving the lines manually also lowers the payout. Each book will handle this differently so check them all out to see which one is the most advantageous. Our guide to how to make the best Super Bowl bets online is a great resource for bettors looking to learn tips and tricks about placing educated sports bets.
2023's Best NFL Betting Apps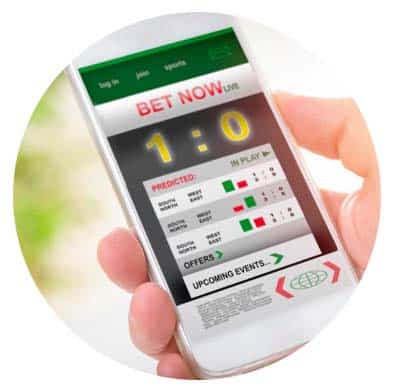 NFL bettors on the go can wager on pro football point spreads from anywhere they choose using the web-based NFL betting apps provided by the online sports betting sites we recommend on this page. Point spreads, moneylines, and NFL prop bets can all be accessed from anywhere with a web connection.
Just click on any of the links above and Apple and Android smartphones and tablets can access the latest NFL betting lines and point spreads quickly. These web-based mobile sportsbook applications don't require a download and include all of the lines and odds offered at the main website.
Live Betting On NFL Point Spreads
The betting doesn't stop when the kickoff occurs. Live NFL betting continues until the final gun with point spreads that update as the seconds tick off the game clock. Live NFL point spread betting allows patrons to make up for an early losing wager and get back in the action, or can assist lazy gamblers that didn't make it to the book in time.
NFL Sportsbook Funding Methods
Online sportsbook banking is not limited to USD. Cryptocurrency is also a part of the mix and is the preferred method of our writing staff here at SBL due to its fast withdrawals that can occur in the same day, elevated sportsbook bonus offers, and secure transactions.
The most popular altcoins on the planet are accepted at our top-rated NFL betting sites listed above, including Bitcoin, Bitcoin Cash, Cardano, Ethereum, Tether, Litecoin, Dogecoin, and more.
Sportsbook Bonus Cash Offers
Are you thinking about accepting a sportsbook promo code for betting on NFL point spreads or other odds? We simply advise reading the terms attached before accepting a deposit matching bonus to make certain you can complete them and collect the free cash upon completion.
These sportsbook bonuses usually have terms attached that should be read through before members decide to accept one. These offers vary at each online NFL sportsbook and usually match a percentage of the first deposit and place it in members' accounts.