Legally Betting On 2023 NFL Hall Of Fame Odds
2024 NFL Hall of Fame Finalists Have Yet To Be Revealed
NFL Hall of Fame Betting Odds Are Currently Offline
The Next NFL HoF Class Will Be Announced Before Super Bowl 58
Because legal betting on the National Football League rules the roost at domestic and offshore sports betting sites, just about all NFL bet types are fair game for inclusion in the wagering odds. One of the latest fads at football sportsbook sites is legally betting on NFL Hall of Fame odds that allow for wagers to be placed on who will be enshrined as one of the top pigskin players, coaches, or contributors of all time.
Read the following sections to learn the entire playbook for betting on the NFL Hall of Fame at offshore sportsbook sites as well as domestic retail venues and whether or not it is legal for USA gamblers. We also cover the selection process and give our take on who has the best chance of NFL HoF induction in 2023.
Bovada Sportsbook

#1 NFL Betting Site
 ✔ Pros
Welcome Bonus of 50% up to $1,000
Operating From The Legal Jurisdiction Of Costa Rica
Same Day Payouts with Bitcoin
Options to Use Venmo, Paypal with Vouchers
Also Offers Casino, Poker, and Horse Racing
Wide Selection of Sports Coverage & Wagering Options
 ✘ Cons
Does Not Accept Players From NJ, NV, DE, NY, or MD
Is It Legal To Bet On NFL Hall Of Fame Odds?
Yes. Domestic sportsbooks as well as the legitimate international sports betting sites that we review offer betting on the NFL Hall of Fame inductees. Some US states feature regulated retail sportsbooks, but the online NFL betting sites that we endorse below offer their services across the entire USA except for Washington state.
Because there are no federal or state laws in place to prevent offshore sportsbook sites from accepting bets on NFL Hall of Fame odds over the Internet, bettors will not get into any trouble for partaking.
Best Sports Betting Sites Offering
NFL Hall Of Fame Odds
About The NFL Hall Of Fame
Each year, the NFL Hall of Fame Selection Committee will process several rounds of contending players, coaches, and contributors for induction consideration. In February, the Committee meets and narrows the list down to five potential Hall of Famers and then places them on a ballot for another round of yes or no votes where those that receive over 80% approval will become inducted.
2024 NFL Hall Of Fame Inductees Will Be Announced at NFL Honors On February 8, 2024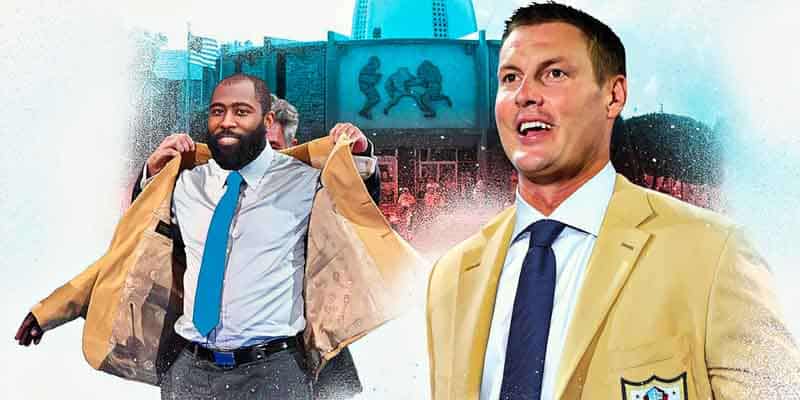 2023 NFL Hall Of Fame Inductees
Ronde Barber - Defensive Back, Tampa Bay Buccaneers
Darrelle Revis - Defensive Back, New York Jets
Ken Riley - Defensive Back, Cincinnati Bengals
Chuck Howley - Linebacker, Dallas Cowboys
Zach Thomas - Linebacker, Miami Dolphins, Dallas Cowboys
DeMarcus Ware - Defensive End, Dallas Cowboys, Denver Broncos
Joe Thomas - Offensive Tackle, Cleveland Browns
Joe Klecko - Defensive Lineman, New York Jets
Don Coryell - Head Coach, St. Louis Cardinals, San Diego Chargers
2022 NFL Hall Of Fame Inductees
Tony Boselli - Offensive Tackle, Jacksonville Jaguars
LeRoy Butler - Safety, Green Bay Packers
Sam Mills- Linebacker, New Orleans Saints/Carolina Panthers
Richard Seymour - Defensive End, New England Patriots
Bryant Young - Defensive End, San Francisco 49ers
Cliff Branch - Wide Receiver, Oakland Raiders
Art McNally - Referee
Dick Vermeil - Head Coach, St. Louis Rams/Kansas City Chiefs/Philadelphia Eagles
2021 NFL Hall Of Fame Inductees
2023 NFL Hall Of Fame Odds
While there are no current odds on the boards at online sportsbook sites for the next NFL Hall of Fame Class, the two below sections make up the most likely candidates for election. The first list compiles each of the players that were finalists in 2022 but did not make the cut. The second list is the most likely players to become finalists for the NFL Hall of Fame during their first year of eligibility.
There are also NFL Hall of Fame members that are elected each year that were contributors to the game, such as writers, innovators, league executives, and more. Each year's contributor inductees are decided by a 5-member subcommittee made up of members of the overall NFL HoF Selection Committee.
NFL Hall of Fame Prop Bets
While we've not yet seen NFL Hall of Fame prop bets appear, it is only a matter of time before NFL oddsmakers produce them. NFL prop bets for what position will be selected the most on a given year, or for which player from a grouping of the same position will be inducted, offer just a peek at the overall potential of what could be offered in the coming years for NFL HoF odds.
NFL Hall of Fame Betting FAQs