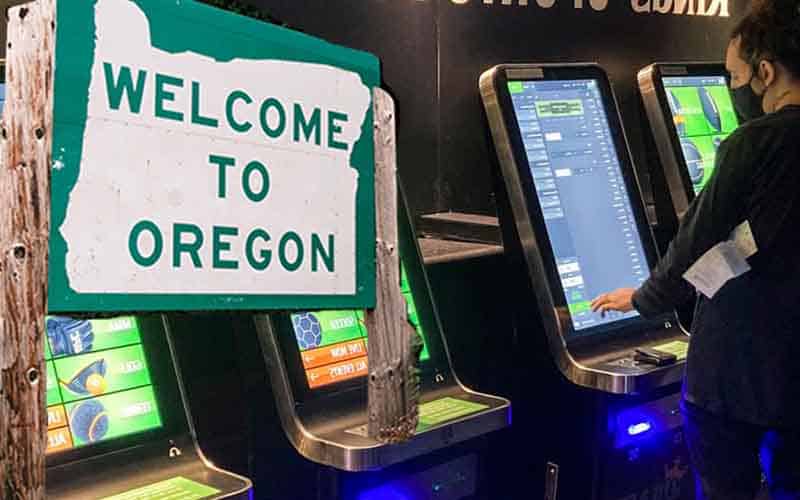 Domestic sports betting has been thriving in Oregon since October of 2019, but business has picked up and stayed up thus far in 2022. Oregon joined several other legal sports betting states across the country in setting their all-time high for sportsbook handle collection totals in January of 2022 to coincide with the NFL Playoffs and the NCAAF CFP.
While revenue, handle, and tax collection totals have leveled off since January across the United States, Oregon sports betting has kept pace with a high ceiling over the first third of 2022.
Oregon Sports Betting Handle Collections For 2022
January – $42,899,735
February – $39,458,431
March – $36,208,011
April – $42,936,415
There is currently only one mobile sportsbook that operates domestically within OR – DraftKings. The online domestic sportsbook giant took over mobile sports betting services in Oregon in January of 2022 after 2+ years of service from Scoreboard following DraftKings' acquisition of its parent company.
No domestic outlet knows the ins and outs of the mobile sports betting game more than DraftKings, and the Oregon handle totals can be directly attributed to their marketing efforts within the state.
While many territories experienced high volumes of handle collections in January, the same cannot be said for April despite the inclusion of NHL Playoff and NBA Playoff betting.
The revenue intake for Oregon in April of 2022 fell short of last November's lofty $4 million-plus totals, but they were almost double of the reported numbers for January even though the handle data was similar.
Oregon Sportsbook Revenue Totals For 2022
January $2,389,280
February $3,335,165
March $3,620,610
April $3,824,165
There is a lot that goes into that particular equation. Differentials between the handle and revenue totals for a given month are determined by how many wagers the house won versus the amount lost, and the dollar totals included in each bet.
For instance, if a book takes in three total bets, wins two $1 wagers, and loses one for $1,000, the winning percentage is 66% even though they've suffered heavy financial losses. Bottom line – even if Oregon books win a thousand one-dollar bets, all it takes is a single losing wager of $1,001 to fall into the red.
The above scenario may sound ludicrous, but we've already seen SBL Sports Betting Hall of Fame inductee Mattress Mack place several high-dollar wagers on single sporting events at domestic books.
Oregon sports betting is also likely getting a significant shot in the arm via traveling gamblers from neighboring states that aren't sportsbook friendly. For instance, California and Washington-based sports bettors need to only travel across state lines and possess a minimum age of 21 to download DraftKings and lay some action on their favorite team.
The same can be said for Idaho which is completely devoid of any domestic sports betting option.
Offshore sports betting sites are also able to cater to online gamblers in Oregon that are aged 18 or older. There are no state laws in OR that prohibit offshore sportsbook sites from accepting in-state bets on college and pro sports at this time, and they offer a much greater variety of wagering options than domestic books.
Source – The Spokesman Review