Legal Betting On Fan Controlled Football
Fan-Controlled Football Has Canceled Plans For Season 3.0
FCF Betting Is Available At Online Sportsbooks
FCF Season V2.0 Winner: The Zappers!
UPDATE: League Ownership Has Canceled All Plans For Season 3.0 Until Further Notice
There's now another professional football league on the block, the FCF (Fan Controlled Football), and just like the name suggests, the spectators are allowed a spot in the huddle to have their say. Naturally, legal betting on Fan Controlled Football was desired by FCF aficionados, and we've got the entire game plan for laying action on FCF odds below.
Don't worry about searching through a crowded field of opposition to find a reliable FCF betting site. We've combed through the web and supplied the top sportsbooks for betting on Fan Controlled Football below, and have also tackled a few tips and tricks to assist your football wagering strategy.
Is It Legal To Bet On FCF Games?
Yes. Fans of professional football in the United States can bet on Fan Controlled Football at domestic sportsbooks or at international online betting sites.
Online sportsbooks that are operating in a regulated jurisdiction that is outside of the USA are able to accept FCF bets over the web from American customers due to their being no laws in place to stop them.
Some US States feature legal domestic sportsbooks that are in-person or online with minimum ages that typically begin at 21. The same cannot be said for offshore FCF betting sites because they often accept members starting at 18 years old.
Best Fan Controlled Football Betting Sites
What Is Fan Controlled Football League?
Fan Controlled Football League is a professional football federation that allows fans to call the plays either via a mobile downloadable application or while watching online on Twitch. The play call votes are tallied and the one that receives the highest volume is what will be called in the huddle for your favorite FCF team.
Because the fans are involved in calling the plays, wagering on the games includes several elements that are involved in legal betting on eSports, but instead of virtual contestants, the players are real.
FCF's first season began in February of 2021 with a four-team league, and season V2.0 has added an additional 6 teams to the fray. All games for season 1 were played at the Infinite Energy Arena in Duluth, Georgia. Season 2 of FCF took place in Pullman Yards in the Pratt Pullman District.
There are no set rosters. Each team drafts from a pool of players the Thursday before game day and is allowed to retain one keeper player for the duration of the season. These drafts and all FCF games are aired on the popular online streaming site Twitch.
The playing field is 50 yards long. There are no special teams, kickoffs, or punts. Extra points are one-on-one face-offs between wide receivers and defensive backs where the QB must complete a TD pass.
Offensive possessions begin on the 10-yard line. Games last for one hour of real-time without any clock stoppages for time-outs or injuries.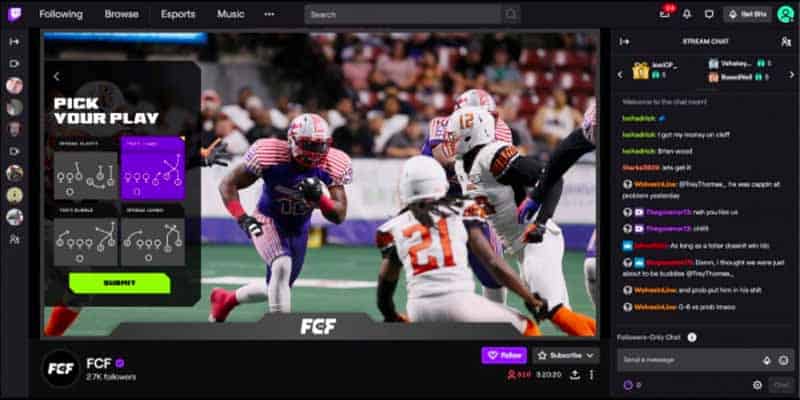 🏈 Odds provided by Bovada
Preseason FCF Futures (2022)
Bored Ape Football Club +230
Knights Of Degen +500
Shoulda Been Stars +500
8oki Football Club +1000
Beasts +500
Zappers +600
Glacier Boyz +500
Zappers are the 2022 FCF Champions
How To Legally Bet On Fan Controlled Football
The FCF odds work just like other football betting options with game lines that include point spreads, money line winner odds, and the over/under. We have also seen FCF Championship futures that list all four teams and include money lines indicating each franchise's chances of capturing the title.
While NCAA College Football odds, legal NFL betting options, legal USFL betting, and Aussie Football include prop bets for broadcast-inclusive events, Fan Controlled Football has only offered game lines and futures so far, and that will likely remain the case until the sport becomes more popular on a national and global scale.
FCF Bet Types
Money Line – These types of odds are perfect for bettors who just want to pick the team that is going to win the game. Three-digit odds are offered for each team, with the favored franchise receiving the lower odds. Negative odds require more money risked than can be won, while positive money lines can more than double your bet.
Point Spread – The amount of points that a team is expected to win or lose by. Positive point spreads are granted to the underdog team, and each squad must win by more than, or lose by less than the spread in order to cover.
Over/Under – FCF betting sites will set the number of points that both teams are expected to combine to score. Bettors must wager on whether the total will be over or under that amount.
Combination Bets – Parlays, teasers, and pleasers allow for multiple bets to be combined into one for higher odds and payouts. All bets in the equation must succeed for the combination to win. Pleasers allow for the bettor to adjust the odds while teasers allow for the sportsbook to move the line.
Betting On Fan Controlled Football Playoffs
After the four-week regular season concludes, there will be a one-week FCF playoff round that determines who will advance to the Fan Controlled Football Championship Game. Details are sparse, but it appears that all four teams will qualify for the postseason, and the fans will have a say in how they are seeded, but since there are only four franchises, options are limited.
The 2023 FCF Championship Game will be scheduled soon and will air on Twitch.
Owner: Marshawn Lynch, Retired NFL Running Back
Co-Owner: Miro, Professional Wrestler (All-Elite Wrestling)
Co-Owner: Renee Montgomery, TV Host (TMZ Sports) & Retired WNBA Player
Owner: Quavo Huncho, Musician (Migos)
Co-Owner: Richard Sherman, NFL Defensive Back (San Francisco 49ers)
Co-Owner: Deestroying (Donald De La Haye), YouTube star.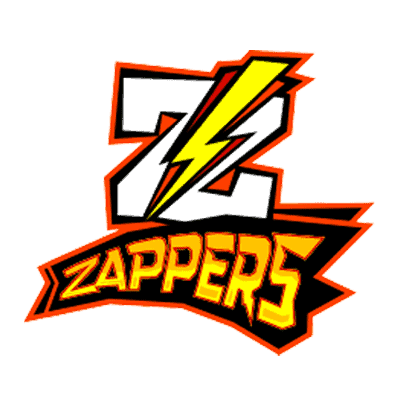 Owner: Bob Menery, Social Media Star
Co-Owner: Dalvin Cook, NFL Running Back (Minnesota Vikings)
Co-Owner: Trevor May, MLB Pitcher (New York Mets)
Co-Owner: Ronnie Singh, NBA 2K Executive


Owner: 8OKI, World-Renowned DJ
Co-Owners: TBA
Former FCF Teams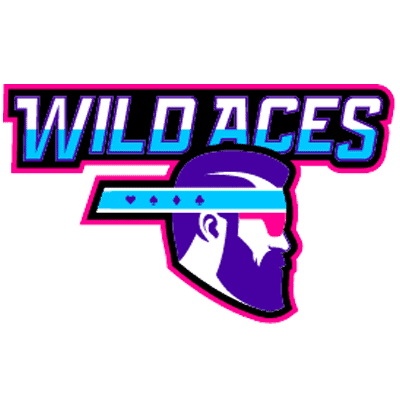 Owner: Greg Miller, Comedian
Co-Owner: Jack Settleman (owner of Snapback Sports)
Co-Owner: Austin Ekeler, NFL Running Back (Los Angeles Chargers)

Shoulda Been Stars
Owner: Druski, Comedian And Social Media Star
Co-Owner: Rachel Lindsay, The Bachelorette, The Batchelor
Co-Owner: Austin Ekeler, LA Chargers Running Back
Co-Owner: ASM - Altered State Machines, AI Company

Owner: Bored Ape Yacht Club NFT Community

Owner: Knights of Degen NFT Group
FCF Sportsbook Apps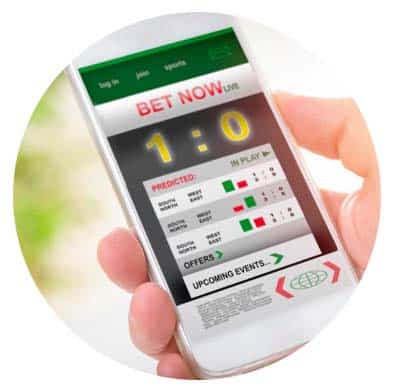 Fan Controlled Football is focused on online and mobile accessibility, and so are the top sportsbook sites we suggest for betting on FCF odds because they offer premium betting applications that can be accessed by simply clicking on one of the links we've provided in the table above using a current smartphone or tablet.
These web-based apps do not require a download and operate through mobile browsers. Legal FCF betting lines appear rapidly on these slick mobile sportsbook applications and allows for entry to their full sportsbook and casino games via iPhones, iPads, and Android portable devices.
Sportsbook Banking Options
One major advantage that offshore sportsbook sites have over domestic books is that they accept cryptocurrency. Bitcoin (BTC) deposits and withdrawals offer the most expedient transaction times, and often include higher bonus offers from online books.
There are also several methods available that utilize the US dollar, but we must insist that bettors investigate the superiority of Bitcoin and cryptocurrency at online FCF sportsbooks.
Sportsbook funding and withdrawal options include:
Deposit: Credit Cards, Debit Cards, Wire Transfer, Zelle, PayPal, Third-Party Money Transfer Services, Cashier's Check, Cryptocurrency (Bitcoin, Bitcoin Cash, Ethereum, Litecoin, Cardano, Ripple, Stellar, Tether).
Withdrawal: Wire Transfer, Cashier's Check by Courier, Voucher, Cryptocurrency*
*The only method that can be withdrawn in less than 24 hours
Fan Controlled Football Salary
Each player can earn between $400 and $750 per game, and their travel, food, and hotel expenses are also taken care of. The Fan Controlled Football League salary for FCF coaches is approximately $3,500 per month plus expenses.
Fan Controlled Football Betting FAQs