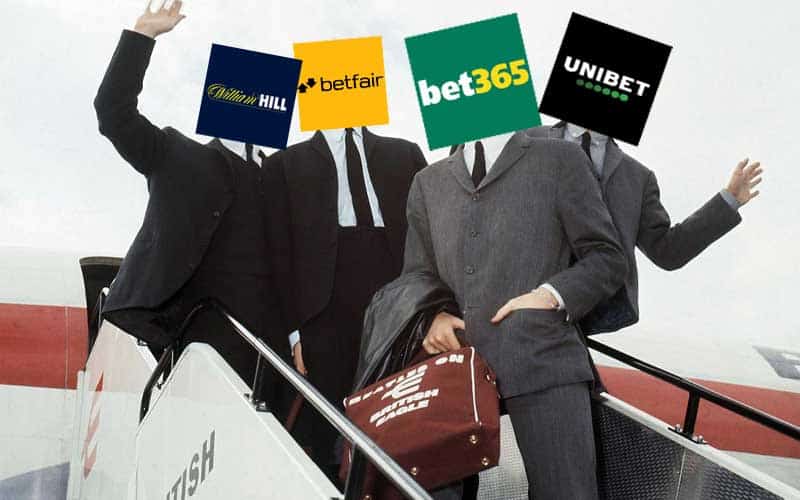 It's well-known at this point that The Beatles kicked off music's "British Invasion" with "I Want to Hold Your Hand" topping the US charts in February 1964.
But 55 years later, the "British Betting Invasion" is already underway, and Bet365 signaled this week that it's ready to follow up the Fab Four with an encore performance titled "I Want to Take Your Bet"—coming soon to a state near you.
UK online gambling juggernaut Bet365, who operates the world's most popular sports betting site with over 35 million bettors worldwide, crossed the Atlantic Ocean yesterday and launched its website in New Jersey.
This marks the first time Bet365 is available to customers in the United States, and the company said the NJ site is currently in a "pre-live phase" while tests are performed by the New Jersey Division of Gaming Enforcement.
NJ bettors can register for an account, but the site has limited hours of operation during the soft-launch period.
The new bet365 site is going through a pre-live phase and is only available during certain time periods. It is now available to register for an account within the US, however to engage in wagering you must be physically located in the state of New Jersey.

— bet365 (@bet365) August 22, 2019
Once approved by the gaming commission, which is expected to come before the start of the 2019 NFL regular season on September 5, Bet365 will be able to accept wagers from players located anywhere in the state of New Jersey; 24 hours a day, 7 days a week, and—you get where I'm going here—365 days a year.
Bet365 said their Android app would be available soon after the hard-launch and an iOS app for the Apple iPhone and iPad is currently being developed.
The Garden State is quickly becoming a breeding ground in the young legalized online and mobile sports betting market, and Bet365 becomes the 16th site to offer services in the state.
And with New Jersey's sportsbook handle frequently challenging Nevada for the top spot—even surpassing the Silver State in May 2019—you can bet that more UK brands will look to get in on the action.
Internet-based sportsbooks will likely be the focus as well since the NJ market demands a presence via a website and mobile app. Smartphones, tablets, and computers accounted for 85% of all wagers placed in the state for the month of July.
Bet365's move to the US has been over a year in the making, with the British online gambling giant signing a letter of intent in 2018 to partner with Atlantic City's Hard Rock Hotel & Casino.
But that's not the only wager Bet365 has placed on the post-PASPA era growth in the US.
In March of this year, the company signed a long-term lease for an 18,876 square foot office at Two Greentree Center in Marlton, NJ, for an undisclosed amount. Plans for the office have not been announced.
The company also has its sights set on New York and partnered with Empire Resorts World Catskills last year to build a brick-and-mortar sportsbook as well as provide services for a website and mobile app when—or if based on what happened earlier this year—NY lawmakers legalize online and mobile sports betting statewide.
And in case you missed it, Bet365 is by no means the first British gambling operator to plant their flag on US soil. However, with £2.7 billion (roughly $3.3 billion) in reported revenue last year, they are unquestionably the biggest ship to arrive on America's shore.
The "British Betting Invasion" has been underway since US Supreme Court decision in May 2018, which granted all states the right to legalize sports betting.
In fact, the "invasion" could be credited to William Hill, who has held a presence in the states following the federal prohibition being lifted and has become a well-established brand in several states that now offer sportsbooks—Iowa being the latest.
And remember me mentioning that Hard Rock (which was founded in London, by the way) partnered with Bet365 last year?
Well, that's not their only UK skin in the game since the company also partnered with Unibet, owned by the Kindred Group, to offer sports betting in NJ around the same time period. It's unknown when exactly Unibet's platform will go online, but a 2019 launch appears likely.
But the British betting on the US market doesn't stop there because Betfair, which is a betting exchange service, launched in NJ back in May 2016 and has since opened both an online casino and an online sportsbook.
Technically, Betfair is no longer a "British company" since its owned by Flutter Entertainment, which is headquartered in Ireland, but that's still the United Kingdom.
Regardless of what column you want to chalk Betfair into, Flutter also owns Paddy Power (which is actually known under the name "Paddy Power Betfair" following a 2016 merger), Sportsbet, and TVG—all have expressed some interest in setting up shop in the states with legalized sports wagering.
However, Flutter's crown jewel in the US is none other than FanDuel, who is arguably the licensed sportsbook market leader in the states with only DraftKings as its real competition so far.
After FanDuel was acquired by Paddy Power Betfair in May 2018, the UK-based bookmaking business would rebrand as "Flutter Entertainment" in March of this year.
But should the "British Betting Invasion" scare you to the point to where pulling a Paul Revere and running down the street yelling "The British are coming!" sounds like a reasonable thing to do?
To that: I say, "nay."
In fact, the UK companies could teach the US a thing or two about how to run casinos and sportsbooks since it's already "been there and done that."
Gambling is something that has been ingrained in UK culture for centuries, and sports betting has been legal since the Betting and Gaming Act 1960 went into effect in 1967. Today, London alone has over 1,000 betting shops to wager on sports such a soccer—or "football" rather.
And since 2007, the UK Gambling Commission—who's mission statement includes keeping crime out of gambling and protecting the vulnerable—has been the governing body that regulates and establishes guidelines for all licensed operators.
When The Beatles came across the pond in the 1960s, they fundamentally changed the music industry forever, and their songs still inspire musicians to this very day.
While the "British Betting Invasion" may not have quite the same effect on gambling and sports betting world as its music counterpart, the UK brands' decades of experience in the industry is already having a noticeable positive impact on the rules and regulations in the US and International markets.
So pass the crumpets, raise a cup of tea, and place your bets—the British are here to make sure Americans don't drop the ball.
And that alone has the makings of a better betting experience for us all.