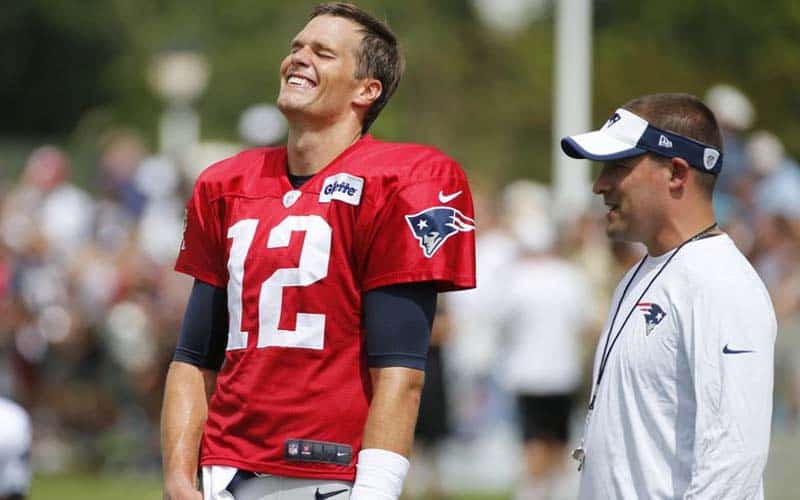 Will the New England Patriots win Super Bowl 54?
We're nearing the halfway point of the 2019 NFL season, but with a perfect 7-0 record, historic defense, Bill Belichick and Tom Brady showing no signs of slowing down, and the team having the best odds to win the Super Bowl (+225 or roughly a 30.77% chance), the Patriots appear to be well on their way toward winning a record 7th title for the franchise.
But unfortunately, you won't find any sportsbooks in Massachusetts for the foreseeable future.
However, there is hope for the passionate Patriots fans who want to wager on their nearly two-decade-long dynasty: Betting on sports in New Hampshire.
In an interview with WEEI radio last week, Gov. Chris Sununu said progress toward bringing legal sports betting to the state is coming along a lot fast faster than they originally thought, and that he expects New Hampshire to launch licensed and regulated sportsbooks before Super Bowl 54 on February 2, 2020.
Sununu went on to add sports betting could arrive in the Granite State as soon as January or possibly even December, according to a report from the Boston Globe.
It's no secret that Massachusetts' staggering 15 pending bills related to the legalization of sports betting have made virtually no progress throughout 2019, and with not much interest among MA lawmakers, it may be several years until sportsbooks come to The Bay State.
And to add insult to injury, the NH Lottery has publicly stated that it expects to see a lot of money from Massachusetts residents due to their state's own inaction on the issue.
If NH municipalities—Manchester and Nashua, most notably—vote in favor of sportsbooks this Fall, which is expected, then the state could see millions of dollars in tax revenue come from just the Greater Boston metropolitan area, a population of over 8.1 million people.
"The best kind of money is out-of-state money," NH Lottery executive director Charlie McIntyre said in an interview last month.
And in last week's radio interview, Sununu essentially said New Hampshire is thrilled with Massachusetts lawmakers and Gov. Charlie Baker arguing over trivial and tired issues, such as banning wagers on collegiate sporting events.
"It's always baffled me why Massachusetts put the brakes on this one," said Sununu. "We're going gangbusters here."
It's clear Massachusetts' loss is New Hampshire's gain, and with seemingly no issues following Sununu signing the NH sports betting bill into law over the Summer, they'll be more than happy to accept bets from their New England neighbors in just a couple of months.
Currently, Rhode Island is the only state in New England that offer legal sports betting, but due to New Hampshire allowing more competition in the in-person, online, and mobile app space, Sununu said he's expecting his state to do very well while Massachusetts sits on its hands.
"I know Rhode Island jumped into it; they've been doing very well with it," said Sununu. "Massachusetts seems to be this black hole, so we're just going to pick up the slack until Massachusetts figures out what to do.
"Until then, in the next few months, you're going to see it up here, and I think it's going to be an awesome opportunity for us," he added.
There's no question Sununu is correct. Barring an unforeseen hiccup, New Hampshire is projected to generate $10 million in tax revenue during the 2020-2021 fiscal year, which will go directly toward the state's public education fund.
A large portion of that will undoubtedly come from MA bettors. You only need to look at New Yorkers traveling to New Jersey or Chicagoans flocking to Indiana to see evidence of money pouring over state lines.
It's already happening all across the country, and it'll continue to happen unless the states without legal sports betting do something about it.
And until the lawmakers in Massachusetts wake up, the soon-to-launch sportsbooks, the Lottery and everyone in New Hampshire will continue to laugh all the way to the bank.
But most importantly: They'll allow Patriots fans to bet on their team's odds of reaching or winning the Super Bowl while the franchise's home state won't.