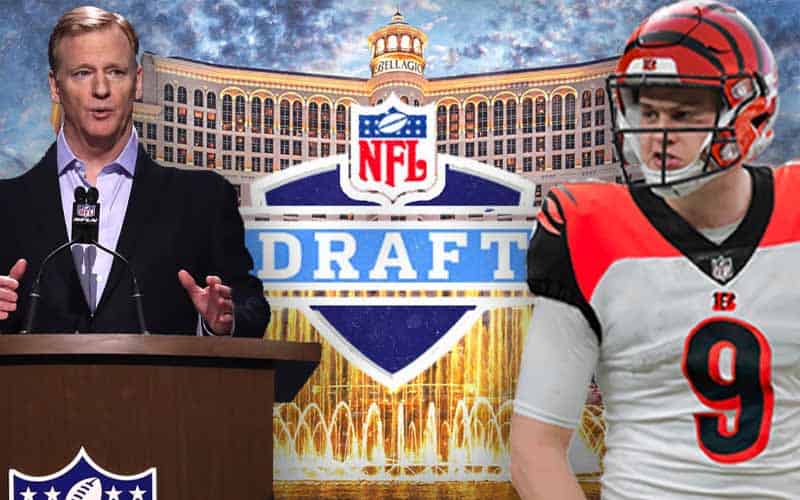 Day One of the virtual 2020 NFL Draft kicks off at 8:00 PM ET on Thursday, April 23. Due to the coronavirus, the three-day event initially taking place in Las Vegas will now show teams picking remotely from their headquarters and players streaming reactions from home.
With the lack of sports being played currently in the United States and around the world, legal NFL Draft betting is expected to see a record amount of wagers placed at Nevada sportsbooks and betting sites in other states.
Sportsbooks are offering hundreds of ways to place a bet on where the top college football players land, and a few have managed to crack our Top 5 Vegas NFL Draft draft props for 2020.
Nevertheless, oddsmakers are treating this year's NFL selection process like it's the Super Bowl or March Madness due to the lack of betting options that have been available during the global pandemic.
Heisman Trophy-winning quarterback Joe Burrow, who capped off a record-breaking season with a victory in the 2020 CFP national championship for the LSU Tigers, has reportedly been informed by the Cincinnati Bengals that he will be the No.1 overall pick of the 2020 NFL Draft.
According to Vegas NFL Draft mock odds from the top-ranked Bovada Sportsbook, Burrow (-100000) is heavily favored be the first player selected off the board. Chase Young (-3000) is favored to go second overall while Jeff Okudah (-110) holds a slight edge to round out the top three picks.
Below you'll find each of the mock draft position prop bets available ahead of the virtual 2020 NFL Draft and the oddsmakers' Round One predictions as well as the over/under for when some of college football's biggest star players will be taken off the board this weekend.
Mock NFL Draft Odds 2020
April 22 – NFL Draft Specials provided by Bovada
No.1 Overall Pick Odds
Joe Burrow -100000
Chase Young +1000
Tua Tagovailoa +1600
Justin Herbert +2600
Jeffrey Okudah +10000
Andrew Thomas +20000
Jacob Eason +40000
Jake Fromm +40000
CeeDee Lamb +30000
No.2 Overall Pick Odds
Chase Young -3000
Tua Tagovailoa +750
Justin Herbert +1200
Jeff Okudah +3500
Jedrick Wills Jr. +10000
Andrew Thomas +12500
No.3 Overall Pick Odds
Jeff Okudah -110
Tua Tagovailoa +400
Derrick Brown +450
Justin Herbert +600
Isaiah Simmons +1400
Chase Young +1500
Tristan Wirfs +10000
Jedrick Wills Jr +12500
Joe Burrow +15000
Mekhi Becton +15000
NFL Draft Position Props 2020
April 22 – NFL Draft Specials provided by Bovada
Chase Young Draft Position – Over/Under 2.5
Over 2.5 +750
Under 2.5 -2000
Jeff Okudah Draft Position – Over/Under 4.5
Over 4.5 EVEN
Under 4.5 -140
Justin Herbert Draft Position – Over/Under 5.5
Over 5.5 -130
Under 5.5 -110
Isaiah Simmons Draft Position – Over/Under 6.5
Over 6.5 -130
Under 6.5 -110
Derrick Brown Draft Position – Over/Under 7.5
Over 7.5 +160
Under 7.5 -230
Jedrick Wills Draft Position – Over/Under 8.5
Over 8.5 +170
Under 8.5 -250
Andrew Thomas Draft Position – Over/Under 10.5
Over 10.5 +115
Under 10.5 -155
Jerry Jeudy Draft Position – Over/Under 11.5
Over 11.5 -145
Under 11.5 +105
CeeDee Lamb Draft Position – Over/Under 12.5
Over 12.5 +155
Under 12.5 -220
Henry Ruggs III Draft Position – Over/Under 13.5
Over 13.5 EVEN
Under 13.5 -140
Javon Kinlaw Draft Position – Over/Under 13.5
Over 13.5 -135
Under 13.5 -105
CJ Henderson Draft Position – Over/Under 16.5
Over 16.5 +350
Under 16.5 -600
Klavon Chaisson Draft Position – Over/Under 16.5
Over 16.5 -160
Under 16.5 +120
Jordan Love Draft Position – Over/Under 19.5
Over 19.5 -155
Under 19.5 +115
Justin Jefferson Draft Position – Over/Under 21.5
Over 21.5 +180
Under 21.5 -270
Kenneth Murray Draft Position – Over/Under 21.5
Over 21.5 -145
Under 21.5 +105
Patrick Queen Draft Position – Over/Under 24.5
Over 24.5 +110
Under 24.5 -150
Austin Jackson Draft Position – Over/Under 24.5
Over 24.5 -120
Under 24.5 -120
Kristian Fulton Draft Position – Over/Under 24.5
Over 24.5 -165
Under 24.5 +125
Xavier McKinney Draft Position – Over/Under 25.5
Over 25.5 +135
Under 25.5 -175
Josh Jones Draft Position – Over/Under 25.5
Over 25.5 -130
Under 25.5 -110
Yetur Gross-Matos Draft Position – Over/Under 27.5
Over 27.5 +160
Under 27.5 -230
AJ Terrell Draft Position – Over/Under 32.5
Over 32.5 +215
Under 32.5 -330
Denzel Mims Draft Position – Over/Under 32.5
Over 32.5 +130
Under 32.5 -170
AJ Epenesa Draft Position – Over/Under 32.5
Over 32.5 +115
Under 32.5 -155
D'Andre Swift Draft Position – Over/Under 32.5
Over 32.5 EVEN
Under 32.5 -140
Brandon Aiyuk Draft Position – Over/Under 32.5
Over 32.5 -110
Under 32.5 -130
Zack Baun Draft Position – Over/Under 32.5
Over 32.5 -140
Under 32.5 EVEN
Jalen Reagor Draft Position – Over/Under 32.5
Over 32.5 -145
Under 32.5 +105
Jeff Gladney Draft Position – Over/Under 32.5
Over 32.5 -165
Under 32.5 +125
Grant Delpit Draft Position – Over/Under 32.5
Over 32.5 -260
Under 32.5 +175
Laviska Shenault Draft Position – Over/Under 32.5
Over 32.5 -450
Under 32.5 +275
Marlon Davidson Draft Position – Over/Under 32.5
Over 32.5 -900
Under 32.5 +500
Lloyd Cushenberry Draft Position – Over/Under 32.5
Over 32.5 -1000
Under 32.5 +550
Clyde Edwards-Helaire Draft Position – Over/Under 32.5
Over 32.5 -1200
Under 32.5 +600
Jordan Elliott Draft Position – Over/Under 32.5
Over 32.5 -1200
Under 32.5 +600
Raekwon Davis Draft Position – Over/Under 32.5
Over 32.5 -2000
Under 32.5 +750
Donovan Peoples-Jones Draft Position – Over/Under 32.5
Over 32.5 -2500
Under 32.5 +800
Adam Trautman Draft Position – Over/Under 32.5
Over 32.5 -3500
Under 32.5 +900
Harrison Bryant Draft Position – Over/Under 32.5
Over 32.5 -3500
Under 32.5 +900
NFL Draft Odds 2020 – Star NCAAF Players
April 22 – NFL Draft Specials provided by Bovada
Jonathan Taylor Draft Position – Over/Under 37.5
Over 37.5 -130
Under 37.5 -110
Julian Okwara Draft Position – Over/Under 44.5
Over 44.5 -130
Under 44.5 -110
JK Dobbins Draft Position – Over/Under 44.5
Over 44.5 -145
Under 44.5 +105
Jacob Eason Draft Position – Over/Under 47.5
Over 47.5 -165
Under 47.5 +125
Jalen Hurts Draft Position – Over/Under 54.5
Over 54.5 -145
Under 54,5 +105
Jake Fromm Draft Position – Over/Under 61.5
Over 61.5 -140
Under 61.5 EVEN