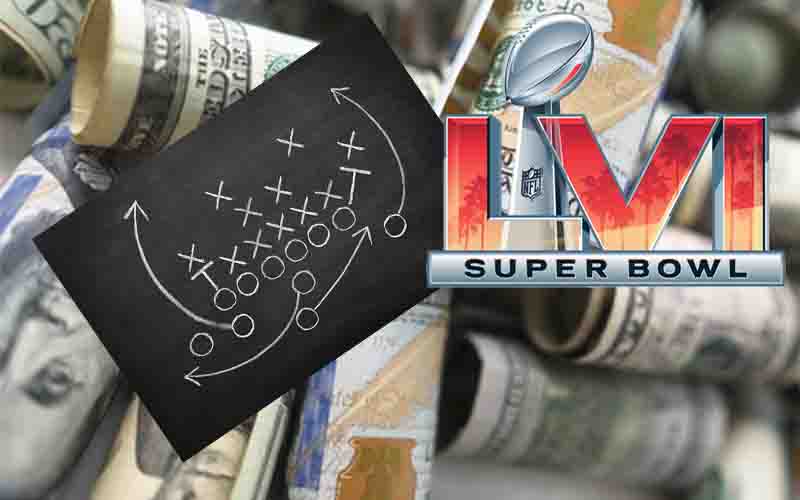 A key component of betting on the Super Bowl is making it last the entire game instead of waiting for time to expire for wagers to cash in. Traditional avenues for Super Bowl betting that include the point spread, moneyline odds, and the over/under require the game to conclude before any payouts can be collected.
For NFL gambling fun that lasts all night long, set up a Super Bowl bet schedule to ensure that SB props and other pro football lines are constantly cashing in throughout the evening.
We're not suggesting abandoning the Super Bowl betting line altogether. What we are recommending is that readers be mindful of the timing of when Super Bowl prop bets close so that the action remains consistent without any lulls.
Here are a few Super Bowl betting tips for creating a bet schedule utilizing the entire realm of Rams vs. Bengals odds.
Super Bowl 56 Bet Schedule
Pregame Super Bowl Props
Before the big game gets started, there are Super Bowl props that are in play that can conclude within seconds of the broadcast's onset. National Anthem performance props and coin toss odds will expire prior to kickoff, and some Super Bowl commercial props will also payout early on in the evening.
First Quarter/First Half Super Bowl Prop Bets
Unless the first half ends in a 0-0 tie, several first score props will finish within the first two quarters for team and player statistical achievements.
Some of the more popular options each year include the first team/player to score, and which type of score it will be. Other varieties of first half Super Bowl prop bets include the result of the first pass attempt for each quarterback, rush attempt for each running back, and reception for each significant wide receiver or tight end.
Super Bowl commercial prop bets are also receiving consistent outcomes throughout the first 30 minutes of regulation.
Super Bowl Halftime Prop Bets
When it comes to the mid-game break, all of the betting lines for Super Bowl LVI focus on the halftime performance and covers anything and everything involved. Halftime bets that are available include:
Setlist of Performer(s)
Guest Performers
Wardrobe Props For Malfunctions And Style Choices
Will A Performer Make A Political Statement Or Utter A Curse Word
Will A Performer (Snoop Dogg) Smoke On Stage During Halftime Performance?
The above Super Bowl 56 betting options represent a tiny fraction of what is available for the halftime performance, and the one about Snoop Dogg smoking on stage is legit.
2nd Half Super Bowl Props
While there are not many props specific to the second half of the Super Bowl, lines featuring over/under totals for stats will routinely finalize unless it is a low-scoring affair where the under succeeds across the board. The trusty ol' commercial props are always in play as well.
Post-Game Super Bowl Prop Bets
Once the game ends, most prop bets for Super Bowl 56 will be wrapped up save for a handful of NFL odds that require additional consideration.
Just as the game ends, bettors that selected the correct color of the drink poured on the winning head coach will have a little extra to cheer about. There are also the Super Bowl MVP odds that will reward bettors once the announcement of the Most Valuable Player is made – and it is a quarterback a majority of the time.
Bovada, MyBookie, BetOnline, CBS Sports