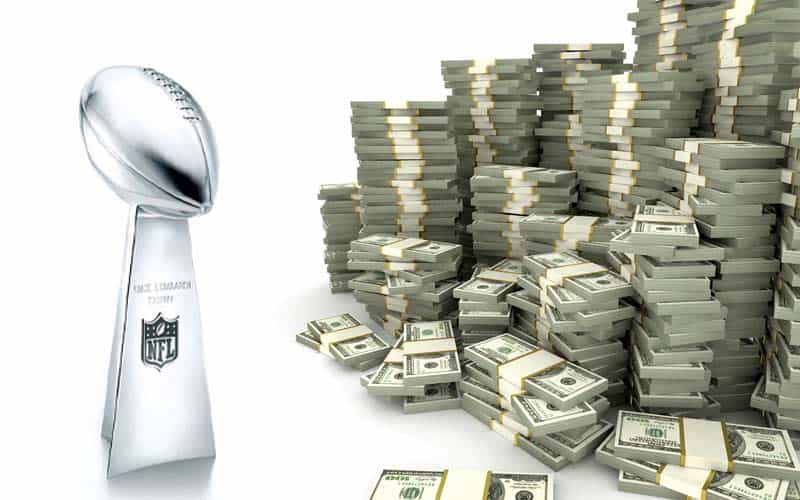 No other sporting event comes anywhere close to the amount of money wagered on the Super Bowl each year in the United States.
And with more states legalizing sports betting in the past year, the number of people and overall sportsbook handle for Super Bowl LIV is projected to set a new record.
Approximately 26 million Americans—more than one-in-ten American adults—are expected to bet a combined estimated of $6.8 billion on the 2020 Super Bowl matchup between the Kansas City Chiefs and San Fransisco 49ers, according to the results of a new survey conducted by Morning Consult on behalf of the American Gaming Association.
The findings from AGA, a Washington DC-based gambling advocacy group, show an increase of three million people, and nearly $1 billion in wagers compared the survey for Super Bowl LIII between the New England Patriots and Los Angeles Rams.
Legal Super Bowl betting has grown in popularity following the repeal of PASPA in 2018, which opened the door for states to pass laws to regulate and tax sportsbooks.
A total of 14 states will have some form of sports betting available for Super Bowl LIV. Those states include Arkansas, Delaware, Indiana, Iowa, Mississippi, Nevada, New Hampshire, New Jersey, New Mexico, New York, Oregon, Pennsylvania, Rhode Island, and West Virginia. Only eight states offer sportsbooks for last year's big game.
Six more states—Colorado, Illinois, Michigan, Montana, North Carolina, Tennessee—and Washington DC are expected to launch sportsbooks sometime later this year, and several states are considering sports betting bills during the 2020 legislative session.
"With 14 operational markets and another seven close behind, Americans have never before had so many opportunities to wager on the Super Bowl in a safe and legal manner, and clearly, they are getting in on the action," said AGA President Bill Miller in the press release. "With increased visitation to legal sportsbooks, we are successfully drawing bettors away from the predatory illegal market."
"I have absolute confidence that Americans didn't start betting on sports when the Professional and Amateur Sports Protection Act was overturned," he added. "What makes this year's Super Bowl remarkable is that more fans than ever before will have the reassurance that the integrity of their bets on the big game will be preserved. The continued expansion of legal sports betting—to the detriment of the illegal market—truly benefits all stakeholders, from enhanced fan engagement for teams to added tax revenue for state and local economies."
The survey, which was conducted between Jan. 21-22, 2020, among a national sample of 2,200 adults, also asked the bettors which team they're wagering money on for this year's NFL championship game.
52% of people betting on Super Bowl LIV said they're betting on the Chiefs while 48% said they're putting their money on the 49ers.
The Chiefs opened as a 1.5-point favorite over the 49ers on the Super Bowl LIV point spread immediately following the conference championships and hasn't seen any moment so far. The over/under was initially set at 52.5 total points and has since risen to 54.5 for the combined points scored from the two teams.