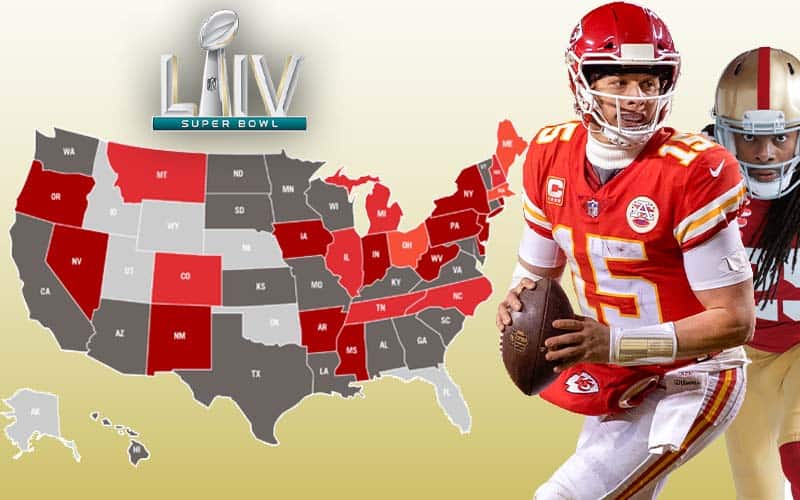 The Super Bowl receives the most bets of any sporting event in the United States each year, and the amount wagered on the 2020 matchup is expected to set a new high after the game is played this Sunday.
Betting on the Super Bowl 54 matchup between the Kansas City Chiefs and San Fransisco 49ers is already underway, and current reported projections show that wagers are on pace to break last year's records.
According to the American Gaming Association, nearly 23 million adults bet nearly $6 billion on Super Bowl 53, with roughly $300 million wagered in states that offer sportsbooks.
Now that more states have legal sports betting, domestic figures are expected to finish closer to $400 million. As a result, the total handle from US bettors should surpass $6 billion in bets placed on the biggest NFL game of the season.
But you want to place a bet on the 2020 Super Bowl and do it legally, do you have any betting options if your state still doesn't offer sportsbooks?
Is it legal to bet on Super Bowl 54 in the United States?
Yes, there are two ways to place a bet on the Super Bowl legally:
Live in or visit a state that has legalized sports betting and currently allows sportsbooks at brick-and-mortar locations (casinos are most common) or via online and mobile apps.
Sign up for an account at sports betting sites located outside US jurisdiction, also known as "offshore" sportsbooks.
There is no gambling law in America that prohibits you from betting on the Super Bowl, or any sporting event, at sportsbooks located offshore. Even if such a law did exist, the US government cannot enforce its laws on another sovereign nation.
Because US federal and state lawmakers' favored and continue to favor archaic laws to keep their corrupt selves fat from the money buffet laid out by their most loyal lobbyists, reputable sportsbook operators were forced to leave the country.
Fortunately, with the US Supreme Court decision to repeal PASPA, it appears things are slowly beginning to change as lawmakers have suddenly decided to allow their constituents the freedom to place a wager on the Super Bowl and sports, in general.
Which states have sportsbooks available for the 2020 Super Bowl?
There are 14 states that will offer legal sports betting before the Super Bowl is played this Sunday. Another 6 states, including Washington DC, are expected to launch sportsbooks sometime this year but will not be ready for Super Bowl Sunday.
Brick-and-mortar locations & online/mobile apps: 9 states
Brick-and-mortar locations only: 5 states
Coming later in 2020: 6 states, Washington DC
Here's a look at the game information for Super Bowl 54, including the point spread and over/under set for Chiefs-49ers. If you've never placed a wager on NFL football, then check out our Legal NFL Betting Guide. The current state-by-state sports betting list is below the game info section.
Super Bowl LIV Game Information
Matchup: San Fransisco 49ers vs. Kansas City Chiefs
Point Spread: Chiefs -1.5
Total: Over/Under 55.0
Date: Sunday, February 2, 2020
Kickoff Time: 6:30 PM ET
City: Miami Gardens, Florida
Location: Hard Rock Stadium
Broadcast: FOX
Where can I bet on the Super Bowl?
The following is a breakdown of what types of sportsbooks (brick-and-mortar, online, mobile apps) are available in your state for the 2020 Super Bowl. If there are no sports betting options for your state, then we strongly recommend placing a wager on the Super Bowl at any of our top-rated online sportsbooks, which have given US bettors a safe, legal way to bet on sports for decades.
Alabama ‒ none
Alaska ‒ none
Arizona ‒ none
Arkansas ‒ brick-and-mortar locations only
California ‒ none
Colorado ‒ coming later in 2020: brick-and-mortar locations, online, mobile apps
Connecticut ‒ none
Delaware ‒ brick-and-mortar locations only
Florida ‒ none
Georgia ‒ none
Hawaii ‒ none
Idaho ‒ none
Illinois ‒ not ready, coming later in 2020: brick-and-mortar sportsbooks, online, mobile apps
Indiana ‒ brick-and-mortar locations, online, mobile apps
Iowa ‒ brick-and-mortar locations, online, mobile apps
Kansas ‒ none
Kentucky ‒ none
Louisiana ‒ none
Maine ‒ none
Maryland ‒ none
Massachusetts ‒ none
Michigan ‒ not ready, coming later in 2020 or 2021: brick-and-mortar sportsbooks, online, mobile apps
Minnesota ‒ none
Mississippi ‒ brick-and-mortar locations, in-person mobile betting only
Missouri ‒ none
Montana ‒ coming later in 2020; brick-and-mortar sportsbooks, in-person mobile betting only
Nebraska ‒ none
Nevada ‒ brick-and-mortar locations, online, mobile apps
New Hampshire ‒ online, mobile apps; brick-and-mortar sportsbooks will launch later in 2020
New Jersey ‒ brick-and-mortar locations, online, mobile apps
New Mexico ‒ brick-and-mortar locations only
New York ‒ brick-and-mortar locations only
North Carolina ‒ not ready, coming later in 2020: brick-and-mortar locations only
North Dakota ‒ none
Ohio ‒ none
Oklahoma ‒ none
Oregon ‒ brick-and-mortar locations, lottery-operated online, mobile app
Pennsylvania ‒ brick-and-mortar locations, online, mobile apps
Rhode Island ‒ brick-and-mortar locations, lottery-operated online, mobile app
South Carolina ‒ none
South Dakota ‒ none
Tennessee ‒ not ready, coming later in 2020: online, mobile apps only
Texas ‒ none
Utah ‒ none
Vermont ‒ none
Virginia ‒ none
Washington ‒ none
West Virginia ‒ brick-and-mortar locations, online, mobile apps
Wisconsin ‒ none
Wyoming ‒ none
Washington DC ‒ not ready, coming later in 2020: brick-and-mortar sportsbooks, lottery-operated online, mobile app