Betting Guide for Thanksgiving College Football
College football on Thanksgiving has been a part of the American holiday experience for nearly 150 years, and betting on NCAAF games is growing in popularity each year. In fact, Thanksgiving weekend features many of the best rivalry games in college football, and sportsbooks take in loads of action on these key matchups.
This college football on Thanksgiving betting guide will discuss the legalities involved, will explain how the betting works and will provide a list of sportsbooks sites that are taking bets now on all of the turkey day gridiron action. We also include some tips and tricks that'll leave some "leftover" bankroll for betting on the college football playoffs and a national championship.
Is It Legal To Bet On Thanksgiving College Football?
Yes. Bettors inside of the USA have two options for wagering on college football games on Thanksgiving Day – domestic and offshore.
Domestic – Several US states allow for regulated sportsbooks (in-person, online, betting apps). If you live in or are near one of those regions, you can use one of these domestic avenues to place a bet on Thanksgiving NCAA Football.
Offshore – International sportsbooks can offer their services to USA bettors over the web without breaking any federal gambling laws. This is possible because there are no laws on the books that prohibit bettors inside of the USA from placing a wager on Thanksgiving college football with an overseas betting site.
Best Sportsbooks For College Football Games On Thanksgiving
2020 Thanksgiving College Football Schedule
Colorado State at Air Force
New Mexico at Utah State
Southern Miss at UAB
UCF at USF
Louisville at Boston College
Notre Dame at North Carolina
Iowa State at Texas
Memphis at Tulane
Oregon at Oregon State
Stanford at California
Washington at Washington State
Nebraska at Iowa
San Diego State at Fresno State
Wyoming at UNLV
Louisiana Tech at FIU
UTEP at Rice
Troy at Appalachian State
North Texas at UTSA
Louisiana at ULM
WKU at Charlotte
NIU at Western Michigan
Rutgers at Purdue
LSU at Texas A&M
Mississippi State at Ole Miss
Tennessee at Vanderbilt
Maryland at Indiana
Minnesota at Wisconsin
Northwestern at Michigan State
Ohio State at Illinois
Penn State at Michigan
Nevada at Hawaii
Georgia at South Carolina
San Jose State at Boise State
Arizona at UCLA
Colorado at USC
Utah at Arizona State
Ball State at Toledo
Bowling Green at Ohio
Central Michigan at Eastern Michigan
Kent State at Buffalo
Miami (Ohio) at Akron
Kentucky at Florida
Auburn at Alabama
Tulsa at Houston
Miami (FL) at Wake Forest
Florida Atlantic at Middle Tennessee
Georgia Southern at Georgia State
SMU at East Carolina
South Alabama at Arkansas State
Arkansas at Missouri
Duke at Georgia Tech
NC State at Syracuse
Cincinnati at Temple
Pitt at Clemson
Virginia at Florida State
Kansas State at Baylor
Oklahoma at West Virginia
TCU at Kansas
Texas Tech at Oklahoma State
Coastal Carolina at Texas State
How To Bet On College Football's Thanksgiving Games
When betting on college football and the games that are offered over the Thanksgiving holiday weekend, there's no shortage to the options available at offshore sportsbooks. The following categories will not encompass every single type, but a majority of the action is placed on the following varieties of bets.
Point Spread – Oddsmakers use point spreads to predict how much a team will win or lose a game by. The team with the negative point spread is favored to win, so if the spread for the Notre Dame Fighting Irish is -7, then they must win by 8 or more points for bets to collect.
Money Line – The money line odds on turkey day college football games refers to the three-digit numbers listed next to each team's name in the betting lines, and allow gamblers to only pick the team they think will win. The moneyline odds reveal each team's chances of winning as well as the amount of money that can be won by bettong on them.
Over/Under – This is just a total number of points that sportsbooks think both teams will combine to score. Bettors can lay action on whether the total points scored will be "over" or "under" the predicted total.
Prop Bets – Proposition bets on Thanksgiving college football can cover anything that happens during the broadcast of each game. Prop bet odds don't always impact the final score, and can include statistical performance bets, first team to score, and much more.
Parlays – A parlay allows bettors to combine multiple bets into one wager where all bets must succeed for the entire parlay to win. Creating a parlay with multiple bets increases the odds, the payouts, as well as the difficulty.
College Football Thanksgiving Day Betting Tips
Belonging to multiple Thanksgiving NCAAF betting sites will give bettors the highest payout possible. This is because it will allow bettors to shop the odds on the Thanksgiving college football games. For instance, if one book has the Alabama Crimson Tide favored at -200, but another has them at -180, you'll want to select the lower odds because it'll require you to risk a lower amount for the same result.
Set a budget for your Thanksgiving college football betting and don't go over it. Make sure your betting cash is being taken from disposable assets. Never use money intended for bills on sports betting – this is for entertainment and is not advisable as a method of earning an income.
The Thanksgiving holiday is known for its gluttonous servings of food, and alcohol consumption can also be a part of the day. If you feel that you may have overindulged when drinking wine or other alcoholic beverages, stay far away from the sportsbooks. There's no need to lose your Christmas money making a drunken bet on a college football game on Thanksgiving Day.
Mobile Thanksgiving College Football Betting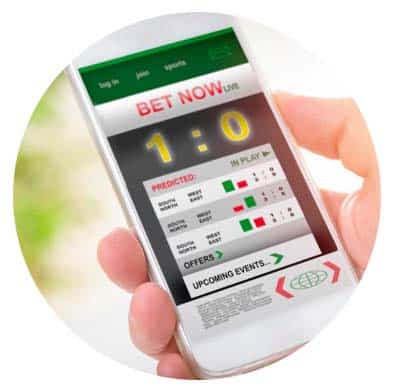 Digesting a full stomach's worth of food on a relative's couch is not the most optimum destination for Thanksgiving college football betting, but it can be with the mobile betting apps offered by our top-rated sportsbook sites.
All that is needed is an iPhone, iPad, or Android-powered smartphone or tablet with an connection to the net and our Thanksgiving college football betting sites can deliver mobile web-apps that includes all of the options from their sportsbook coutnerpart.
No download is required. Just click on one of the betting site links we've provided in the table above and your mobile device will become a handheld betting station for wagering on college football games on Thanksgiving week.
It's all about Bitcoin (BTC) when it comes to making a deposit or a withdrawal at the college football betting sites we recommend on this page. Bitcoin deposits occur rapidly and include heightened promo offers. BTC withdrawals can happen within the same day they are requested and is the only currency that can boast that claim.
When we review betting sites offering odds on Thanksgiving college football games, we insist that they incorporate a bevy of funding options, which include but are not limited to the following:
Deposit: Debit Card, Credit Card, Wire Transfer, Zelle, MatchPay, Third-Party Money Transfer Services, Cashier's Check, Cryptocurrency (Bitcoin, Bitcoin Cash, Ethereum, Ripple, Tether, Litecoin, Cardano (ADA))
Withdrawal: Wire Transfer, Cashier's Check By Courier, Cryptocurrency
Live Betting For College Football On Thanksgiving Weekend
Traditional sports betting protocols require that all bets be placed prior to kickoff. That is no longer the case, because live betting on college football's Thanksgiving games allows for bets to be made until the contest concludes. Most of the odds offered prior to the start of the game will be available in live form for the entire running time. Keep betting for the entire game with our sportsbooks' live, in-game betting odds.
Sportsbooks are eager for new members and offer to match a portion of the first deposit made up to 100% in some cases. If played correctly, these sportsbook bonus offers can enhance bankrolls up to $1,000 or more. These offers do entail some terms and conditions, so be sure to read through them to make certain that the offer is of interest to you, because accepting one is not a requirement of membership.
Thanksgiving NCAA Football Betting FAQs
That depends on what venue gamblers are betting with. Most domestic sportsbooks in the USA require a minimum age of 21 to bet, but some offer their services to 18 and over bettors. Many offshore betting sites allow for members to join at the age of 18, including the sites in the table above.
While the history on the subject is a little murky, one of the earliest Thanksgiving Day college football games on record is the University of Michigan Wolverines vs. the Peninsular Cricket Club in 1885, a game they won 42-0 in Detroit, MI.
Yes, there are two college football games on Thanksgiving Day in 2020, and they are Colorado State at Air Force, and New Mexico at Utah State. There are several more games occurring on the Friday and Saturday that immediately follow Thanksgiving.
During a typical college football season, Thanksgiving week features many high-profile rivalry games, including Alabama vs. Auburn, Florida vs. Florida State, Texas A&M vs. Texas, Michigan vs. Ohio State, and several more. In 2020, because of COVID-19's impact on NCAA Football, some of those rivalries have been sidelined for the year. However, any rivalries where both teams are contained within the same conference are still on for 2020.