2023-24 CFP National Championship Betting Guide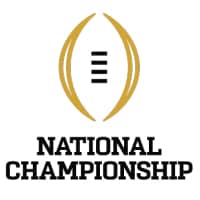 2023-24 CFP National Championship Futures Are Live Now
NCAAF Betting Sites Are Accepting Members Now
CFP Championship Will Be On Monday, January 8, 2024 (ESPN)
Betting on who will win the College Football Playoff National Championship is the single most popular wager you can make during the NCAAF season. Picking who will win the title at the NCAA Division I FBS level is no easy task, which is why we've created a guide to betting on the CFP National Championship for the 2023-24 season.
Betting on college football carries the same pomp and circumstance as the game itself, and there's no bigger stage than the national championship. Because of this, we've laid out everything you need to know for the 2023-24 CFP national championship, including betting odds, prop bets you're likely to see, and how to bet legally and safely during this year's final contest.
Is It Legal To Bet On The College Football National Championship?
Yes, there are two ways to bet on the 2023-24 CFP National Championship legally:
Domestic sportsbooks - In states that have legalized land-based and online or mobile sportsbooks since the repeal of PASPA.
Offshore betting sites - Available to everyone age 18 and older in the United States
There are some misconceptions about betting sites operating outside the US, so let's clear those up point-blank. There is not a single law that prevents you from betting on college football - or any other sport - at offshore sportsbooks. Federal gambling laws do not mention wagering with an international betting site, so if there's no rule to break, bettors cannot get into any trouble.
Best CFP National Championship Betting Sites
Below you'll find the best betting sites to bet on the national championship for NCAA college football. You will also find game lines for betting on bowl games, division championships, and more.
These online sportsbooks offer lines and odds for the CFP title game to bettors in countries all over the world, and some have been in business for nearly two decades when internet gambling first started getting popular due to Nevada's monopolistic control over the market in the US. You won't find any sportsbooks in the United States that can compete with the sheer value and volume of national championship game betting options that these sites provide.
How To Bet On The CFP National Championship
If this is your first time betting on odds to win the CFP National Championship, then this section will detail the steps you'll need to take before placing a wager online.
Step-By-Step Guide For Betting Online
Anyone 18 and up in the US can sign up for free.
There are no obligations to play with real money and the sites we recommend let you bet for as little as $1.
Deposits/withdrawals can be done with credit/debit cards, but cryptocurrencies like Bitcoin (BTC) have become a hassle-free and much faster alternative.
These sportsbooks offer numerous ways to bet on the title game, including futures (odds to win), point spread, money line, over/under, prop bets, and live/in-game betting.
Bonuses and promotions are a great way to add additional funds to your bankroll when first signing up as a member. Just be sure to read the rollover requirements ahead of time.
Odds To Win The College Football Playoff National Championship
Below are the current betting odds to win this season's national title game at MyBookie Sportsbook. It's no surprise that Alabama and Clemson sit alone atop the list with how dominant they've been since the playoff format was introduced in 2014-15.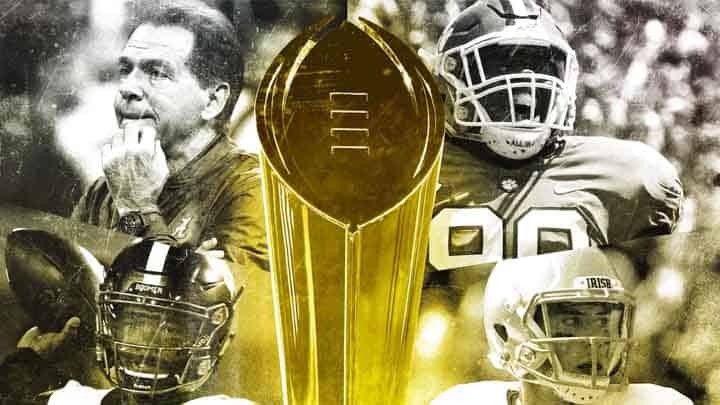 🏈 Provided by Bovada
2023-2024 NCAA Championship Winner
Georgia +300
Ohio State +700
Alabama +700
Michigan +800
USC +1200
Clemson +1600
Texas +1800
Tennessee +2000
Florida State +2000
Penn State +2000
LSU +2000
Oregon +2500
Notre Dame +3000
Washington +4000
Oklahoma +4000
*More odds available online
Is Mobile Betting Allowed For The NCAA Football Title Game?
Yes. All of the online sportsbooks we recommend have robust mobile betting platforms that come with the same features as their regular site. Regardless of whether you're on the go or simply don't want to leave the couch during the game, the sites we recommend have got you covered on Apple and Android smartphones, tablets, and pretty much any modern mobile device.
No download is required, as these applications are web-based, and can be quickly accessed by clicking on one of the sportsbook links in this guide using an up-to-date mobile browser.
In-Game Live CFP National Championship Odds
On some occasions, it can become evident that a wager is going to fail very early on in a game. Oftentimes that makes for a lousy viewing and betting experience, but live, in-game betting can get the action cranked back up and have you stuffing cash in your bankroll by halftime.
Traditional betting practices require that all bets be made prior to the start of the game. Live betting allows for bets to be made on the CFP title game until the final snap. Odds are updated to reflect game developments, with lines offered for halftime leaders, winners, prop bets, totals, and more.
College Football National Championship History
Despite the sport of American football beginning at the collegiate level in 1869, the inaugural College Football Playoff National Championship game was played at the end of the 2014-15 season and was the first title game in the Football Bowl Subdivision to use any kind of knockout elimination bracket to determine a champion. Previous attempts at implementing a system for determining an annual winner include the BCS, Bowl Alliance, Bowl Coalition, Coaches Poll, and Associated Press, among many others.
To be crowned the national champion of college football for the season, a team must first be one of the four teams selected to the College Football Playoff, which is determined by a 13-member committee in early December. Two CFP bracket games are then held during bowl season and the winners of each advance to the national championship game, where it's winner-take-all for the title of "best team in college football."
NCAAF - National Championship Facts
CFP National Championship Handle Estimates
Approximately $30 million is wagered on the title game in Las Vegas each year.
The championship game has a $1 billion handle worldwide annually.