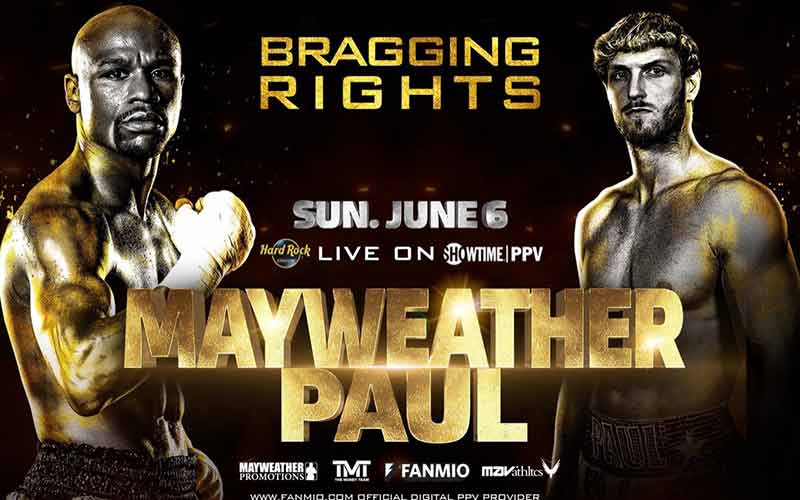 Mayweather Favored By An 8 To 1 Margin
Decision To Be Rendered By Fan Vote If Fight Goes Distance
June 6 At 8 PM – Showtime Pay-Per-View ($59.99)
Floyd Mayweather is one of the greatest boxers to ever lace up a pair of gloves. He is now retired with an unblemished record of 50-0, and will participate in an exhibition pay-per-view bout against a YouTube star by the name of Logan Paul this Sunday evening.
One may be so bold to ask why Mayweather would risk tarnishing his legacy against a relatively unskilled, larger opponent who has a 20-year age advantage.
The answer is likely tied to the fact that Mayweather, although worth an estimated $450 million, is no longer collecting routine paychecks, and that's likely got him nervous and seeking out sources for additional revenue.
His first foray into celeb boxing was when he faced Conor McGregor, a top fighter in mixed martial arts and former UFC Champion. That match awarded Mayweather over $100 million, and his fight against Paul will earn him a minimum of $10 million, plus a percentage of the PPV sales.
If you'd like to make some profits by betting on celebrity boxing this Sunday, you'll need to develop a strategy, as the following Logan Paul vs. Mayweather odds will only award well if an upset occurs.
Floyd Mayweather vs. Logan Paul
Mayweather -900
Paul +550
When betting on boxing, laying some action on the overall moneyline of an individual fighter will pay out no matter how they win, be it TKO, KO, DQ, or judges' decision.
The above line will not receive action if the fight goes to a decision on Sunday night, and that is because there are no judges.
A winner can only be declared by a knockout or a stoppage, and perhaps that is just what the promoters are hoping for.
Because Mayweather is so quick inside of the squared circle, he often employs tactics that keep him moving and out of the range of opponent's jabs.
Mayweather can then stack up on points and then keep his distance during the final rounds to secure a victory.
This fight provision will inspire both boxers to become more aggressive than they normally would during an exhibition bout, especially for Mayweather.
An easier option for earning some cash at online sportsbooks on a Mayweather win (let's face it, we're collectively blocking out the potential for a Paul victory, right?) is the following line.
Mayweather vs. Paul Odds
Floyd Mayweather by KO TKO or DQ -225
Logan Paul by KO TKO or DQ +800
Draw +1200
Boxing bettors should head over to MyBookie and get in on the above combat sports betting line because it offers a much higher profit margin than the head-to-head odds.
If you believe this match is set up to be a light-hearted affair without much aggression involved, then take the +1200 money line on the draw.
Otherwise, invest in the -225 odds on Floyd to win by knockout, TKO, or disqualification, which are the only methods he can win by.
Tune in Saturday night at 8 to see the PPV plus undercard matches and then collectively hold our breaths and pray that Mayweather doesn't screw this up.