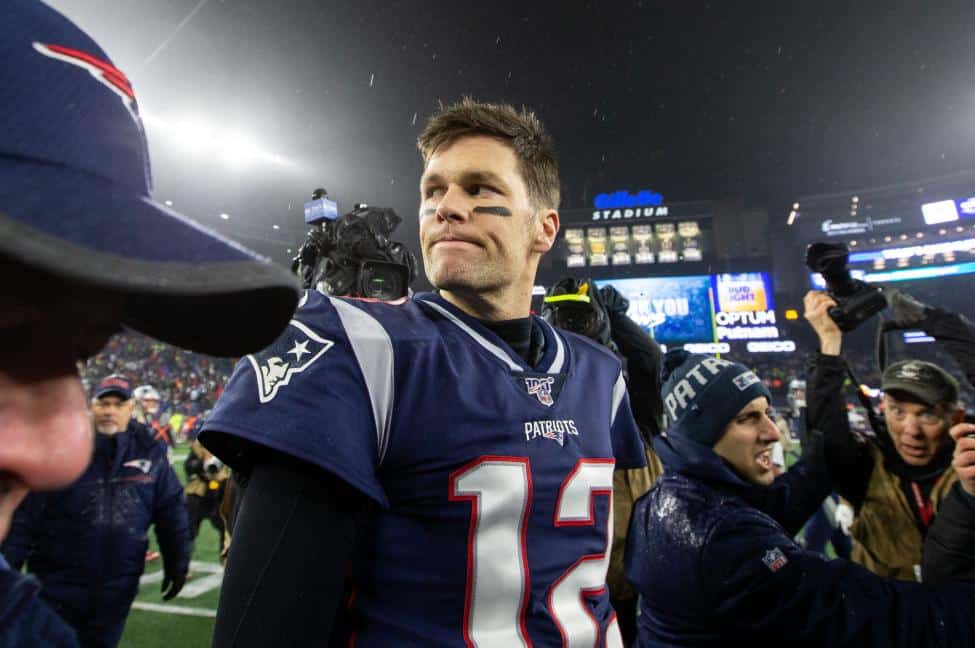 Will Tom Brady stay or will he go?
Despite every sports personality under the sun giving his or her "hot take" following the Tennessee Titans' 20-13 upset win over the New England Patriots on Saturday, there are only two safe bets:
Only Brady and the Patriots, if anyone, know the facts.
NFL betting odds are now available for you to wager on.
Along with the weekly 2020 NFL playoffs betting lines, oddsmakers at BetOnline Sportsbook have released odds on a bunch of Brady-related prop bets.
Looking at the props, it appears the oddsmakers favor the six-time Super Bowl champion quarterback staying with the Patriots next season, listing "Yes" at -200 odds ($200 bet wins $100).
But will Brady retire? He told reporters after the first-round loss that retiring in the offseason is "pretty unlikely" and at -1000 ($1000 bet wins $100), the prop echoes his postgame statement.
If Brady returns to the team, then the Patriots are favored to win the AFC East division title and make the playoffs—both streaks are currently at 11 consecutive seasons. Additionally, the Patriots win total for the 2020 regular season is set at over/under ten wins with Brady under center.
Odds for the Brady-led Patriots winning the 2021 Super Bowl is highly unlikely at this time. NFL futures are difficult to predict weeks in advance, and correctly wagering on the outcome of a game over a year from now is near impossible.
Lastly, there is a prop bet for which team Brady will join if he doesn't retire but leaves the Patriots this offseason.
The opening odds favor the Los Angeles Chargers at +400 ($100 bet wins $400) should Brady decide not to hang up his cleats and play for another NFL team.
Despite playing his entire 20-year career in the frigid cold of Foxborough, Brady is from California, and it makes "some" sense that he might want to return to a warmer climate.
Still, it appears pretty unlikely he'll play for any other team, which is why this prop bet only has action if the future first-ballot Hall of Famer leaves the Pats and lands elsewhere. All wagers are refunded in full if retires or he takes the field with the red, white, and blue next season.
The full list of Brady prop bets can be found below. To see the latest odds on which team will lift the Lombardi Trophy at the end of this season, check out our Super Bowl LIV Betting Guide.
Tom Brady NFL Future Betting Odds
Will Tom Brady be on the Patriots roster Week 1 of the 2020 NFL season?
Will Tom Brady retire before the 2020 NFL season?
Will the Patriots make playoffs with Tom Brady next season?
Will the Patriots win the division with Tom Brady next season?
Will the Patriots win Super Bowl LV with Tom Brady?
Patriots win total with Tom Brady next season?
Over 10 wins -120
Under 10 Total win -120
If Tom Brady leaves, which team does he play for in Week 1 of the 2020 NFL season?
Los Angeles Chargers +400
Carolina Panthers +600
Las Vegas Raiders +600
Cleveland Browns +700
Dallas Cowboys +700
Indianapolis Colts +800
Tampa Bay Buccaneers +900
Denver Broncos +1200
Miami Dolphins +1400
Minnesota Vikings +1400
Chicago Bears +1600
New Orleans Saints +1600
New York Giants +2000
Jacksonville Jaguars +2500
New York Jets +2500
Philadelphia Eagles +2500
Pittsburgh Steelers +2500
Arizona Cardinals +2800
Cincinnati Bengals +2800
Los Angeles Rams +2800
Washington Redskins +3300
Extra Prop Bet: Will Bill Belichick retire before the 2020 NFL season?