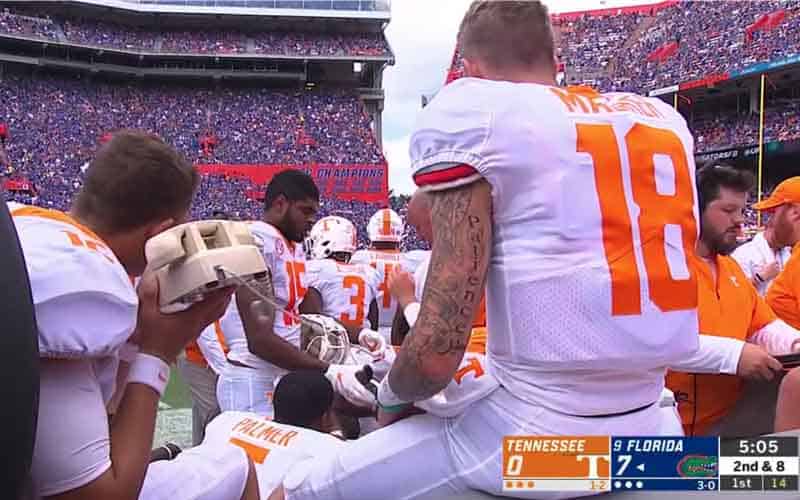 When the Pride of the Southland Band plays "Rocky Top" after the Tennessee Volunteers' first victory of the 2020 college football season, bettors will, for the first time, be able to cash out their winning bets legally at a state-licensed sportsbook.
But when Tennesseans count the money they won on their smartphone or online device of choice, the amount paid out may look "a bit less" compared to other states with legal sports betting.
Your eyes don't deceive you—it's just the new "Rocky Bottom" the state's regulators have established for legal Tennessee online sportsbooks and betting apps.
Regulators take a slice off Rocky Top revenue
On Wednesday, the Tennessee Education Lottery Corporation unanimously set a new low for the emerging US sports betting market when the board approved rules to cap payouts for winning wagers at 90% by forcing TN sportsbooks to keep a permanent 10% minimum hold—" hold" is the amount of profit made from the "handle" (total amount bet at a sportsbook).
Wanna bet? Check out: Best online sportsbooks and betting apps 2020
With no option for operators to volunteer in or out, Tennessee's mandatory payout cap is the first of its kind for any state that has legalized at least one type of sports betting since the 2018 PASPA repeal.
Requiring all Internet-based operators in the Volunteer State to shave a minimum of 10% of all winning and losing bets far surpasses the unregulated free market hold percentages at nearly every sportsbook, both in the US and internationally.
Tennessee's sportsbook "take" is robbery
Nevada has been in the legal gambling business for the better part of the past century, and sportsbooks in Las Vegas and around the state have traditionally had a natural, unmandated 55% win rate against the betting public annually—meaning operators generate an average of 5% in revenue from all wagers placed.
Post-PASPA, New Jersey is often regarded as having one of the fairest and competitive markets for sports betting. Without a "minimum hold" or "payout cap" in place, legal NJ sportsbooks have never surpassed a 10% take in profit in any full month of accepting bets in-person or online. Additionally, US sportsbooks combine for a 7% hold on average since 2018.
State lawmakers should be encouraged to venture outside the box crafting legislation, and regulators should consider instituting different policies than the industry standards in Nevada, New Jersey, or anywhere else.
However, new regulations and added taxes should always come at the benefit of the consumer and the overall sports betting experience.
The Tennessee online sports betting bill—which became law in July 2019 after Gov. Bill Lee chose not to sign or veto the legislation—requires sportsbook operators to pay an annual $750K license fee and gross revenue is subject to the state's egregiously high 20% tax rate.
Here is the math: Of the total amount bet, TN sportsbooks are required to have a 60% win rate against Tennesseans via the mandatory 10% hold, regardless of the sport or wager details. At the end of each month, the TN Lottery Corp. will then take a whopping 20% from the "minimum" 10% profit margin.
There's no doubt most of Tennessee's sports betting hopefuls would like to see the taxes generated go to education and other improvements that benefit the state as a whole.
But when the powers that be set a tax rate twice as high as most states and set a minimum hold and payout cap for the sportsbook and bettors that's double of what Nevada does naturally, the odds become so stack against Tennesseans, on paper, it begins to look like public theft on behalf of the Rocky Top's greediest regulators.
And TN sportsbook revenue and tax projections further nail home how badly the policy will destroy any hope at a thriving free market. The 10% take is actually lower than the initial 15% cut the lottery set near the end of 2019.
At the time, experts predicted the 85% minimum hold forced on sportsbooks would reduce the number of applicants for a license by more than half and forecasting an $11 million decrease in projected tax revenue for the Tennessee budget—a deficit that most certainly will be passed onto taxpayers through other legislation unless the minimum hold and payout cap are removed entirely.
Odds favor TN sportsbook apps in July 2020
Nevertheless, reports from multiple reputable sources confirm the TN Lottery is actively planning to launch online and mobile-only sports betting sometime in July 2020.
Officials have stated their goal is to have licensed operators' sports betting websites and apps ready to go live on Apple iOS, Android, and all platforms when sports leagues resume play during the ongoing coronavirus pandemic.
Anyone 21 years old and up can bet on sports in Tennessee, and it'll be interesting to see the record setting vigorish, the hidden tax or "juice" added to odds, the state's sportsbooks, like DraftKings and FanDuel, will have to implement due to the lottery corporations' new policy.
With sports betting hitting a "Rocky Bottom" in the Non-Volunteer State this week, the Rocky Top-rated online sportsbooks will always be home sweet home to you and me—the Good Ol' Rocky Top, Rocky Top Tennessee betting sites.