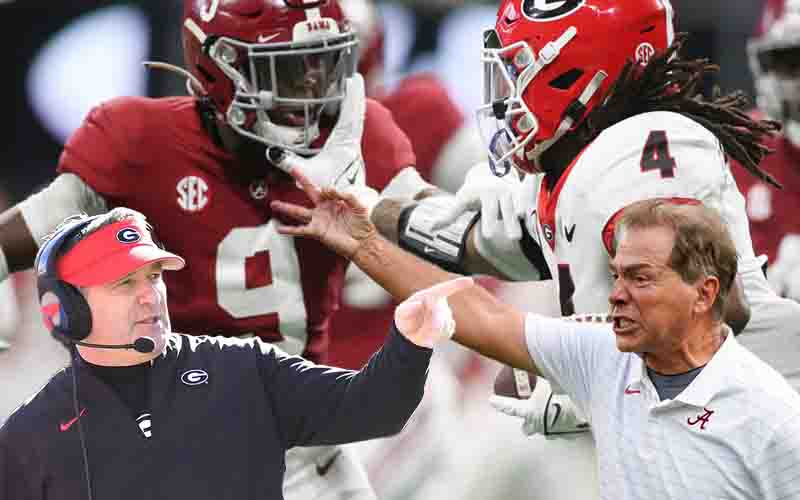 Georgia Bulldogs favored by 2.5 over Alabama Crimson Tide
CFP Championship Game begins tonight at 8 PM on ESPN
The Over/Under is set at 52.5
The climax of the college football season will be reached this evening when the final seconds tick off the clock in Lucas Oil Stadium and a CFP National Champion is determined.
The SEC has gone overboard in proving their conference's dominance in the realm of college football this year, producing the final two teams in-play for a CFP Championship in 2021-22.
The Georgia Bulldogs were the number 1 team in the country for the entire year until they lost to the Crimson Tide by a score of 41-24 in the SEC Championship Game on December 4th.
After Alabama dropped a mid-season game to Texas A&M, NCAAF oddsmakers still felt secure that they would finish up the regular season without another loss and defeat Georgia for the SEC Championship, based on the futures lines that placed them among the top four teams throughout.
The line setters at CFP betting sites have collectively experienced a slip in their enthusiasm for Alabama tonight as they are at least a 2-point dog no matter where you look.
If you take the current over/under and combine it with the point spread, the final score projects to:
Georgia 28
Alabama 25
Georgia experienced their lowest scoring output of the year in their last meeting against Alabama when they posted 24. The National Championship betting line at online college football sportsbooks suggests that Georgia will once again struggle to score at their usual pace, but will still earn the 2021-22 CFP Title.
The Crimson Tide have scored in the 20s three times this year, but one of those occasions was not against the Bulldogs – they produced 41 against them.
Despite the 52 points suggested in the over/under, that would represent a low-scoring affair between these two offensive juggernauts. What could serve to keep both teams around the 30-point mark is their defensive units which are each stacked with talent that is poised for the National Football League.
The following college football prop bet suggests that either Georgia or Alabama will score three times in a row, unanswered, at some point in the CFP Championship Game.
Will Georgia Or Alabama Score 3 Unanswered Times?
The CFP odds overwhelmingly suggest that one team will score between 9 and 24 points unanswered, which is more than enough of a separation for a win.
It is hard to imagine a scenario where either team goes on a three-score binge and doesn't place themselves in line for a victory. Could oddsmakers be suggesting that it will be UGA that goes on said unanswered run?
There's also the fact that Nick Saban and the Crimson Tide have won their last 7 games against the Georgia Bulldogs. All streaks do have to come to an end, correct?
Our staff cannot help but to harken back to lines for betting on the Super Bowl in February when the Kansas City Chiefs were still favored over Tom Brady and the Buccaneers despite Tampa Bay's seemingly overwhelming advantage.
We didn't understand the betting lines then, and they don't make sense to us now. Consider wagering on Alabama to win and cover at CFP Championship betting sites.