Atomic Wallet Review – How To Buy Crypto Instantly For Legal Online Sports Betting
Atomic Wallet has long been the most popular universal cryptocurrency wallet, but it's now a lot more relevant to new crypto users and new crypto sports bettors in particular, which motivated us to add this page to our sports betting how-to guide.
Remember, betting sports online legally and safely involves a few significant hurdles for new gamblers. However, outside of choosing a reputable operator (which you can do by consulting our in-depth online sportsbook reviews), the most important consideration is a given site's sports betting banking options.
It's no secret that all the top sites support a variety of cryptocurrency deposit and payout methods, nor is it a secret that these are the very best options in terms of overall value, increased sports betting bonuses, and access to same-day payouts.
However, most users who want to bet with crypto don't already own any crypto. In other words, they've got to actually buy some crypto before they can use it for online sports gambling.
The most common routes – i.e. major online cryptocurrency exchanges (Binance US, Bittrex, Coinbase, etc.) – are perfectly good, but they come with lengthy setup times, multiple KYC (Know Your Customer) account verification steps, and lock your funds for up to 10 days before you can send your crypto off-platform.
For many casual online gamblers, every banking method is as good as the next. Processing time isn't a big consideration, and if the UIGEA law rejects a credit card deposit, they can just try again in a few minutes or mosey on over to the next option.
But for online sports bettors specifically, time is always of the essence. Betting lines update in real-time as sportsbooks balance their odds to minimize house liability, and if you wait even a few minutes to go on the lines you like, those lines are bound to change before you can take advantage of them.
Plus, in most cases, sports bettors need to place their wagers for today's games or this weekend's contests. If you're betting futures, that's one thing, but the vast majority of online sports gambling takes place right now.
Thus, waiting a week or more to be able to send your newly purchased crypto to your legal sportsbook site of choice is a total nonstarter for most bettors. They need a faster way to buy Bitcoin, Litecoin, Ethereum, Cardano, etc.
That's where Atomic Wallet comes in.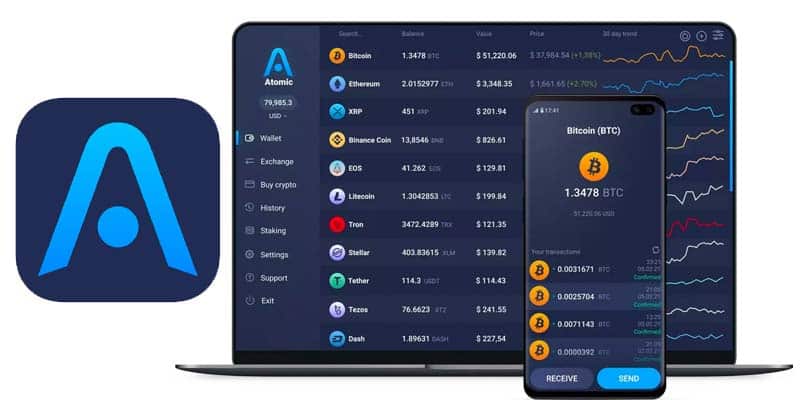 What Is Atomic Wallet?
Atomic Wallet is a universal cryptocurrency wallet available for Windows, Mac, Linux, iPhone, iPad, and Android. Currently, Atomic offers wallet interfaces for over 500 different crypto coins and tokens.
However, despite its name, Atomic Wallet isn't just a wallet. It's also a cryptocurrency exchange (via the Atomic Swaps feature), allowing users to trade all supported coins between one another quickly and easily.
On top of that – and much more relevantly for online sports bettors using crypto for the first time – is the fact that Atomic also features an integrated cryptocurrency storefront.
The Atomic crypto store currently lets users buy 35+ different popular crypto coins, including every single coin supported by the sportsbooks we recommend:
As a non-custodial wallet, Atomic neither stores your coins on its servers nor has direct access to your assets. Instead, the software is simply an intermediary that links you directly to your crypto holdings on each different cryptocurrency blockchain.
Atomic Wallet is secured by a 12-word recovery phrase that allows you to access your wallet even if you lose or damage the device on which the wallet instance is currently installed. It is absolutely critical that you never share or lose this passphrase.  
*Atomic Wallet is the only US-friendly crypto platform that allows users to buy Ripple XRP. The XRP crypto coin has been temporarily delisted from all US-based exchanges, though it remains one of the top 10 crypto coins in the world and is commonly used for legal online sports betting.
How To Use Atomic Wallet For Online Sports Betting
There are plenty of Atomic Wallet tutorial videos out there, but you really don't need them. It's incredibly easy to use Atomic Wallet, and the app walks you through the process whenever you launch it for the first time.
There's also a built-in Atomic Wallet support database so you can get any other questions answered ASAP.
Here's the general process for setup and installation, with a focus on using Atomic to buy cryptocurrency. This process is the same whether you're using Atomic Wallet for iPhone, iPad, Android, or any other supported operating system:
Download Atomic Wallet to your platform of choice.
Follow the instructions provided to create your Atomic Wallet login user and password.
Copy down your unique 12-word Atomic Wallet recovery passphrase. Do not share or lose this passphrase. We recommend keeping a hard copy of the phrase in a secure location, and you should never keep the phrase on your computer or mobile device.
Select the "Buy" option within the Atomic Wallet menu.
Choose the asset you'd like to purchase, along with the dollar amount you wish to spend.
Enter in your Visa or Mastercard (American Express and Discover card are not currently supported.)
Submit your purchase request.
Whenever you first purchase crypto through Atomic, the EU-based Simplex service will verify your identity before the sale goes through. All that's required is for Atomic users to upload an image of their valid photo ID (driver's license, etc.).
The Atomic KYC process takes just a few minutes, and after you've done it once, you won't have to do it again as long as you use the same credit/debit card. Once you receive your crypto, you'll be able to immediately send and trade it at will, both on the platform and off.
To make a crypto sports betting deposit at your legal online sportsbook, simply follow the guide provided by your site cashier or check out our individual crypto banking pages for step-by-step instructions.
Top Online Sportsbooks That Accept Cryptocurrency
Atomic Wallet Alternatives To Buy Crypto Fast
While Atomic Wallet is easily the best rapid crypto purchasing method, it's not the only platform online bettors can use to bypass typical crypto exchange wait times.
As of Q4 2021, there are actually three other common methods that can be used to safely sidestep the lengthy exchange processes that first-timers face when buying various crypto coins:
Cash App – Cash App is the only P2P instant money transfer app that allows users to buy Bitcoin and then send it off-platform. After Atomic Wallet, Cash App is our most recommended route for sports bettors who need to acquire crypto immediately. Limitation: Cash App only supports Bitcoin buying, sending, and receiving for now, so you're out of luck if you'd rather use an altcoin to bet online.
Zelle – Zelle is a P2P platform supported by most US banks and credit unions, and it works like PayPal and Venmo for most things. However, unlike these other P2P apps, you can use Zelle to buy Bitcoin without any sending restrictions. This requires some additional legwork, but it's still much faster than using a traditional exchange. Limitation: Like Cash App, Zelle can only be used to buy Bitcoin.
Coinify – Coinify is a third-party crypto storefront. Unlike an exchange, Coinify doesn't have an online trading feature. To use Coinify, you must first set up a crypto wallet and have your specific crypto receiving address on hand. Then, simply put in your credit card information and buy any of the 30+ crypto coins available. Limitation: Coinify is only available in 33 US states as of 2021.
Despite these options, Atomic has proven to be far faster, much more convenient, and substantially more streamlined for beginners and power users alike.
And because Atomic Wallet is also a wallet (which is something you'll absolutely need whenever using crypto in general), it does double duty in a way no other "similar" option offers.